What Happened To Rosie O'Donnell's First Wife, Kelli Carpenter?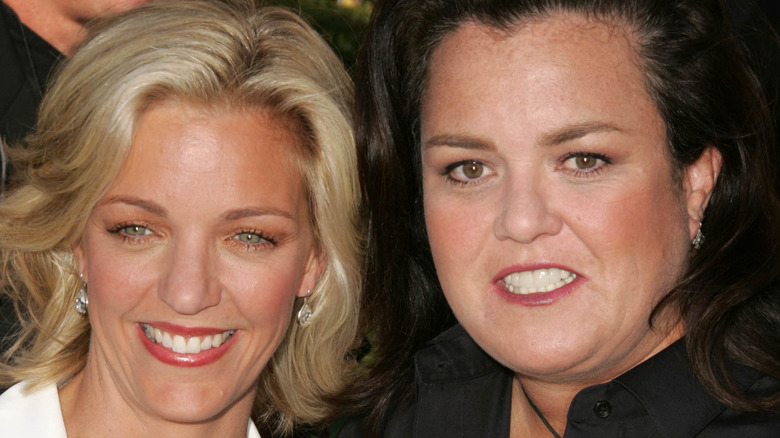 s_bukley/Shutterstock
Rosie O'Donnell had one of the most popular talk shows at the time and acted in several popular movies prior to starting that gig. She has since delved into many other areas of entertainment, from magazines to books to theater; she's done it all. And being one of the most visible lesbians in entertainment, O'Donnell's relationships have been more of an interest than a lot of other celebrities.
O'Donnell's first wife was Kelli Carpenter, a former TV executive. The two dated for six years before they got married in 2004, at a time when same-sex marriage wasn't federally legal. However, they traveled to San Francisco to tie the knot since a law had just been passed that allowed same-sex unions in the city. Carpenter answered fans' questions for ABC News in 2004 and called their choice to travel to San Francisco a "political statement." At the time, President George W. Bush was a supporter of the Federal Marriage Amendment, which would define marriage as strictly between a man and a woman. "Why is he allowed to marry the person he loves and I am not? Would he want the same right for one of his daughters or one of his siblings if they were gay?" Carpenter asked in her ABC Q&A.
Rosie O'Donnell and Kelli Carpenter had four kids together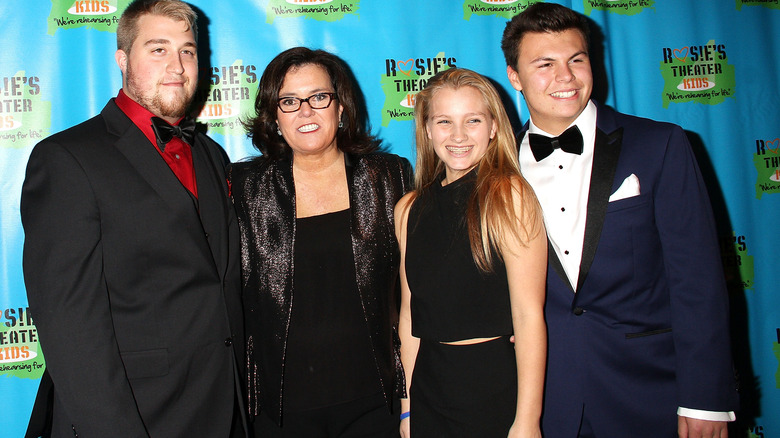 Laura Cavanaugh/Getty Images
During the 10 years that Kelli Carpenter and Rosie O'Donnell were together, they adopted four kids. As People reported, O'Donnell adopted her first child, Parker, in 1995 when he was still a baby. She adopted him as a single parent but Carpenter became his other legal guardian later on. The second oldest, Chelsea, was born in 1997; the two women adopted her as a baby as well. Blake, the third oldest, came into the family in 1999. And lastly, they jointly adopted Vivienne, who was born in 2002.
While answering fans' questions for ABC in 2004, right after she and O'Donnell got married, Carpenter understood why lesbian couples might be hesitant to adopt or have a family. But it's worth it. "The joys that children bring to your life far surpass any discrimination we have received," she shared.
While they were still married, O'Donnell and Carpenter also started a cruise business that catered specifically to queer couples and families. All of their work together and even their wedding were public moves to show the "normalcy" of a lesbian relationship. Because it is normal.
"I also think it brings a face to what is happening instead of like, you know, all those gays out there getting married," Carpenter told Barbara Walters on ABC's "20/20" in 2004. "It's like, you know what? That's me, and that's my partner, and these are my kids. And we're raising happy, healthy children."
Rosie O'Donnell's first wife, Kelli Carpenter, is remarried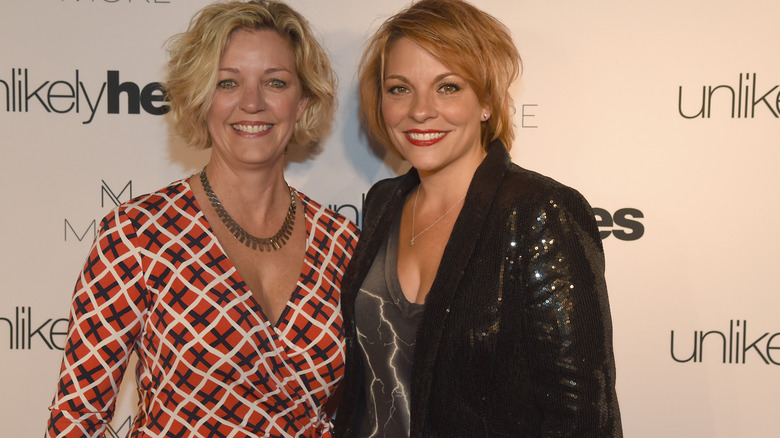 Rick Diamond/Getty Images
Despite the wonderful nuptials, Rosie O'Donnell and Kelli Carpenter split in 2007. O'Donnell said in 2010 that they're still a family unit with their four kids (via People). After her split from Rosie O'Donnell in 2007, Kelli Carpenter remarried a few years later. Us Weekly reported in 2012 that Carpenter got engaged to Anne Steele, a cabaret singer. "We're going to have a picnic barbecue backyard wedding," Carpenter said. While Us Weekly reported that O'Donnell wasn't going to be at the wedding, Carpenter said they were on "good terms." They were together for a decade, three years of which were as a married couple. But the four children that Carpenter adopted with O'Donnell did attend. 
Carpenter and Steele married in New York in 2013. Parker, the eldest, walked Carpenter down the aisle, according to The New York Times. In that piece, Steele and Carpenter revealed how they met, which was on the dance floor onboard an ocean liner in Hawaii. They started holding hands, and there was a lot of blushing; Steele said it was "so fifth grade."