Usher's Oldest Son Is Growing Up To Be His Twin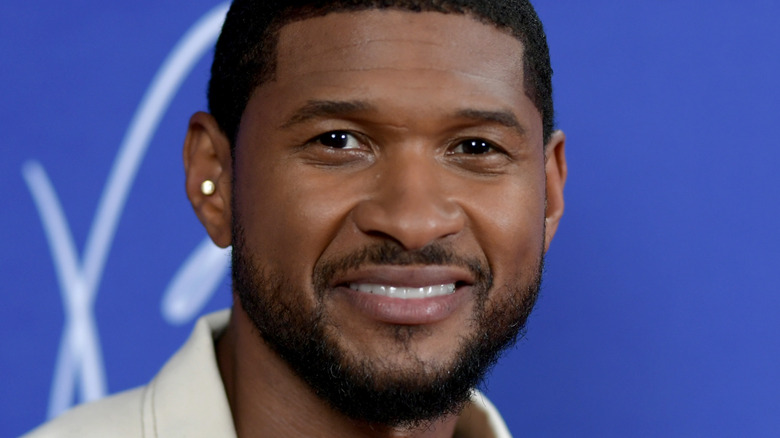 Marcus Ingram/Getty Images
R&B singer Usher has topped the charts, helped launch the career of fellow superstar Justin Bieber, scored a Las Vegas residency, and fathered four children — and that's just scraping the surface of his many accomplishments.
The singer's eldest child, whom he shares with ex-wife Tameka Raymond, is named Usher Raymond V. Usher Raymond V was born on November 26, 2007, in Atlanta, Georgia, according to an article from People that was published the day after his birth. To avoid confusion with his famous father, Usher Raymond V is also known by the nickname "Cinco," the Spanish word for the number five, which is also represented by the Roman numeral "V." (His father has referred to him by the nickname on Instagram as well as with the hashtag "#URV.")
That confusion might result from more than just the father and son's similar names; Cinco has grown up to share a strong resemblance to his father, Usher.
Usher 'Cinco' Raymond V looks just like dad Usher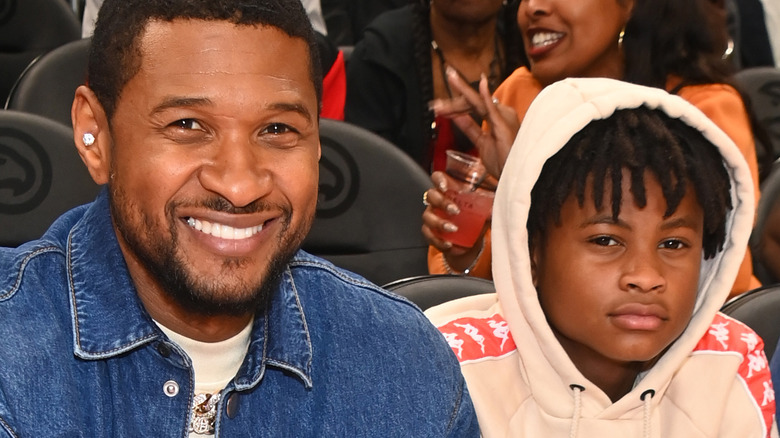 Paras Griffin/Getty Images
Dad Usher wished his son Usher "Cinco" Raymond V a happy 14th birthday in an Instagram post, and fans instantly saw how much the two look alike in the carousel of snaps. Usher even captioned the post, "Happy Birthday Mini-Me," showing that he's also aware of the fact that his eldest son could be his twin. The Daily Mail reports that the singer also shared birthday wishes for his son on Instagram Stories at the time, which included a photo of one of Cinco's sonograms in which he was shown holding up his middle finger as though it were a vulgar gesture.
Other posts from Usher have brought up his son Cinco's similarities to him, such as a photograph that he shared on Instagram of the two of them sitting beside each other while watching a basketball game with the caption, "What's better than one Usher? Two Usher's! ATL v NETS." The same photograph can be seen above.
Usher is a devoted dad
Kathy Hutchins/Shutterstock
In addition to his mini-me eldest son, Usher "Cinco" Raymond V, it's clear that Usher is a proud father. His verified Instagram account is filled with pictures of his four children. From an Instagram post of daughter Sovereign Bo rocking a pair of white heart-shaped sunglasses to a throwback video of him teaching son Naviyd how to ride a bicycle, Usher definitely appears to be a devoted — and doting dad.
Usher celebrated the birth of his son Sire Castrello Raymond, whom he shares with Jenn Goicoechea, on September 29, 2021 (via People). Like his older siblings, Sire has been featured on his father's Instagram account too. In fact, Usher introduced him to his fans in an Instagram post that doubled as a birth announcement, writing on behalf of his newborn son in the caption of the post, "Hi, my name is Sire Castrello Raymond ... I am the newest addition to the Raymond crew."