How Robert De Niro Got Into A Strange Feud With Jay-Z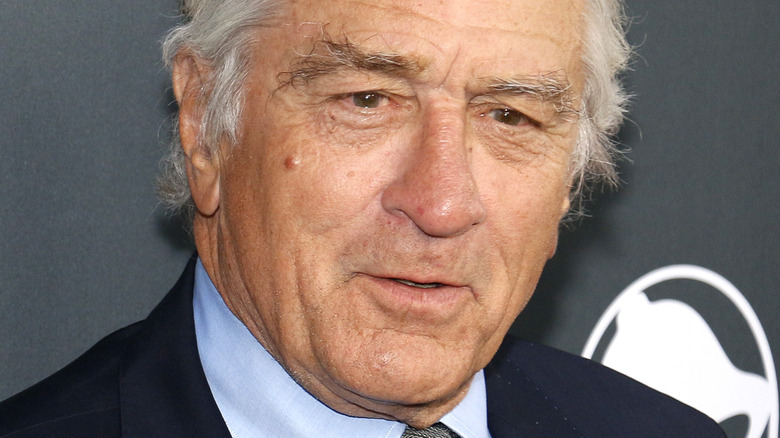 Tinseltown/Shutterstock
Ah, celebrity feuds. When you're a high-profile personality, it's only par for the course that you'd ruffle some feathers on the way to the top. From Kanye "Ye" West and Taylor Swift's VMAs blowout, to Machine Gun Kelly and G-Eazy's beef over Halsey, there's no shortage of A-lister arguments to dissect.
As one of the most prominent rappers in the music industry, Jay-Z has weathered his fair share of feuds over the years, including a falling out with fellow hitmaker, Ye. Things went south for the musical pair after Jay-Z reportedly never called Ye to check in after his then-wife, Kim Kardashian, was robbed at gunpoint in Paris. Ye referenced the perceived diss during his "Saint Pablo" tour in 2016, when he said (via Rolling Stone), "Jay-Z — call me, bruh. You still ain't called me ... Please call me. Talk to me like a man." As for Jay-Z, he didn't concern himself too much with Ye's onstage antics. "Jay can't stand [Kanye]," a source told Page Six. "He looks at him as this crazy, eccentric motherf***er he can [only] tolerate in small doses."
Now, it may make sense that Jay-Z has argued with other rappers, but fans may be surprised to learn that he once got heated with actor Robert De Niro. Like the "99 Problems" singer, De Niro has his own issues with others in the entertainment business (*ahem* Mickey Rourke), but what's all this about him feuding with Jay-Z?
Jay-Z never called Robert De Niro back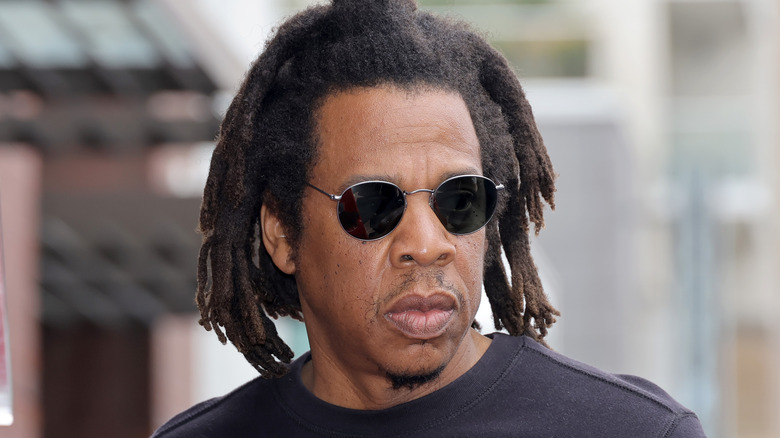 Kevin Winter/Getty Images
Things between Jay-Z and Robert De Niro started out amicably enough. The Roc Nation founder was outspoken in his admiration for De Niro, even name-dropping the "Goodfellas" actor in his hit song, "Empire State of Mind," per Songfacts. "Yeah I'm out that Brooklyn / now I'm down in Tribeca / Right next to De Niro, but I'll be hood forever," he sings. With everything good on Jay-Z's front, it was De Niro who took offense with the "99 Problems" rapper for failing to return his calls, per Page Six. After initially agreeing to record a song for the Tribeca Film Festival, Jay-Z all but ghosted De Niro when he tried to follow up for details. According to Vibe, the two stars clashed at Leonardo DiCaprio's birthday party in 2012. "When Jay-Z went over to say hello, De Niro told Jay that he never called him back," a source dished. Supposedly, De Niro's exact words were, "If somebody calls you six times, you call them back. It doesn't matter who you are, that is just rude."
Jay-Z attempted to joke his way out of the situation, but another source told Page Six that De Niro wasn't appeased. "Everyone was saying there's only one star in New York bigger and badder than Jay-Z, and that's Robert De Niro. He can be quite scary when he's angry," the insider said. Even Beyoncé's magic touch wasn't enough to diffuse the tense situation. 
Jay-Z and Robert De Niro are friends again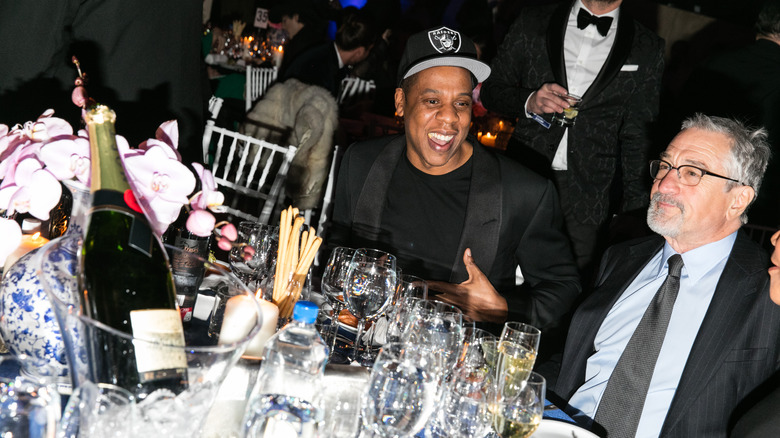 Rebecca Smeyne/Getty Images
It's unclear whether Jay-Z apologized to Robert De Niro, or if the two superstars agreed to simply let bygones be bygones. Either way, Page Six reported that the duo made nice, and were seen chumming it up at New York's amFAR gala in 2016. But before making up, Jay-Z addressed the feud on a 2013 episode of "The Breakfast Club," in which he shaded De Niro by telling listeners that he aims to be "respectful" of everyone. "I treat people based on who they are. Who they really are. Not the name, not Robert De Niro. Who you are as a person. It doesn't matter who you are, everyone has to be respectful," he explained. When asked point-blank whether he'd returned De Niro's calls, Jay-Z replied that he hadn't. (So, maybe that wasn't the most respectful move, under the circumstances?)
These days, however, the argument between De Niro and Jay-Z feels like a distant memory. Entertainment Tonight reported that Jay-Z and Beyoncé were on-hand to support De Niro at the premiere of his film "Hands Of Stone," which also co-starred Usher. "Gov Cuomo wishing Robert De Niro luck on his new film & catching up w Harvey Weinstein and JayZ," the former governor's chief of staff tweeted at the time, alongside a photo of the four men. It seems like all's well that ends well with Jay-Z and his fellow industry titan.