Why Machine Gun Kelly And G-Eazy Had Beef Over Halsey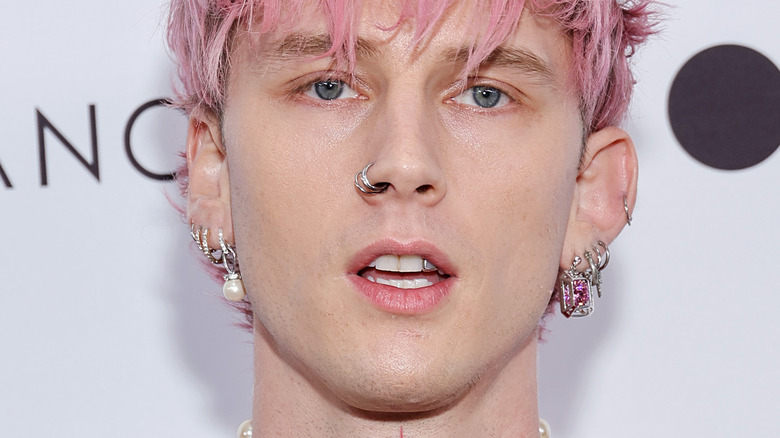 Matt Winkelmeyer/Getty Images
As much as we may hate to admit it, we all love some celebrity conflict — and there's been no shortage of feuds recently. In the wake of some of the biggest A-lister blowouts (think the VMAs incident between Taylor Swift and Kanye West, or the iconic rivalry between Christina Aguilera and Britney Spears), there's ... Machine Gun Kelly? As it turns out, Megan Fox's fiancé has butted heads with plenty of other rappers on his way to the top. In 2012, he got on the wrong side of Eminem after openly thirsting over his then-16-year-old daughter on social media. "[Hailie Jade] is hot as f**k, in the most respectful way possible cuz Em is king," Kelly tweeted.
Unfortunately for Kelly, Slim Shady saw nothing respectful about the post, and Kelly has strongly intimated that Eminem may have sabotaged his career as a result. In an interview with Hot 97's "Ebro in the Morning," Kelly alleged that his controversial tweet is the reason why "certain people won't even listen or review [my album]" and "certain places, you won't even hear Machine Gun Kelly on." Per XXL Mag, Kelly dug himself a deeper hole in 2015 by claiming that Eminem had banned him from his SiriusXM hip-hop channel, The Shade Room. Both Kelly and Eminem have gone on to throw shade at each other via rap lyrics and social media — and they don't appear ready to bury the hatchet anytime soon. Beyond Slim Shady, there's another rapper that Kelly has rubbed the wrong way.
G-Eazy dropped a diss track about MGK
Jason Koerner/Getty Images
Like Eminem, Machine Gun Kelly's feud with fellow rapper G-Eazy is longstanding. Per Billboard, it started when G-Eazy broke up with Halsey, and pictures of Halsey hanging out with Kelly started making the rounds on social media. Halsey alleged that the pictures were old and that she was single at the time, but Kelly put their relationship on blast during a 2018 interview with "The Breakfast Club." When asked by host Charlamagne tha God whether he was ever intimate with "[G-Eazy's] girl," a.k.a. Halsey, Kelly replied in the affirmative. "Absolutely," he said. Halsey responded to the interview on Twitter in three words. "How absolutely pathetic," she wrote.
As for G-Eazy, he didn't take kindly to Kelly's comments about Halsey, especially because he and Halsey later ended up reconciling. In 2018, G-Eazy dropped his epic diss track, "Bad Boy," which was packed with references to Kelly and Halsey. "MGK please stop trolling me, get over me/ You wanna be me, you're mad that you're not as big as me/ I'm everywhere ... Call a[n] Uber, turn on the radio, imagine hearing me / 'Him & I's on, mad you're listening to Halsey sing to me," he rapped. The last line name drops Halsey's song "Him & I," in which she duets with G-Eazy, and the two sing about their undying love for one another. The lyrics feature epic proclamations, like, "In the end, it's him and I ... We got that love, the crazy kind." 
MGK and G-Eazy's feud intensified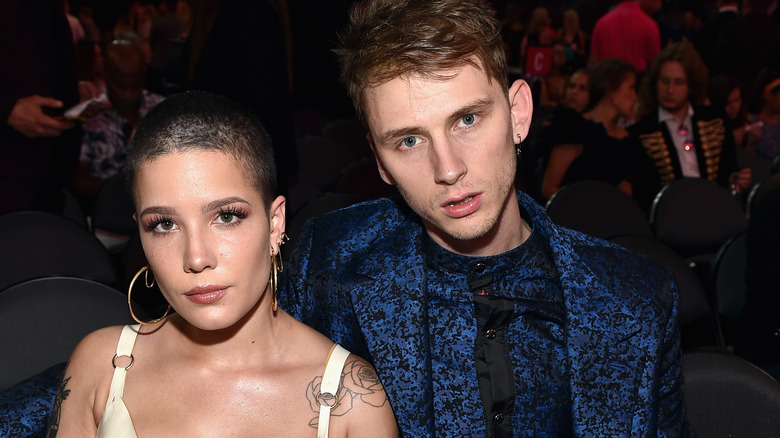 John Shearer/bbma2017/Getty Images
If you guessed that Machine Gun Kelly wasn't about to take G-Eazy's rap diss lying down, then you were right. Appearing on Hot 97's Funkmaster Flex show, the "Bloody Valentine" singer performed a freestyle rap, singing, "Only Easy I f**k with is E. I seen he's about his hearing got a hanging earring." The line takes a swing at G-Eazy, who regularly wears an earring in one ear.
On Twitter, Kelly accused G-Eazy of copying his look after the latter debuted a blond hairstyle. Kelly also posted since-deleted side-by-side photos of the two hairstyles to Instagram (via NME), which he captioned, "I f**ked his girl now he looks like me this s**t overbearing." His post stated that G-Eazy is his mini-me — and not the other way around — which G-Eazy initially rapped about in "Bad Boy."
But after a while, the two appeared to stop throwing (lyrical) punches at each other. Maybe that's because G-Eazy and Halsey broke up for good, and Halsey and Kelly have maintained their years-long friendship. In 2020, Kelly tapped Halsey for a duet on the track "Forget Me Too," which was released on his 2020 album, "Tickets To My Downfall." "I know it may seem impossible that we haven't already done a song together, because we have been friends since the dawn of time," Halsey wrote on Instagram of Kelly. "Believe me ... Just seems like it's a 'meant to be' type of thing."