The Truth About Machine Gun Kelly's Feud With Eminem
Dimitrios Kambouris/Getty Images
Eminem and Machine Gun Kelly are two of the most prolific rappers in the business today. Aside from their respective successful careers, the two have been embroiled in an epic feud for nearly a decade. The war of the words goes all the way back to 2012, when Kelly tweeted about Em's then-16-year-old daughter Hailie. 
"OK so I just saw a picture of Eminem's daughter ... and I have to say she's hot as f***, in the most respectful way possible, because Em is king," Kelly tweeted. After that, Kelly claims he was banned from Shade 45, Eminem's SiriusXM station and certain outlets refused to review his records because of his tweet about Hailie. Eminem, however, had not yet publicly addressed it, per MGK's 2015 interview with Hot 97 FM. 
Another few years went by with Eminem ignoring Kelly, but MGK just couldn't leave it alone. In 2018, he decided to poke the bear once again, taking shots at Em on with a verse on Tech N9ne's song "No Reason" with the lyrics: "I pop cherries and pop stars, you popsicles is not hard / Popped in on the top charts out the cop car /To remind y'all you just rap, you're not God /And I don't care who got bars." Machine Gun Kelly was referencing Eminem's song "Rap God," per The Sun, as well as seemingly referencing his earlier tweet about Eminem's young daughter. Needless to say, that didn't improve the relationship.
Eminem finally hits back at MGK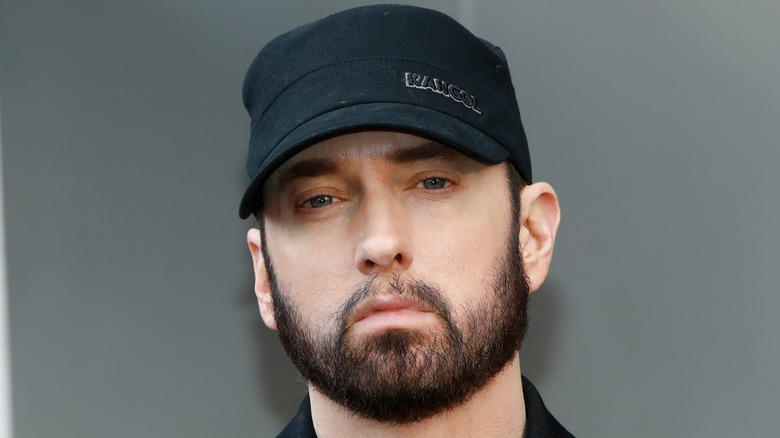 Shutterstock
In August 2018, Eminem dropped his "Kamikaze" album and finally addressed Kelly's tweet in his song "Not Alike," per Cosmopolitan. Em raps, "But next time you don't gotta use Tech N9ne if you wanna come at me with a sub-machine gun / And I'm talking to you but you already know who the f*** you are, Kelly / I don't use sublims and sure as f*** don't sneak-diss / But keep commenting on my daughter Hailie." 
By September, Kelly struck back on the track "Rap Devil," then Eminem sat down for an interview, saying (via Newsweek), "One day, you know, you go down a f****** wormhole on YouTube ... I see 'Machine Gun Kelly Talks About Eminem's Daughter' ... I'm like, 'What the f***? Yo, my man better chill." Eminem followed that with "Killshot," rapping, "But how you gonna name yourself after a damn gun and have a man bun."
A few days later, Kelly did an interview with The Breakfast Club complaining that Eminem won't talk to him. "He doesn't want to have a conversation. F*** you. You blew it," Kelly claimed. "I wish he would shut the f*** up."
By 2020, though, it seems that Eminem may have called a ceasefire. He dropped "Music to be Murdered By" in January 2020, featuring the song "Unaccomodating." On the track, Em raps, "But when they ask me is the war finished with MGK? Of course, it is /I cleansed him of his mortal sins, I'm God and the Lord forgives even the devil worshippers."