The Real Reason Eminem Had To Relearn How To Rap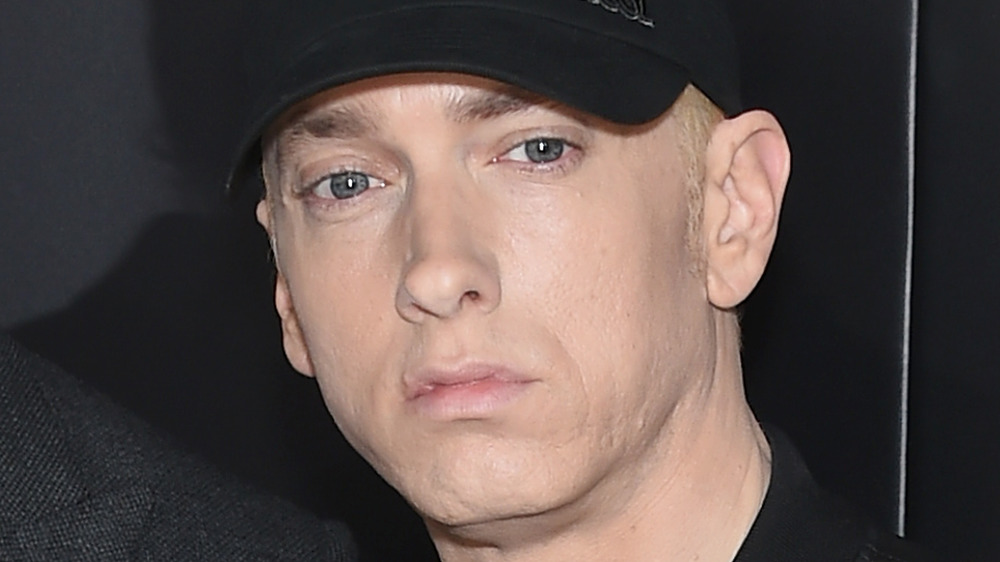 Dimitrios Kambouris/Getty Images
Eminem ain't shy to start a controversy. Fans all know that, but does he ever go too far? The rapper himself seems to think so because he apologized to Rihanna in one of his tracks.
For a little backstory, an unreleased song of Eminem's leaked in 2019 where he addressed Chris Brown's 2009 domestic assault charge involving Rihanna, according to Entertainment Weekly. Eminem's leaked track contained the lines, "[Of] course I side with Chris Brown, I'd beat a bi**h down too." Wow, not OK! The diss seems all the more surprising, considering Rihanna and Eminem have collaborated extensively. In 2010, they released their collab "Love the Way You Lie," followed in 2012 by their songs "Numb" and "The Monster," according to Page Six. Then they toured together in 2014. So yea, that's quite a team effort.
When Eminem got the chance to explain why such unfortunate lyrics found their way into one of his songs, he offered the excuse that he was relearning how to rap at the time. If you're confused by this, you're not alone — keep on reading for the scoop.
Eminem explains how drugs played a role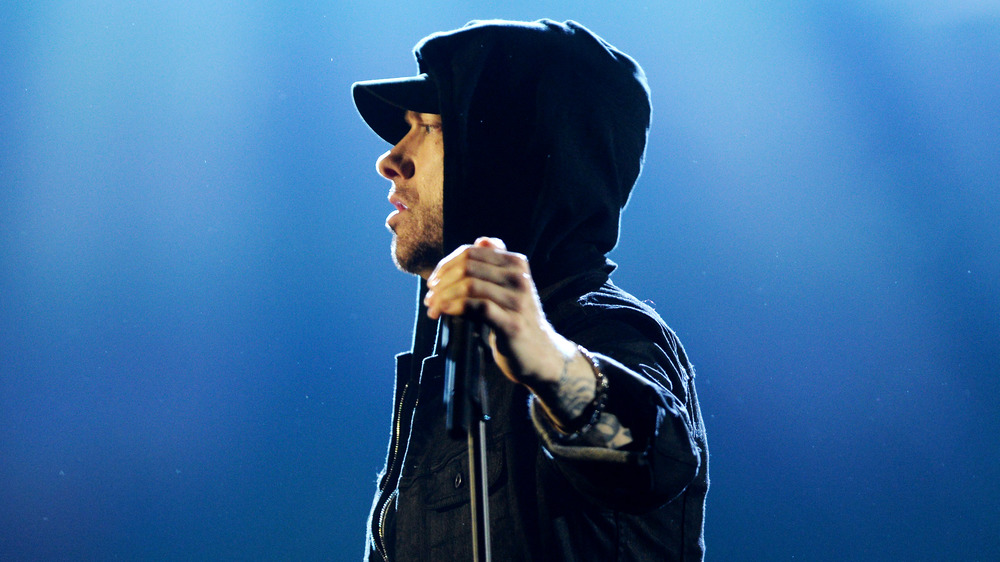 Dave J Hogan/Getty Images
In late December 2020, Eminem released the album Music To Be Murdered By — Side B. The album featured the song "Zeus," which contains an apology from Eminem to Rihanna for his controversial lyrics. Eminem said by way of apology, "But, me, long as I re-promise to be honest / And wholeheartedly, apologies, Rihanna," he raps. "For that song that leaked, I'm sorry, Ri / It wasn't meant to cause you grief. Regardless, it was wrong of me," per Entertainment Weekly.
The original track of Eminem dissing Rihanna got recorded in 2009 and was for the album Relapse, according to Page Six. However, Eminem wound up scrapping the song, but that didn't stop it from leaking in 2019.
In a January 2021 interview with Gray Rizzy on SiriusXM, Eminem explained that in 2009, he was relearning how to rap after recovering from his drug addiction. "I said it and I was wrong for saying that. It was f–king stupid," he admitted. "You know, a lot of times, especially with the 'Relapse' record, when I first started learning how to rap again, because of the drug situation that I went through and having to relearn a lot of things, that was one of those things that it was like, 'Well, if it rhyme, say it.'" Eminem added that, although he doesn't even remember recording the song, he doesn't want to make excuses, either.