The Real Reason Eminem Is Apologizing To Rihanna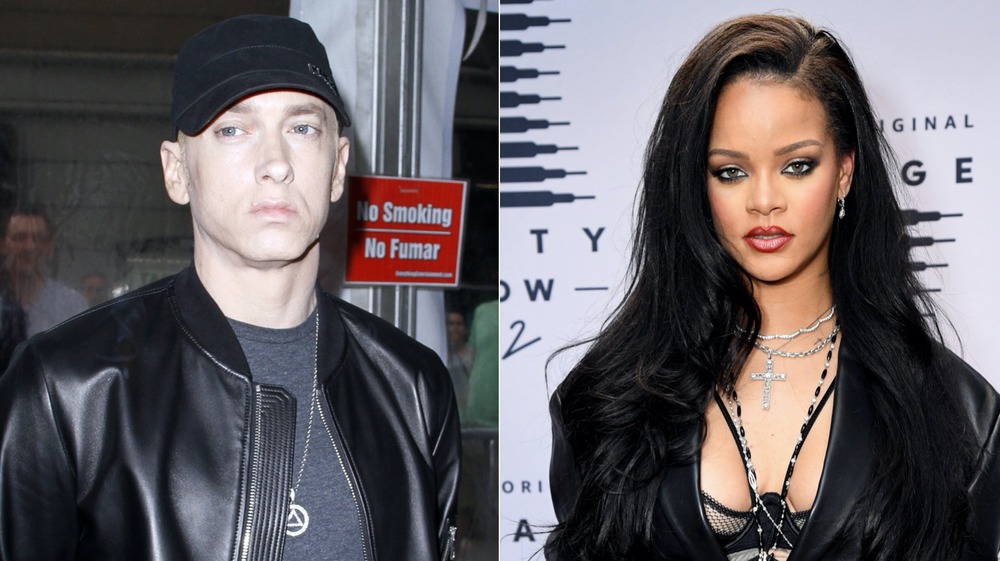 Donna Ward, Kevin Mazur/Getty Images
Eminem has something to say, and he is expressing it creatively with his 12th studio album, Music to Get Murdered By – Side B. The surprise album was released on Dec. 18, 2020, marking the rapper's third album release since 2018. The 16-track project serves as a follow up to its predecessor with a similar name, Music to Get Murdered By, which dropped in January 2020. In true Slim Shady fashion, the rapper packed his album with tracks about various hot topics, such as the COVID-19 pandemic and the Black Lives Matter protests, while also calling out convicted sex offenders Harvey Weinstein, Bill Cosby, and alleged sex offender R. Kelly.
What makes Eminem's album extra special is his call for redemption and self-accountability. The "Gnat" lyricist, who is celebrating over a decade of sobriety, took the time to issue a heartfelt apology to his longtime collaborator, Rihanna. Keep scrolling to find out why Eminem is giving the singer and entrepreneur such a warm apology.
Eminem apologized to Rihanna for defending Chris Brown amid 2009 assault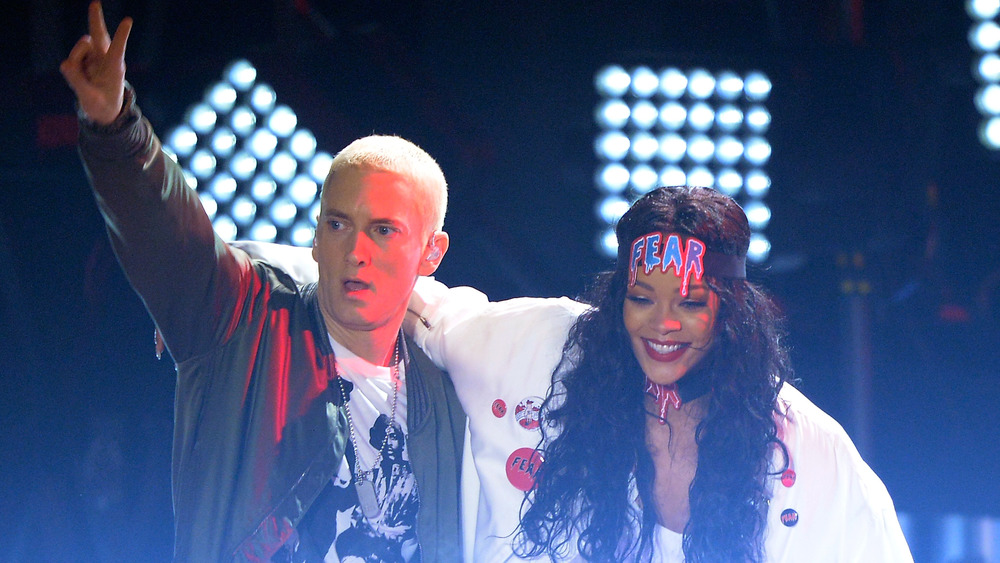 Kevork Djansezian/Getty Images
Musically, it is hard to deny that Eminem and Rihanna have a yin-and-yang relationship with one another. Balancing one another's chaotic lyrics, the two longtime collaborators reached No. 1 on the Billboard charts with their 2010 hit, "Love The Way You Lie." Eminem and Rihanna also partnered for their 2014 Monster tour. The two seemed to have great chemistry with one another. However, Eminem's words might have gotten him in hot water with the ANTI singer.
In 2019, an unreleased rap verse leaked from Eminem, where he is heard defending Rihanna's ex-boyfriend Chris Brown. Referring to the 2009 case in which Brown pled guilty to felony assault of Rihanna,  Eminem can be heard saying, "Of course I side with Chris Brown / I'd beat a b***h down too," per Entertainment Weekly. At the time, Eminem's representative Dennis Dennehy issued a statement in which he assured fans that the rapper did not use the verse after writing it (via EW). "After Eminem recorded it, he scrapped it and rewrote it."
On the track "Zeus" from Music to Get Murdered By – Side B, Eminem is stepping up to the plate to hold himself accountable for the leaked verse. He rhymed his apology: "Long as I re-promise to be honest / And wholeheartedly, [I give to] apologies, Rihanna / For that song that leaked / I'm sorry, Ri / It wasn't meant to cause you grief / Regardless, it was wrong of me." As of this writing, Ri-Ri has yet to comment on the verse, but we know we are pleased to see Eminem owning his mistakes and trying to make amends.