The Real Meaning Behind Eminem's Gnat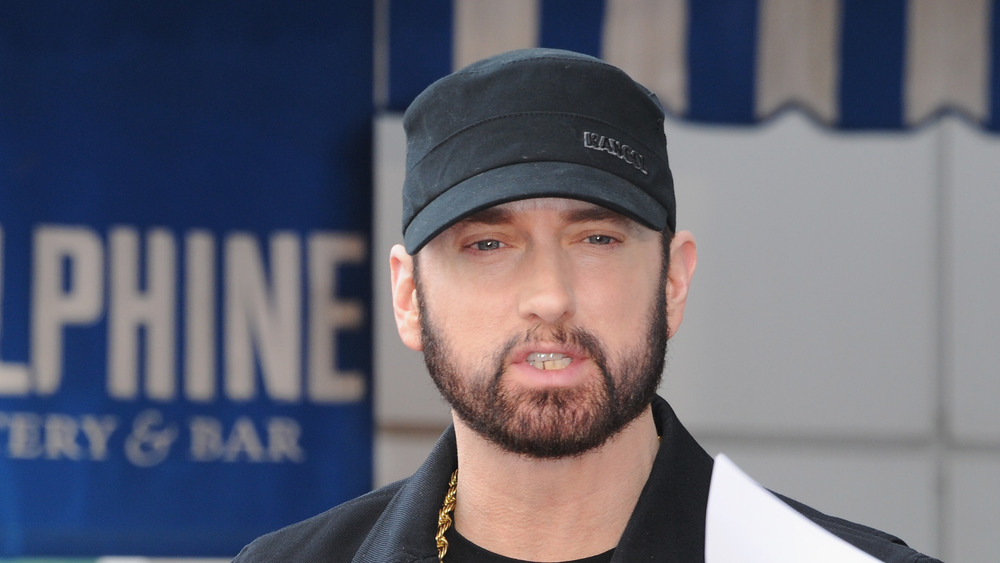 Albert L. Ortega/Getty Images
It seems like Eminem can't go long without releasing new music for fans. The Detroit native, whose real name is Marshall Mathers, dropped a new album and music video on Dec. 17, 2020. The song "Gnat" is part of a continuation of his album, "Music to Get Murdered By" which was released on Jan. 21, 2020. This "B Side" album has 16 new tracks and the music video for "Gnat" has been generating headlines because of the rapper's acting.
Per UpRoxx, the music video, which was directed by Lyrical Lemonade's Cole Bennet, sees Eminem returning to his mischievous ways: throwing shade at political figures, fighting off a swarm of oversized gnats, breaking free from COVID-19 quarantine, and getting shot by a man for dissing his wife.
If you didn't know, Eminem dabbled in acting in the early 2000s, and his most famous role to date was "Jimmy "B-Rabit" Smith Jr. in 8 Mile. Eminem was supposed to be in 2015's "Southpaw" but, because of work commitments, the role was given to Jake Gyllenhaal and Eminem took on producing duties instead.
In "Gnat" though, the song finds Eminem referencing the coronavirus. "They say these bars are like COVID / You get 'em right off the bat," he spits in the chorus. "Infected with SARS and Corona / Like you took a bite off of that / And it goes from martian to human." Some lyrics are causing a stir for a different reason, though. Keep reading to find out why. 
Eminem takes on the Trump administration again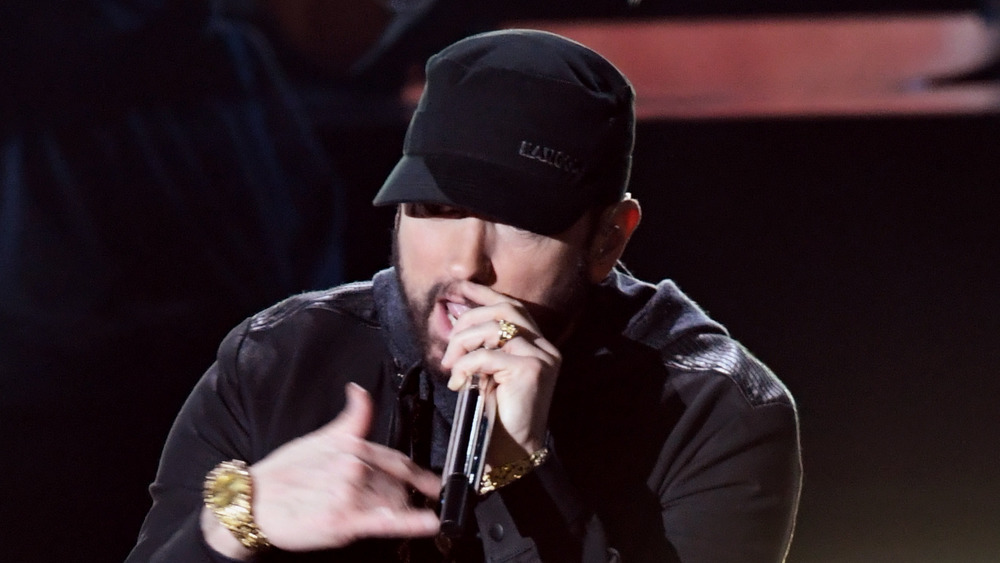 Kevin Winter/Getty Images
Besides tackling the coronavirus, Eminem used his lyrics to slam Donald Trump and Mike Pence (again) for their handling of the pandemic. "I will not annihilate, kill them, I'll f**k around and pile еight million / Dead little juvenilеs, wait, chill, then, I'll await my trial date 'til then," the rapper rhymes. "Ain't nothin' you say can / ever Trump, mic, pencil get killed / If you're hypersensitive, I wasn't referencin' the vice president, chill."
Eminem's feud with Donald Trump has been well-documented over the years. As NickiSwift reported in 2017, Eminem bashed Trump in a cypher at the BET Hip Hop Awards. The freestyle went viral, but Eminem was also interviewed by Secret Service on another occasion for referencing the president and his daughter, Ivanka Trump, in the song "Framed" that appeared on his "Revival" album in 2017, per Buzzfeed News.

Getting interviewed by the Secret Service for making threats about the president would scare many people, but Eminem was unfazed and rapped about it on "The Ringer," the lead track off of his 2018 album, "Kamikaze."
We'll have to see whether Eminem's feud with Trump will end when the current president leaves the White House on January 20, 2020. For now, let's hope Eminem won't be the subject of another Secret Service report.