The Absolutely Wild Way Megan Fox And Machine Gun Kelly Celebrated Their Engagement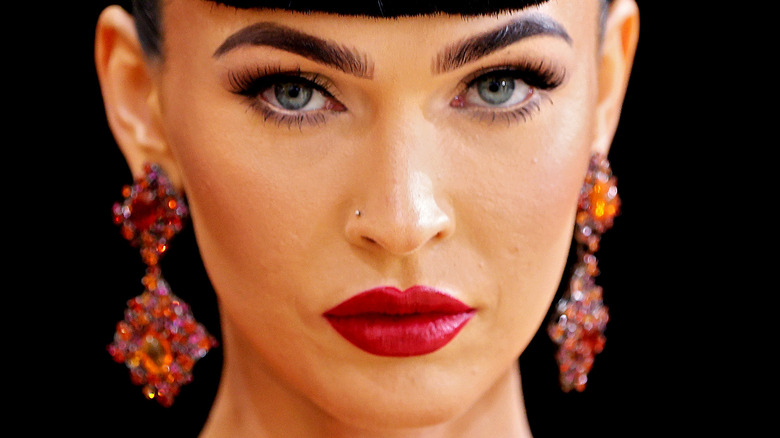 Theo Wargo/Getty Images
It's official! Megan Fox and Machine Gun Kelly are officially engaged after over a year of dating.
Amid a giant tree surrounded by an abundance of nature, Kelly — whose real name is Colson Baker — got down on one knee to propose to Fox. In the video Fox posted announcing the engagement, fans see that after her shock, Fox kneels to not only put the ring on her left finger, but give Kelly a big kiss. In the announcement post, Fox wrote, "In July of 2020 we sat under this banyan tree. We asked for magic. We were oblivious to the pain we would face together in such a short, frenetic period of time. Unaware of the work and sacrifices the relationship would require from us but intoxicated off of the love. And the karma."
Continuing the post, Fox added, "Somehow a year and a half later, having walked through hell together, and having laughed more than I ever imagined possible, he asked me to marry him." Yet, after saying yes, instead of heading to a normal engagement party like most couples, Fox and Kelly instead chose to ring in their new chapter as an engaged couple in an ominous way.
The couple celebrated their engagement with a head-turning event
After accepting the proposal, Megan Fox and Machine Gun Kelly did what most couples have never done before — drank each other's blood. "And just as in every lifetime before this one, and as in every lifetime that will follow it, I said yes ... and then we drank each other's blood. 1.11.22," Fox finished writing on her Instagram.
While it may seem odd, blood seems to be a part of the pair's relationship, as it's not the first time they've discussed dealing with one another's blood. Back when the two first became official, Fox starred in Kelly's "Bloody Valentine" music video. But that "blood" wasn't enough for the pair because last May, Kelly revealed that Fox gifted him a necklace with a drop of her blood before she was set to go to Bulgaria for filming. "Some people give, like, a handkerchief to their partner or whatever. She gave me her DNA," he told Ellen DeGeneres.
Yet, with their newfound engagement, Kelly and Fox have now taken it one step further by drinking one another's blood. While the two haven't officially revealed whether they really drank each other's blood after their engagement — given their unconventional love language in the past — it wouldn't be too out of the norm for these two.