Ryan Gosling And Eva Mendes Have A Bigger Age Gap Than You Thought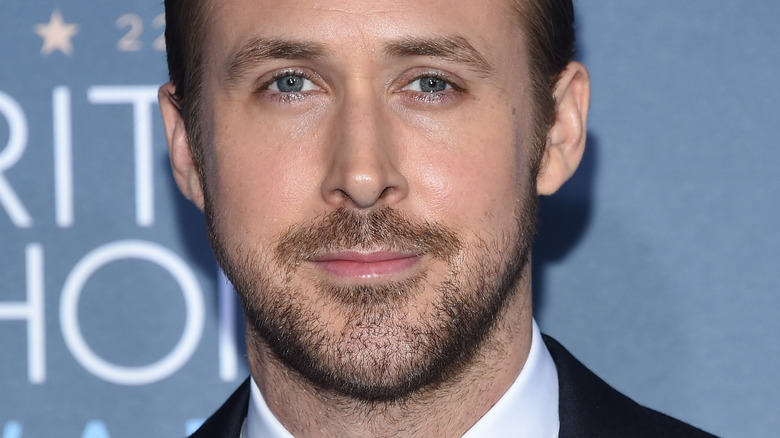 DFree/Shutterstock
Despite being one of the most famous couples in Hollywood, Ryan Gosling and Eva Mendes are notoriously private when it comes to their relationship. The two have been together since 2011, having met on the set of "The Place Beyond the Pines," where they played love interests Luke and Romina. After quietly having two children, the pair shocked fans in November when Mendes seemingly confirmed she and Gosling are already married. Appearing on Channel 9's "Today" in Australia, the "Hitch" star publicly referred to Gosling as her husband for the first time. "Everyone is so here and my husband Ryan is here, and we are having the best time," she said (via People).
Despite being fiercely protective of their relationship, both Gosling and Mendes have made no secret of their love for one another. In 2015, Gosling opened up about his feelings for his wife in a rare interview with Hello! "I know that I'm with the person I'm supposed to be with," he said of Mendes. On the quality he looks for in a woman, Gosling stated, "That she's Eva Mendes. There's nothing else I'm looking for." Mendes has similarly gushed about the "Drive" actor, telling People that home for her means being with Gosling and their kids. "Wherever they are, that's just what it is," she said.
Given that Gosling and Mendes seem to be the perfect match, fans may (or may not) be surprised to learn just how wide the age gap between the two really is. 
Ryan Gosling and Eva Mendes have a six-year age gap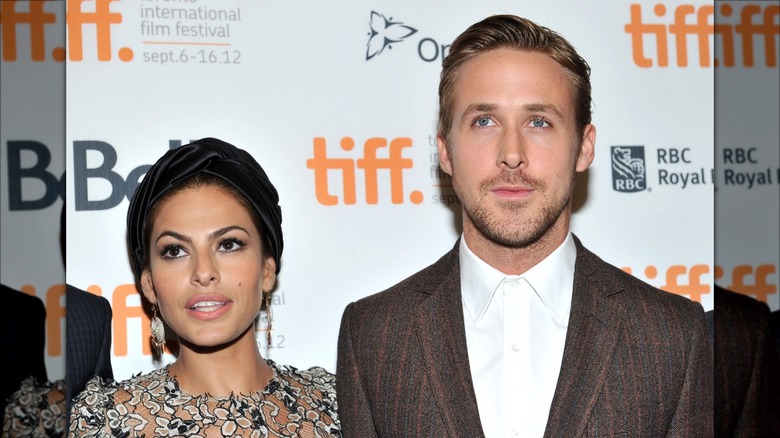 Sonia Recchia/Getty Images
It may not be obvious, but Eva Mendes is actually six years older than Ryan Gosling. The "Lost River" actor was born on March 5, 1974, while Gosling was born on November 12, 1980 — meaning she's 48, while he's 42 at the time of this writing. Regardless, their six-year age gap may not come as a total surprise for fans, as Gosling has a history of dating women who are either slightly or much older than him. In 2005, Gosling famously dated his "The Notebook" co-star Rachel McAdams, who is two years older than him, according to Express. Years prior, in 2001, the actor was romantically linked to Sandra Bullock, with whom he worked on the psychological thriller "Murder by Numbers." The two have a significant age gap of 16 years; she was 37, while Gosling was only 21 when they started dating, according to Parade.
Despite their age difference, it seems that Gosling and Mendes are a match made in heaven. The A-list couple has been going strong and steady for more than a decade, and back in 2019, Mendes told Women's Health that she never imagined settling down and having her own family until "Ryan Gosling happened." "I mean, falling in love with him. Then it made sense for me to have... not kids, but his kids," she said in her cover story interview. "It was very specific to him." Aww!
Ryan Gosling and Eva Mendes are fiercely protective of their family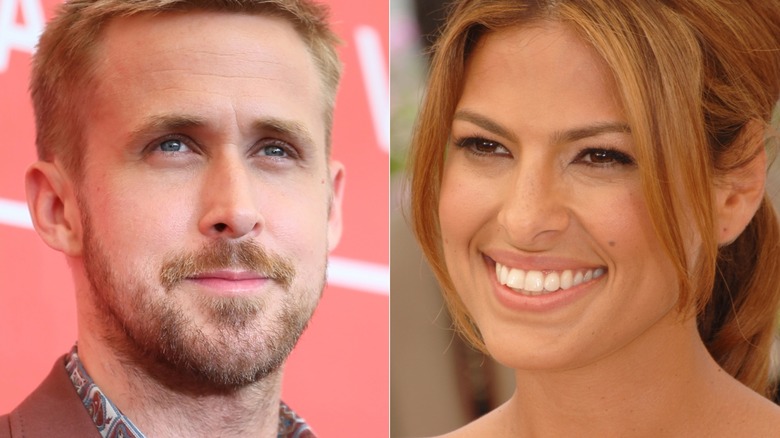 Denis Makarenko & Featureflash Photo Agency/Shutterstock
In 2020, Eva Mendes explained why she does not share photos of Ryan Gosling and their kids, Esmeralda and Amada, on her social media accounts. In response to a fan, Mendes said she's always had a clear boundary when it comes to Gosling and their family. "I'll talk about them of course, with limits, but I won't post pictures of our daily life," Mendes stressed (via Harper's Bazaar). "Since my children are still so little and don't understand what posting their image really means, I don't have their consent." She said she'll only post their pictures when they're old enough to give her their consent. As for her and Gosling, "It just works for us this way, to stay private."
Speaking of their kids, the "Ghost Rider" actor previously discussed their parenting style in an interview on "The Kelly Clarkson Show" in 2019, admitting that she and Gosling are — in her own words — the "bulldozing" kind of parents. "We're very controlling," she said. "Well, what else are we supposed to do? We have to be on top of them every second." As for Gosling, the Hollywood leading man has also opened up about fatherhood and how all the cliches he'd heard about being a parent turned out to be true. "Until you experience that, there's no way to really know what people mean," he told GQ in 2016. He added that he never expected how wonderful and "surreal" being a father is. "My life had changed," he said. "And thank God it did."