What Zoe Saldana's Husband Does For A Living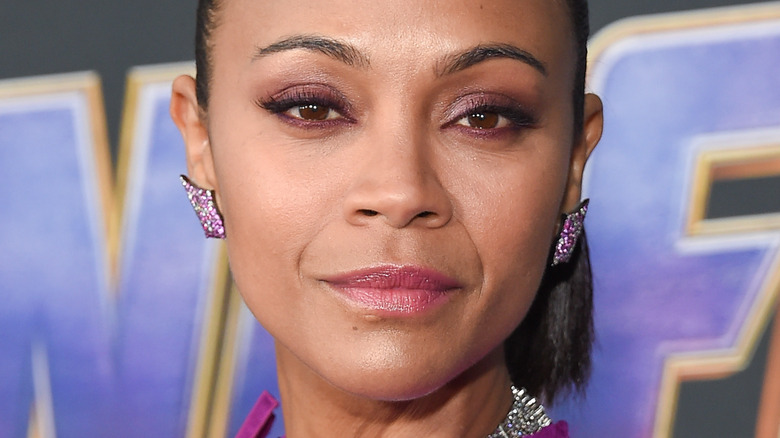 DFree/Shutterstock
Zoe Saldana's success as a movie star is not easily overlooked. The New Jersey-born actor's movies have grossed a total of $11.22 billion (prior to the December 2022 release of "Avatar: The Way of Water"), per Parade. Two of her starring vehicles, 2009's "Avatar" and 2019's "Avengers: Endgame," also happen to be the two highest-grossing movies of all time (as of this writing), per Insider. Zoe, alongside sisters Mariel and Cisely, also heads up her own production company, Cinestar Pictures, which churned out mainstream projects like 2014's NBC miniseries, "Rosemary's Baby," (in which Zoe starred) and HBO Max's 2022 sitcom, "Gordita Chronicles." Additionally, Zoe also launched a digital media company in 2017, per The Hollywood Reporter, with the focus being on content aimed at millennial and Gen-Z demographics.
Despite her high Hollywood profile, Zoe has led a fairly quiet personal life. Marrying Italian native Marco Perego in an intimate 2013 ceremony, per Hollywood Life, she and Perego are parents to three sons — twins Cy Aridio and Bowie Ezio and their brother, Zen Anton Hilario. In a 2015 interview with USA Today, Zoe revealed that she and Perego felt an instant mutual attraction meeting on a flight to New York. "Before I even saw his face ... it was a vibration," she described. "He turned in that moment, because he felt the vibration as well."
So what kind of man captured the "Avatar" star's attention so immediately? Here's more about Perego and what he does for a living.
Marco Perego is an artist of many mediums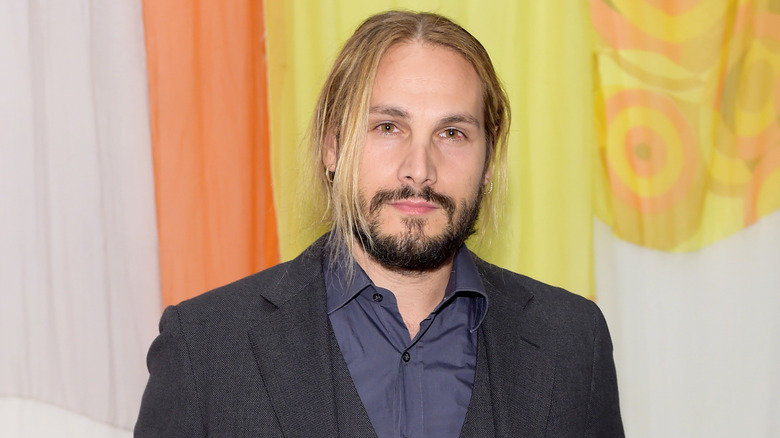 Stefanie Keenan/Getty Images
Creativity floweth in Zoe Saldana's household! Her husband, Marco Perego, happens to be a painter, sculptor, and filmmaker. Although he harbored early aspirations of playing pro soccer, Perego shifted gears at age 21 after suffering a leg injury, per the Observer. Moving to New York in 2002 to become an artist, he first paid his dues by working in restaurants.
Everything changed in 2005 after film producer Gilda Moratti purchased one of Perego's paintings. By 2007, he held his first solo art show in New York, where his paintings sold for between $20,000 and $30,000 and his sculptures, of which he sold 13 out of 15 total, went for $15,000 apiece. Perego described that experience to the Observer in 2007, recalling, "My first show in New York was unbelievable ... because they show up like 700, 800 people in Ingrao Gallery." Perego added, "My story was unbelievable ... My father is a waiter, my mum stays at home."
Perego also ventured into the film business. Serving as producer on 2014's dramatic short, "Me + Her," and 2016's documentary, "Black and White Stripes: The Juventus Story." he also began directing a few years later. "Keyhole Garden," a film about the impact of immigration border policies, allowed Perego to direct stars including his wife, Garrett Hedlund and Tom Waits. In addition to behind-the-camera work, Perego also appeared alongside his wife in the music video for Alicia Keys and Miguel's 2019 duet, "Show Me Love." 
Marco Perego and Zoe Saldana lead a gender-neutral household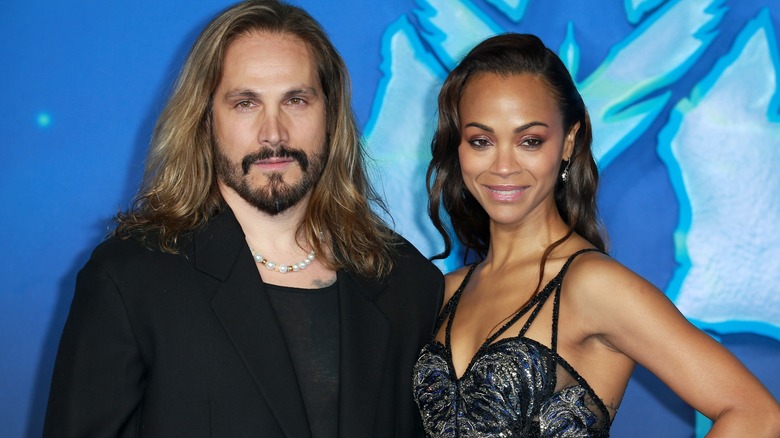 Fred Duval/Shutterstock
When it comes to disregarding traditional gender roles, Marco Perego and Zoe Saldana are in total agreement. Upon their marriage, Marco legally adopted Zoe's last name (thus, his full name is Marco Perego Saldana), despite her protests at the time. "I told him, 'If you use my last name, you're going to be emasculated by your community ... by the world,'" the "Guardians of the Galaxy" star recalled to InStyle in 2015. Zoe later reflected on her husband's decision in a Facebook post, writing, "He asked me, 'Why not? What are you so afraid of?'" Questioning her own prior beliefs, Zoe continued, "Men, you will not cease to exist by taking your partner's surname. On the contrary — you'll be remembered as a man who stood by change."
The couple is also raising their sons in a gender-neutral environment, which includes supplying them with toys for all genders and distributing household chores equally. "My husband participates in a lot of tasks that were normally given to women and vice versa," Zoe told Us Weekly in 2019, adding that she does "a lot of male things" such as assembling TVs.
Zoe also revealed to People in 2018 that the "Time's Up" movement rewired her outlook on parenting. As she told the outlet, "​​The whole thing about matriarchy and patriarchy ... you're giving them a very distorted and limited view on what a female role is supposed to be in a family and what a male role is supposed to be."