A Look Inside Sherman Williams' Journey In Prison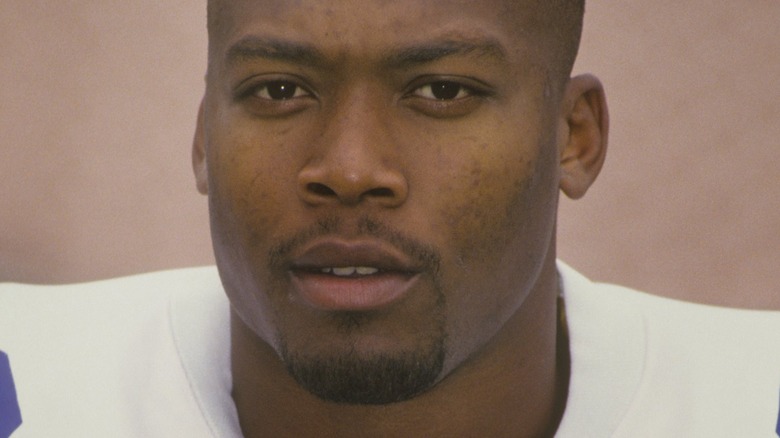 Mitchell Layton/Getty Images
Since the NFL's inception, fans have been introduced to an array of football legends – including, but not limited to, Tom Brady, Jerry Rice, Jim Brow, and Walter Payton. While many players have made their marks in the football world, there's also been a handful that failed to reach their full potential. One of those players is former Dallas Cowboys star, Sherman Williams. Before making his way to the professional gridiron, the "Crimson Cowboy" wowed sports enthusiasts as the University of Alabama's star football player in the 90s. By his senior year, Williams had earned 2,486 yards and 27 rushing touchdowns, per 247 Sports.
After leaving the University of Alabama, the former running back was drafted by the Cowboys in 1995 as Emmitt Smith's backup, per Sportskeeda. After playing in the NFL for four years and earning a Super Bowl ring, Williams got cut from the Cowboys and started playing for the Admirals in the RFL. But despite his demotion, the talented athlete still had aspirations for an NFL return. "I expect to be in a camp somewhere," he told The Associated Press at the time. Unfortunately, his dreams of returning to the NFL were permanently halted when he got arrested for being involved in a marijuana racket, per Buffalo News.
After a trial, Williams was sentenced to 15 years in prison for conspiracy to distribute marijuana and to pass counterfeit currency. Fortunately, Williams used his predicament to turn his life around.
Sherman Williams reconnected with his spirituality while in prison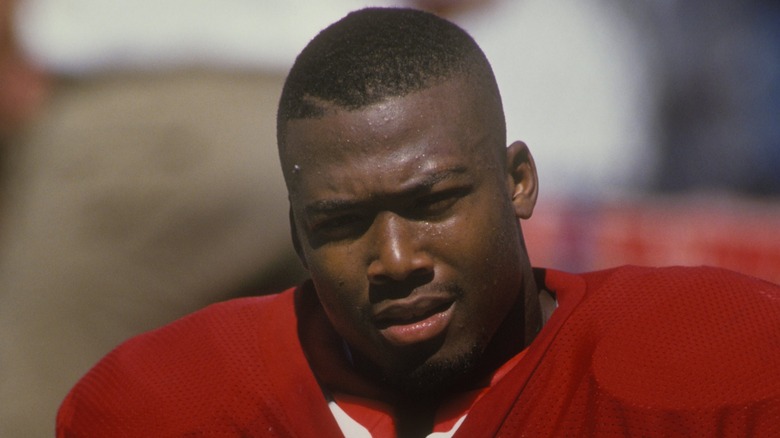 Mitchell Layton/Getty Images
While an extensive prison sentence may harden some people, former Dallas Cowboys star Sherman Williams found his time behind bars an easy feat. During his stay at the Forrest City Federal Correctional Institution in Arkansas, the running back told the Press-Register of Mobile, he "could handle anything" while behind bars. "You know, I would think that things that would kill the average man wouldn't even make me flinch," he explained (via ESPN). "That's the kind of attitude, that's the kind of heart that I have."
With a relatively smooth prison stay, Williams used his time to reflect and own his past mistakes. "At one point, my whole life was centered on football and becoming a successful athlete," he told The Tuscaloosa News in 2012. "As I pursued this home and dream, I had to make decisions along the way. Unfortunately, I didn't always get it right." Williams went on to say that after years of processing his decisions and reconnecting with his spirituality, he got to a "better place in life." He focused on praying and the teachings of Christ, as well as seeking forgiveness for his past. "I do feel that my future is much brighter than my past," he continued. Fortunately for the former Regional Football League player, his hopes of leading a prosperous post-prison life came true.
Sherman Williams is using his experience to help a younger generation
After serving nearly 15 years in prison, Sherman Williams was released on March 1, 2014. With his newfound freedom, the beloved athlete put his past mistakes behind him and focused on bettering his life by achieving various life milestones. In 2018, Williams earned his college degree from the University of Alabama, per The Bleacher Report. "Ready to begin my new journey as a graduate of the University of Alabama Spring 2018 class. The struggle is real, but the hustle is golden," he tweeted at the time. "Thank God for his grace and mercy."
In addition to obtaining his college degree, Williams used his time to give back to the local community. In 2018, the former Dallas Cowboys running back teamed up with former Vikings player David Palmer to create the Palmer Williams Group. Under the non-profit organization, the two former NFL stars mentor young children from underprivileged areas. "It's about helping young people, helping children get them on the right track, get them some information, [and] help them see things from a different side," Williams told WVTM 13 in 2021. "I don't think no one has to go through what I went through to become a better person." It's safe to say that Williams is living a prosperous and successful life following his extensive prison stay.