What Molly Ringwald Is Up To Today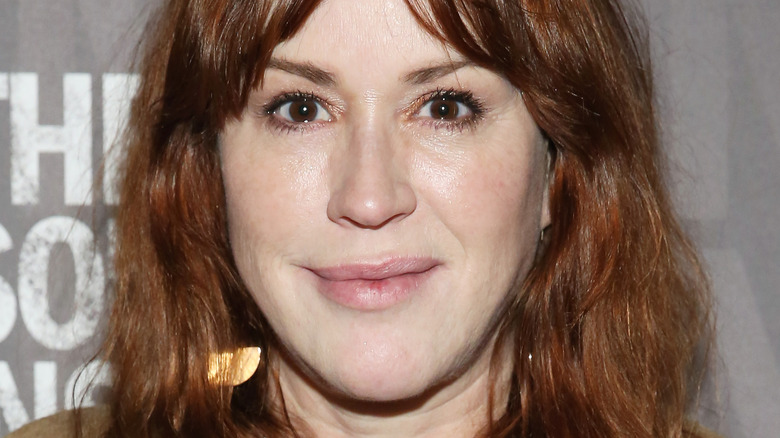 Monica Schipper/Getty Images
Molly Ringwald has always been synonymous with teen movies from the 1980s. From playing the angst-ridden high schooler in "Sixteen Candles," to the popular girl in "The Breakfast Club," Ringwald proved she can take on any role. Her earlier movies put her on the map and she starred in another John Hughes movie, "Pretty in Pink," which was released in 1986.
According to Biography, Ringwald turned down Hughes' offer for the lead in "Some Kind of Wonderful," as well as other hits, such as "Pretty Woman" and "Ghost." Although her career was thriving, the actor made the decision to quit Hollywood, which had many fans wondering what had become of the young starlet.
Ringwald penned a lengthy explanation in The New Yorker. She revealed shocking stories of being sexualized and sexually violated at a young age. "When I was thirteen, a fifty-year-old crew member told me that he would teach me to dance, and then proceeded to push against me with an erection. When I was fourteen, a married film director stuck his tongue in my mouth on set," she recalled. After a horrifying audition where she was made to put a dog collar around her neck, Ringwald packed up and moved to Paris. While she put her "career on the backburner," she never stopped working and Ringwald's career took off again.
Molly Ringwald's roles diversified over the years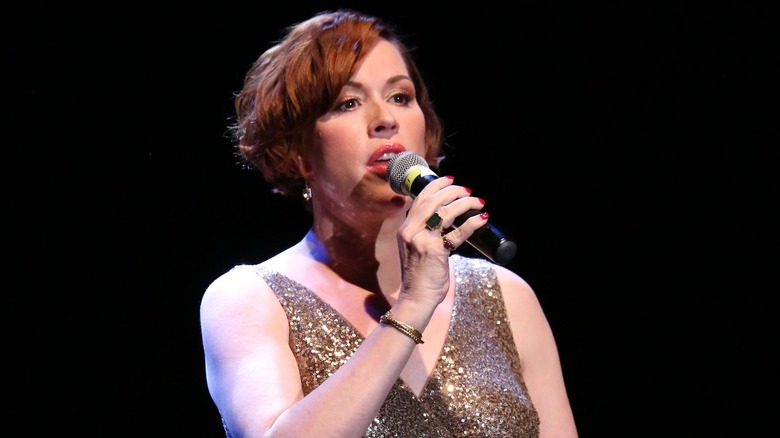 Walter Mcbride/Getty Images
While Molly Ringwald's portrayal of teens with teen problems was spot on, she naturally couldn't play those roles forever. Ringwald also had other talents besides acting. She starred and sang in the Off-Broadway musical, "tick, tick...BOOM!" and the hit Broadway show "Cabaret," per Playbill.
In 2008, Ringwald landed a role as the main character's mom in "The Secret Life of the American Teenager." In an interview with Movieweb, she described what it was like playing the mother of a teen after being known for her earlier roles in the John Hughes movies. "I feel almost like I'm so known for being a teenager and then all of a sudden, I'm the mother of a teenager. That's always sort of a real head trip for me," she described.
Ringwald played another mom in "The Kissing Booth" movies, and then went on to star in the series "Riverdale." As for what it was like to star in the iconic comic book-turned-television series, she told Entertainment Tonight, "It's Archie. I mean, I loved Archie growing up. I was always really interested, you know, 'Am I more Betty or am I more Veronica? What am I gonna be like when I grow up?' but it turns out I'm Archie's mom." Ringwald shared that she tries not to give the younger cast members advice, as it doesn't work with her own children — one of whom has watched all her mom's iconic movies.
Molly Ringwald has mixed feelings about her children watching her old movies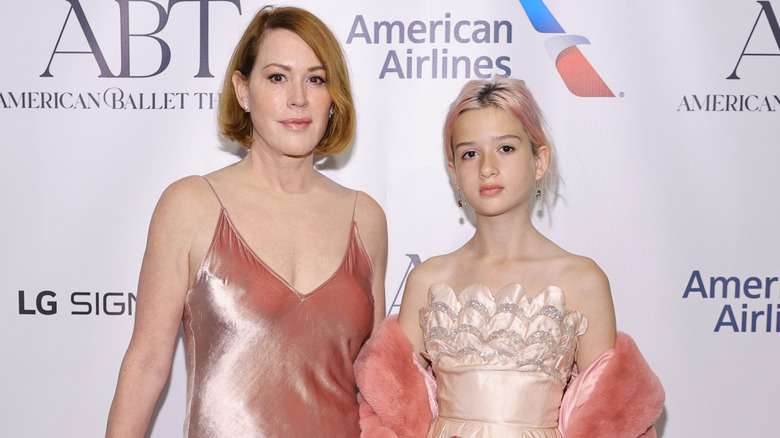 Jamie Mccarthy/Getty Images
Molly Ringwald married her second husband, Panio Gianopoulos, in 2007, and they share their daughter Mathilda, and twins Adele and Roman, per Today. In a 2021 interview on "Radio Andy," Ringwald recounted how watching "The Breakfast Club" with Mathilda made her "emotional." The actor had previously penned an essay for The New Yorker about the problematic themes, such as sexism and racism, in the John Hughes movies she had starred in.
"I know it definitely is a different time, but ... people ask me if I've watched them with my kids, and I did watch the first one, which was the impetus to write that article, with Mathilda. It was such an emotional experience that I haven't — I haven't found that strength to watch it with my two other kids," she told Andy Cohen. Ringwald noted that her other daughter Adele is "the most woke individual," and it would be hard for her to watch those movies with her.
Despite her trepidation at showing her younger kids her 80's movies, she told Newsweek, "They keep asking. And I really do think that I need to do it, otherwise I'm gonna miss my window." Now that Adele and Roman are almost the age Ringwald was when she starred in "Sixteen Candles," they'll probably find the teenage version of their mother very relatable.