Why Didn't Johnny Depp And Amber Heard Have A Prenup?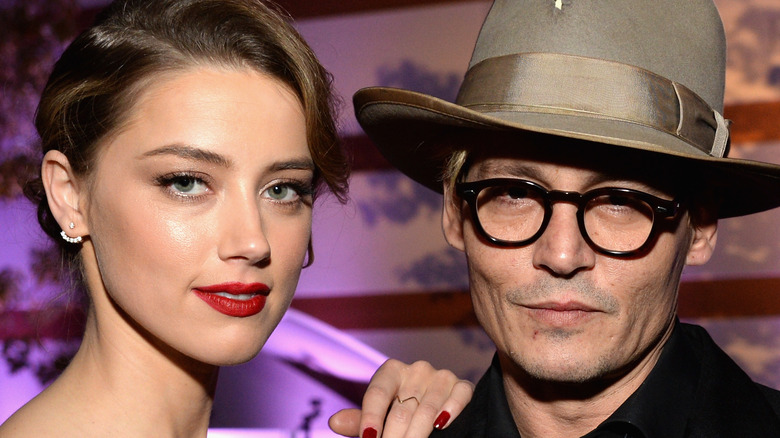 Michael Kovac/Getty Images
Johnny Depp and Amber Heard had one of the most contentious divorces in the history of Hollywood. Their love story started like any other celebrity romance. They reportedly met on the set of the 2011 film "The Rum Diary," but at the time, Depp was in a relationship with longtime partner Vanessa Paradis and Heard with photographer Tasya van Ree, per People. Not long after, the former couple began dating, with Heard saying of Depp, "I felt like this man knew me, saw me, in a way no one else had."
In 2015, they tied the knot in an intimate ceremony in the Bahamas, but 15 months later, they called it quits, citing "irreconcilable differences." Heard also filed a restraining order against Depp at the time and claimed he was physically abusive. She later dismissed the domestic violence case following a reported settlement of $7 million, per TMZ. "Our relationship was intensely passionate and at times volatile, but always bound by love," they said in a joint statement. "Neither party has made false accusations for financial gains. There was never an intent of physical or emotional harm. Amber wishes the best for Johnny in the future. Amber will be donating financial proceeds from the divorce to a charity."
Their story, unfortunately, didn't end there. They met again in court years later when Depp accused Heard of defaming him, leading to a highly publicized court battle that people referred to as the "trial of the century" — a trial that revealed the two never signed a prenup.
Johnny Depp and Amber Heard had opposing claims about the prenup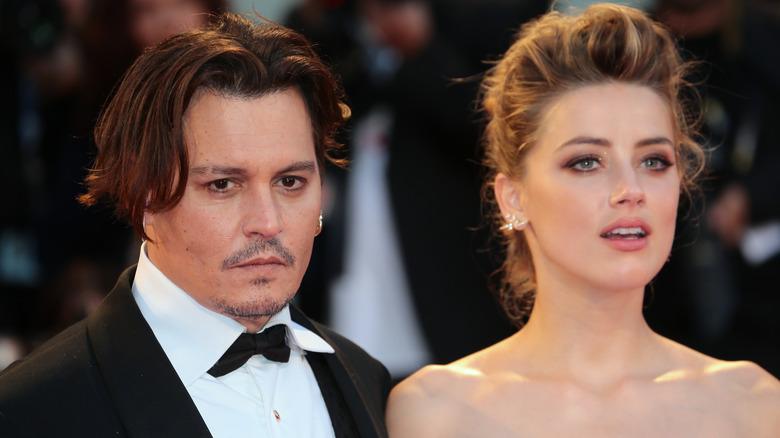 Matteo Chinellato/Shutterstock
For much of 2022, Johnny Depp and Amber Heard were mainstays in the headlines as they duked it out in court. Depp was adamant that Heard defamed him in her 2018 Washington Post op-ed in which she claimed to be a victim of abuse. While she never mentioned Depp in the piece, many, including Depp himself, assumed it was about him.
The subsequent trial exposed the ugliest parts of their marriage. One of the key points was the lack of a prenuptial agreement, which Heard said was ultimately Depp's choice. During the trial, she claimed that she had suggested drawing a prenup before they wed, but the actor said the "only way out of this is death," per Newsweek. "I know he earned significantly more than me," she told the jury. "I wanted to eliminate any doubt in his mind and other people's minds. I didn't care either way but I did feel that it would eliminate suspicion or doubt and it would make things easier." Depp also allegedly threatened to "tear it up" if a prenup were to ever materialize.
Depp went on to refute these claims in his testimony, saying that Heard would exhibit hostile behavior whenever he'd bring up prenup discussions. "It would springboard into unpleasantness and arguments," he said, per Entertainment Weekly. Instead, he said that they had postnup discussions, but they also ended up in explosive fights.
Inside Johnny Depp and Amber Heard's postnup negotiations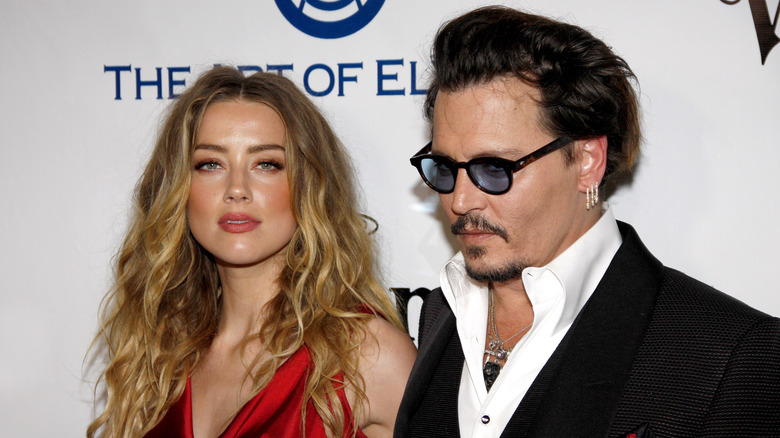 Tinseltown/Shutterstock
During the trial, Johnny Depp recalled a time when he got into a string of violent fights with Amber Heard in Australia over a postnuptial agreement. "What really surprised me was that she kept saying, 'I'm not even in your will,'" he recalled (via NPR). "I thought that was an odd thing to say." Depp testified that Heard threw alcohol bottles at him, causing him to incur a finger injury. "The tip of my finger had been severed, and I was looking directly at my bones sticking out," he said.
Elsewhere in his testimony, Depp also alleged that Heard accused him of giving her the short end of the stick in the postnup that never was. "She could not let go of the fact that I was 'in' on this postnuptial agreement and I was trying to trick her into essentially getting nothing if something were to happen,'" he recounted (via the Los Angeles Times). "All I could do was try to calm her down and say I was not out to screw her over or put her into a position that was uncomfortable." After their explosive fight, he requested that she return home. "I was, for all intents and purposes — I was just done."
The trial ended with the jury deciding that Heard defamed Depp, with him being granted $5 million in punitive damages and $10 million in compensatory damages, per NBC News. Heard attempted to appeal but decided to drop it and agree to a $1 million settlement with her ex-husband.