Why Bobby Brown Really Got Kicked Out Of New Edition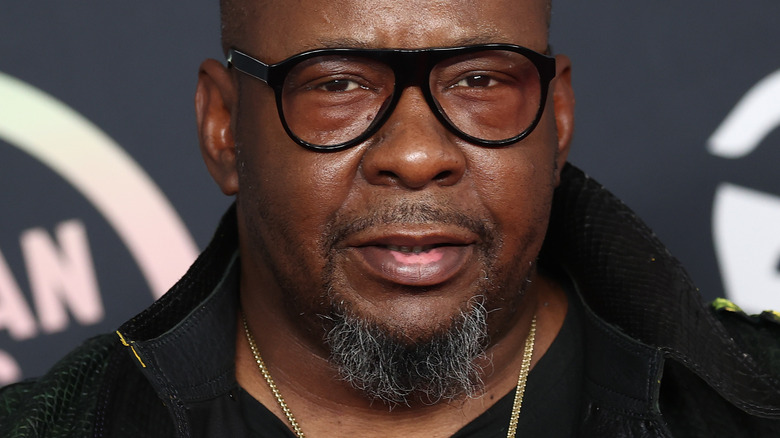 Matt Winkelmeyer/Getty Images
New Edition was one of the biggest R&B groups of the 1980s and while the band had major success, it didn't come without its problems. New Edition was formed by Bobby Brown, Ricky Bell, and Michael Bivins, who had been singing together since 1978, per AllMusic. The trio later added Ralph Tresvant and Ronnie DeVoe, and the group performed in various talent shows in Boston, Massachusetts until they were discovered by writer/producer Maurice Starr. They would go on to release their hit song, "Candy Girl" in 1983, which put them on the map as budding stars.
The R&B boy band eventually left Starr and signed with MCA, and released their eponymous album in 1984. According to the RIAA, their self-titled album sold more than two million copies, and included top hits such as "Cool It Now," and "Telephone Man." Their next album "All For Love" didn't do as well but still went platinum. Despite their success, Brown became increasingly unhappy with the group, and his discontent resulted in him getting booted from New Edition.
Bobby Brown wanted New Edition to go in another direction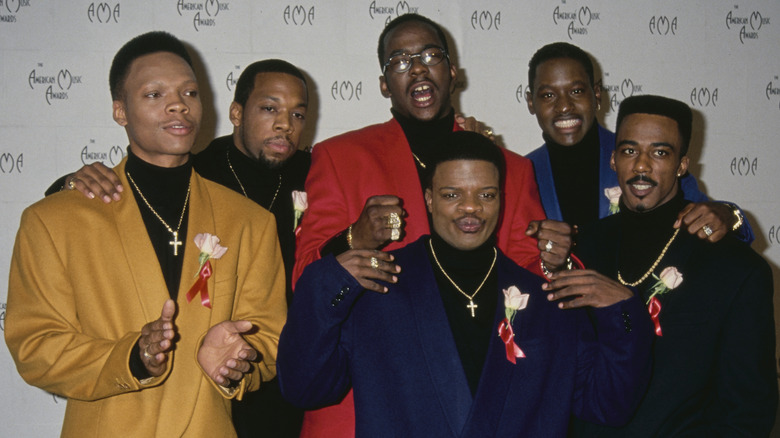 Vinnie Zuffante/Michael Ochs Archives/Getty Images
In 1986, Bobby Brown left New Edition and went on to embark on a solo career. In BET's 2017 biopic, "The New Edition Story," it was revealed that Brown started adding sexual moves on stage, which went against the group's wholesome image (via The New York Post). Brown was also skipping performances and started smoking marijuana. The group started shortening Brown's solos and during a performance in 1985, the singer threw a microphone at his bandmate, Michael Bivins. "I was tired of the teeny-bop thing. I wanted to grow as a performer and as a man," Brown told The Post.
In an interview with BET, Brown revealed, "I was causing so much conflict with the way I performed and the way they performed and how fast I grew up and how fast they grew up." He further added, "I felt restricted, I felt they didn't want me to do anything. I felt that anything that I did on stage was going to make everybody mad."
New Edition member Ralph Tresvant shared, "He just started doing Bobby Brown s***. He was showing up when he wanted to, not showing up to like key stuff — to 'Solid Gold' performances, television, 'Soul Train' — things that were key performances that we knew we had to be there to make a statement that we wanted to make. He started being the cat that stopped caring about all that." Despite Brown's differences with his groupmates, they eventually reunited over the years.
Bobby Brown tours with New Edition again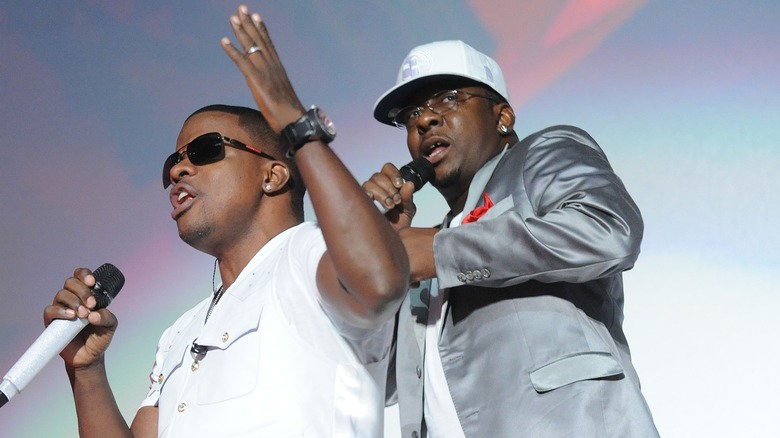 Chris McKay/Getty Images
In 2014, New Edition reunited with all of its members for a nationwide tour, per K104. The group had previously got together in 2011 for the Essence Music Festival but Bobby Brown had to bow out of some shows due to the death of his ex-wife, Whitney Houston. Unfortunately, Brown again had to leave the reunion tour after he was seen struggling to complete a dance routine and left the stage, per TMZ. Brown's camp later told the publication that he had "an intrusive medical procedure" and needed medical care. "I apologize to the fans of New Edition. I really wanted to be with my brothers, but presently I am unable to give the fans what they typically expect from New Edition," the "Don't Be Cruel" singer stated.
Brown gave it another go with New Edition for 2022's "The Culture Tour," which began in February. He has come a long way since his early days with the band. "You know, I've been through a lot in the past and, you know, just getting through it and being able to love what I love, which is entertainment again, is just something special," he told ET.
Brown's bandmate Johnny Gill also acknowledged his change. "Just seeing in the rehearsal watching him. How much he's grown. I don't know how many years it's been. I just sit and watch. It's going to be a moving experience. I think the fans are really going to enjoy it."