Here's What Manny MUA Really Looks Like Without Makeup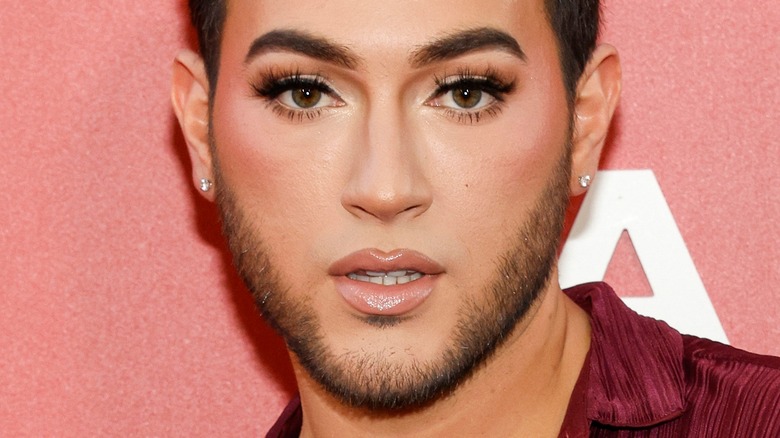 Ovidiu Hrubaru/Shutterstock
The beauty industry has always been big, but when beauty creators took to YouTube in 2007 to show things like their latest eyeshadow looks and how to contour the face, it truly exploded. YouTube quickly became a place for people to go and follow makeup tutorials and understand different brands. Beauty creators like James Charles and Manny MUA became huge sensations and allowed for plenty of opportunities for the creators.
Manny MUA, or Manny Gutierrez, started his beauty YouTube channel in 2014 and quickly got the attention of the masses. From trying to recreate his looks to watching his reviews on certain brands, people were interested to see what Manny had to say. Although he didn't blow up onto the scene until his YouTube channel started, Manny's love for makeup began at a young age. He told Insider how he remembered watching his mother put on makeup. He shared, "I would just sit there watching her constantly apply makeup in her vanity, and I'd always be like, 'Oh my god this is so cool' – like seeing her transform with this full face on and just getting to put her best foot forward."
As Manny's career took off he started to receive brand deals, gain fans and attended some of Hollywood's hottest events (via Insider). The creator has walked several red carpets and had a stunning makeup look every time. Despite being known for his talented looks, Manny still enjoys sporting a bare face now and then.
Manny MUA is not afraid to rock a no-makeup look
Manny MUA has worn some stunning looks in his career, but it's his no-makeup looks that really get the attention of fans. Those who wear makeup have days or points in the day where they are completely bare-faced and Manny MUA is no different. In several YouTube videos, the beauty creator will start with a fresh face ... wearing no makeup at all. While the artist has great skin, when he isn't wearing makeup you can tell the natural aspects of his face like rosy cheeks and maybe even a blemish here or there.
In 2022, Manny had posted a video of him on Instagram with no makeup as he poked fun at a viral video Hailey Bieber had done. He started off with a bare face before lightly putting on makeup. In another photo posted to Twitter the beauty guru openly showed his face without all the glam and with the glam. He captioned the photos, "No makeup Manny vs. Manny MUA." Fans flocked to the comments sharing how they loved each look in their own way — with one calling him "THE most gorgeous human."
The makeup artist is comfortable with fans seeing the way he looks before he puts on all the makeup. It only takes a simple scroll through his social media to see that Manny loves rocking a no-makeup look as much as a full-on glam look.
Manny MUA broke boundaries in the makeup industry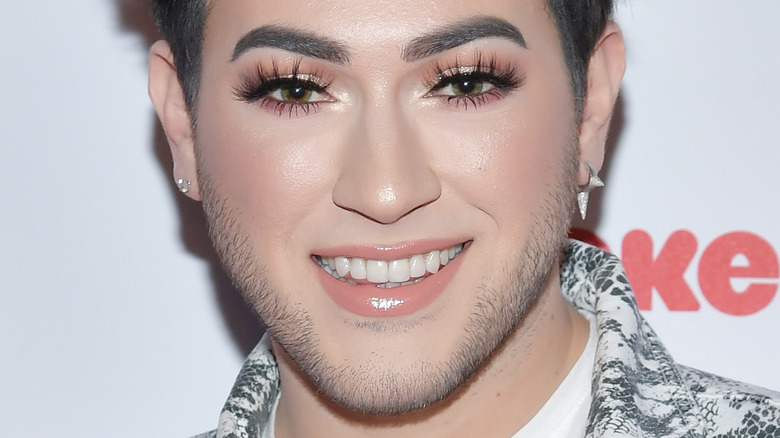 Amy Sussman/Getty Images
The days of thinking only women can wear makeup are far behind us, with more men opening themselves up to the world of cosmetics (via USA Today). The impact of more men experimenting with makeup is attributed to many things, including male creators expressing their love for makeup. Despite Zippia reporting only about 12 percent of makeup artists being men, Manny MUA was able to break into the industry.
From the moment Manny MUA got into the world of makeup, he was authentically himself. Yahoo! Life noted the makeup artist first tried a drag look at the age of 21 and hasn't faltered from who he was since. He shared, "Wearing makeup just makes me feel powerful. It's not about me wanting to be female. I'm a man in makeup ... I like wearing it because it's fun." Manny's love for makeup is the reason he is successful today, and he recognizes how influential he has become.
Life & Style magazine shared Manny's reaction to being the only male on People's Most Beautiful List. He shared, "It's been pretty crazy because I never thought of myself as a pioneer. It's been pretty cool," he continued, "I was one of the first male influencers in the beauty world, and I had to fight tooth and nail to get any brand to recognize me as someone in [that world]." The beauty creator also expressed gratitude to the people that follow him because, without them, he wouldn't be where he is in the world of cosmetics.