Here's Who Danica McKellar Is Married To In Real Life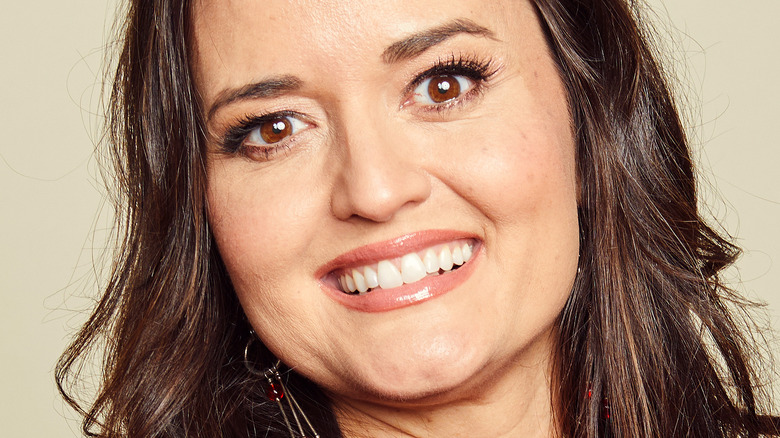 Emily Assiran/Getty Images
Just like many of her characters on the Hallmark Channel, Danica McKellar has found her one true love.
McKellar's journey to finding love wasn't easy. "The Wonder Years" star had to go through a divorce to find her true soulmate. Wide Open Country reports McKellar was previously married to a composer, Mike Verta, for three years before they divorced in 2012. But McKellar didn't give up on love, and two years later, she met Scott Svelosky. The actor has a sweet memory of how the two were set up by friends. She said, "The parents of someone my son goes to school with were friends with him and said, 'We want him to meet somebody nice." McKellar's friend continued to hype up Svelosky, saying, "He's a great dad to his son and just got out of a two-year relationship, and we just want him to meet somebody nice. He's such a nice guy." McKellar decided to take a leap of faith and meet Svelosky.
McKellar knew from the moment they met that he was the one. She said, "I sat down across from him for coffee and started giggling and couldn't stop. I didn't know what to say. I couldn't believe this is who I was sitting across [from]." The couple was smitten with one another, and in 2014 they decided to get married, per Parade. The two have been married for nearly 10 years now — but what do we know about Svelosky?
Scott Svelosky is a lawyer and former model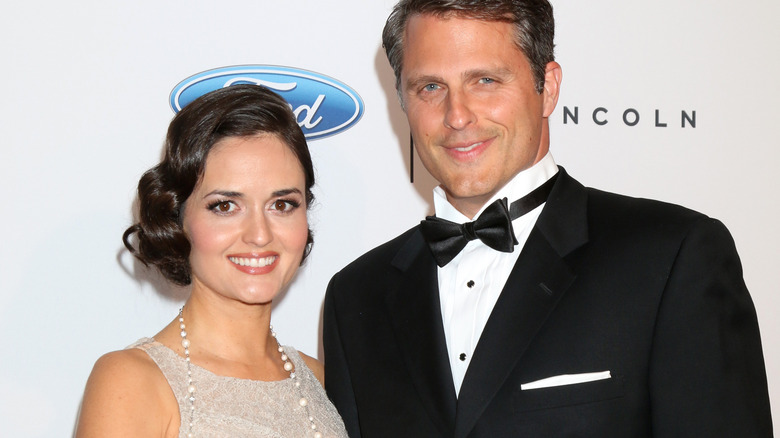 Kathy Hutchins/Shutterstock
Danica McKellar got the best of both worlds with her husband, Scott Svelosky. Not only does Svelosky have brains, but he also has beauty. That's because Svelosky's both a lawyer and a former model.
McKellar told Country Living that when she was dating, all she wanted was someone kind, but the actor got more than she bargained for. She told her friends "'...a nice guy — that's really what I want. He doesn't have to be a model or anything.' But turns out, he did used to be a model. He's everything. He's the sweetest guy ever." Despite no longer being a model, his dashing looks have only gotten better. However, there's not much known about Svelosky's time as a model because he decided to take on a very different profession.
According to his Shepard Mullin bio, Svelosky has been a lawyer for the past 22 years and "is a partner in the Business Trial Practice Group in the firm's Los Angeles office." The website added, "Scott's practice focuses on insurance-related litigation, where he represents insurers in high exposure bad faith cases and complex coverage litigation." He has also put his expertise to good use as a contributing editor for Rutter Group's "Insurance Litigation California Practice Guide." But Svelosky's teaching goes beyond said practice guide, as he's an adjunct professor at Woodbury University, too. "[H]e teaches a graduate level course in Conflict Resolution and an undergraduate course in Personnel Development and Organizational Culture."
Danica Mckeller and Scott Svelosky tried to have kids
In 2010, just one year after Danica McKeller and her ex-husband married, they welcomed a baby boy, per People. McKellar was ecstatic to bring a new child into the world. She recalled, "There was so much joy in the room and so much relief! It was instant love. It was an amazing, amazing evening." As Draco has grown, the Hallmark star has continued to create fond memories with her son. McKellar told Closer Weekly, "I love inspiring people with my math books, I love providing quality entertainment with my Hallmark Channel movies — I love all that. But spending time with my little guy is just so precious. There's no contest, and I'm really grateful." Making memories with Draco, of course, made her want another child, especially after finding love with Scott Svelosky.
Unfortunately, because McKellar is older, getting pregnant has become more difficult. "We actually tried, but it didn't happen, and that's OK. I have such a great relationship with my son. I'm 44, a little on the older side, and we're not not trying," she told the publication in 2019. True to her character, this isn't bringing "The Wonder Years" actor down, as she's content with the life she has. McKellar even teased, "Who knows? I joke with Scott, if we're not going to have a kid, maybe we should open a foster home!" Based on the actor's Instagram, Svelosky and McKellar seem happy with the family they have created with Draco.