The Huge Star Who Introduced Edward Norton To His Wife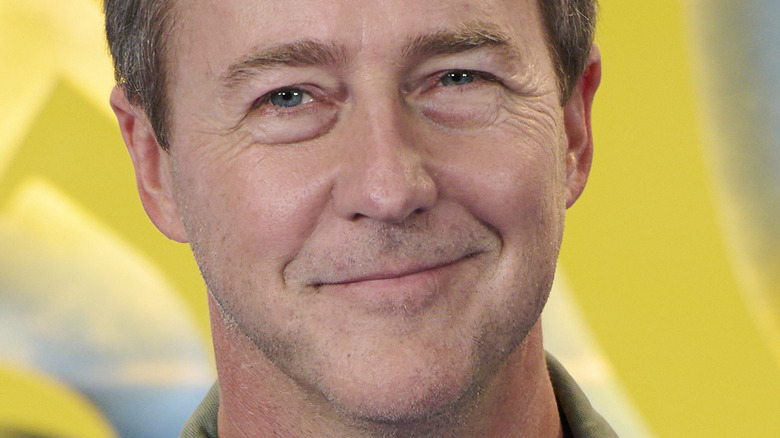 Carlos Alvarez/Getty Images
Edward Norton's first big break was in 1996's "Primal Fear," where he played Adam Stampler — a teenage altar boy who was on trial for murdering an archbishop, per IMDb. Norton's performance garnered him impressive critical reviews and an Oscar nomination (the first of several). His later work included roles in hits such as "Fight Club," "The Illusionist," and "The Incredible Hulk." Norton has also directed and produced numerous projects. Of course, Edward Norton's success hasn't come without its controversy. The Boston native has developed a reputation for being one of the most difficult actors in Hollywood. Of his many public spats, the greatest is likely his long-running feud with Marvel over their decision to recast his role in "The Incredible Hulk" (via CBR).
Norton's personal life has been just as interesting. Early in his career, Norton dated Salma Hayek for four years, before enjoying short romances with Cameron Diaz and Evan Rachel Wood (via Dating Celebs). At the time, Norton made headlines in the 90s and 2000s for his various courtships, but he's since fallen in love and started a family with producer Shauna Robertson. Norton secretly wed Robertson in 2013, shortly before the arrival of their first child, per Us Weekly. And while their jobs as creatives in Hollywood had them orbiting in the same circles, their first meeting was orchestrated by a super-famous and beloved Hollywood star.
Woody Harrelson introduced Ed Norton and Shauna Robertson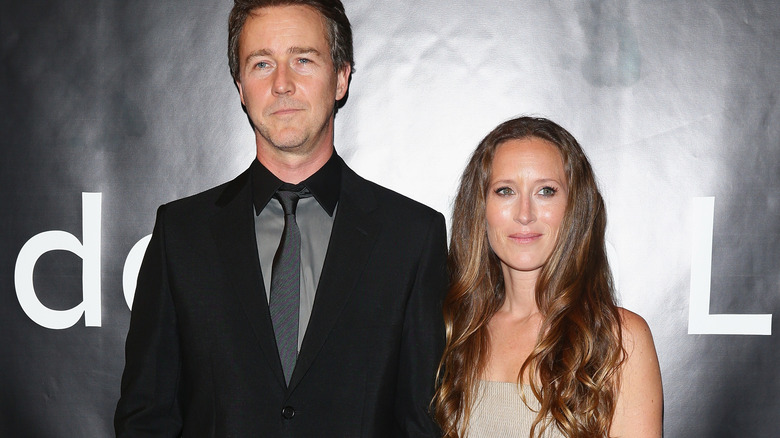 Vittorio Zunino Celotto/Getty Images
Edward Norton appeared on the December 26 episode of "Smartless," and dished on many aspects of his professional and personal life. Things got super interesting, however, when he recounted his chance meeting with Shauna Robertson. After listing off Robertson's extensive resume — which included working with Judd Apatow, producing "Elf," "Anchorman," "Superbad," and "Knocked Up" — a host asked Norton if he met her because she'd produced one of his films. 
"No, we met in London," said Norton. "Woody Harrelson and his wife introduced us. Woody was doing 'Night of the Iguana' on the West End and I was rehearsing a movie in New York and I was getting kinda aggravated with the process and they were like, 'Can you do another day tomorrow?'  Looking for an excuse to get out of the engagement, Norton decided to book a ticket to see Harrelson's play. "And then I went on Expedia and got a ticket to London and called Woody and said I'm going to see you." While in London, he met Robertson  —  an encounter that he agreed changed his life. 
These days, Norton and Roberston, who've been married nearly a decade, attend events together, such as the time she supported him at the premiere of his film, "Glass Onion: A Knives Out Mystery" in October, per The Daily Mail.