Kelly Ripa, Mark Consuelos Slammed For Posting Bikini Photos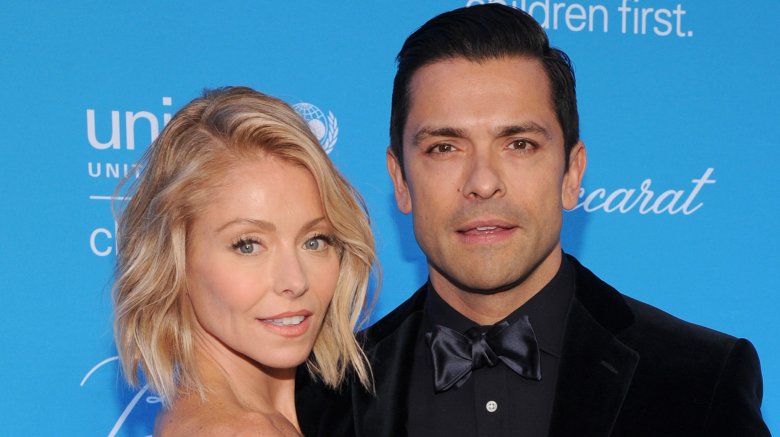 Getty Images
Kelly Ripa and Mark Consuelos were recently hit with some major hate. And it all started when the Riverdale actor posted a photo of his wife in a swimsuit on Instagram.
On Sunday, March 25, 2018, Consuelos shared a photo of Ripa standing in the ocean, wearing a bikini. In the caption, he wrote, "Sultry Sundays with the sexy one are my fave." As noted by Page Six, Consuelos also posted a shot of Ripa on his Instagram Story, sharing a pic of her lounging on a chair on the beach while — you guessed it — in her bikini. And, while Ripa's also shared some steamy photos of her beau, only she's getting flack for wearing a skimpy swimsuit. Apparently, not everyone was too happy to see the 47-year-old's exposed body — even if she did look amazing.
"Kelly's gorgeous, but isn't there a cutoff age where age-appropriateness comes into play?" one comment read (via Page Six). "Just because you can rock a bikini, doesn't mean you should."
Another Instagram user wrote, "Not the sweet Kelly she was when she first started with Regis."
Others slammed Ripa for having the "body of a boy" and stated that she "needs to eat something" (via the Huffington Post).
Fortunately, some of Ripa's fans were quick to come to her defense. One commenter wrote, "The ones that tell your wife, she's too old, she needs to eat, she has boy body, are the very same people that have a million insecurities."
Yeah, that sounds about right.
This isn't the first time Ripa and Consuelos, who've been married for over two decades, have experienced hate online. Earlier in the month, Ripa faced trolls after she posted a throwback photo on Instagram of her and her husband at a red carpet event. One user commented, "Too bad he's short when he tries to look taller. It looks funny. Just be who you are" (via People).
But neither Ripa nor Consuelos let that comment slide. Consuelos responded first. "Please tell me how it is I can try to look taller," he wrote. "I'm dying to know."
Ripa then left her own comment, writing, "He's tall where it counts, babe."