Fans Rally Around Buffalo Bills' Damar Hamlin After Chilling On-Field Collapse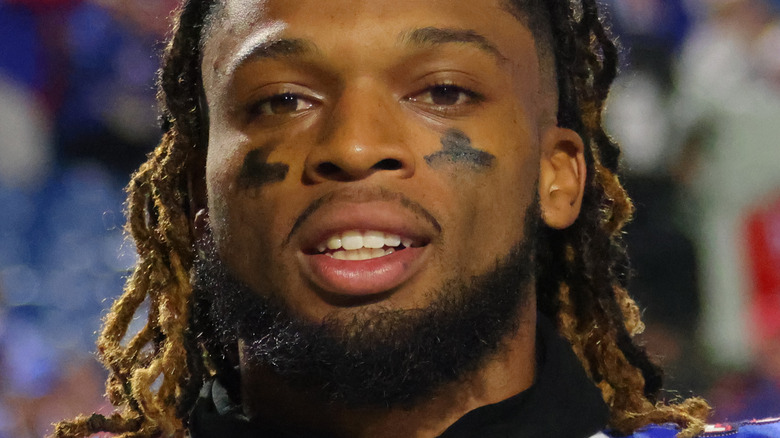 Timothy T Ludwig/Getty Images
Fans are expressing concern for Buffalo Bills safety Damar Hamlin after he collapsed during a game against the Cincinnati Bengals on January 2nd.
ESPN reports the NFL athlete suffered a cardiac arrest midway through the first quarter after he tackled the Bengals' Tee Higgins. Moments after returning to his feet, the athlete suddenly collapsed on the football field. Medical personnel rushed to his side to perform CPR and restore his heartbeat. Hamlin was rushed to the University of Cincinnati Medical Center approximately 16 minutes after he collapsed. According to a statement by the Buffalo Bills, the 24-year-old is "currently sedated and listed in critical condition."
"Our thoughts are with Damar and the Buffalo Bills. We will provide more information as it becomes available," the National Football League said in a statement. "The NFL has been in constant communication with the NFL Players Association which is in agreement with postponing the game." Troy Vincent, executive vice president of the league's football operations, also said the incident stunned everyone. "Neither coach was talking about resuming play, the players were not thinking of resuming play," he said (via The New York Times). "How do you resume play after seeing such a traumatic event?"
Fans flood a GoFundMe page for Damar Hamlin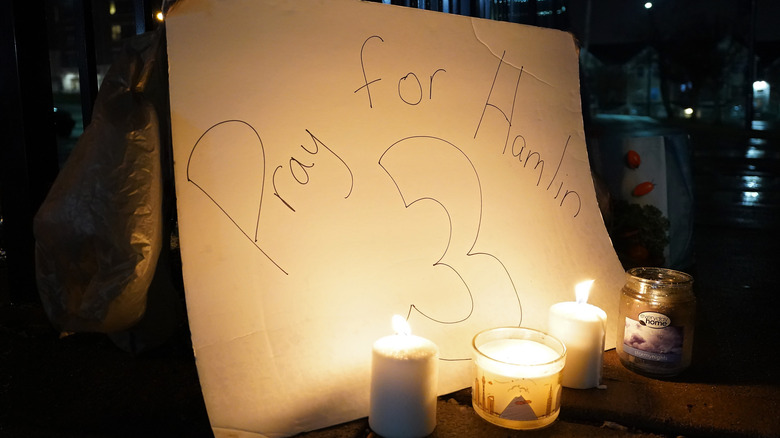 Dylan Buell/Getty Images
It didn't take long for fans to unite in support of Damar Hamlin following his harrowing collapse. As noted by Yahoo! Sports, before joining the NFL, the athlete announced his intentions to give back to his community, having organized a holiday toy drive and GoFundMe page to accept donations. "As I embark on my journey to the NFL, I will never forget where I come from," Hamlin wrote ahead of his sixth-round selection for the 2021 draft. "I am committed to using my platform to positively impact the community that raised me." Now, fans are supporting Hamlin by helping the athlete make good on his promise to his community. 
Instead of setting up a new campaign, fans revived the GoFundMe page Hamlin had previously set up, and as of this writing, it had already garnered over $3 million in donations. Before this boost, the page only had a little less than $3000. "We are pulling for your speedy recovery and comfort for your loved one. Love from a Chargers house to your house," wrote one fan on the page. "In light of what this amazing athlete yet very humble and caring man is going thru I just wanted to do my part to show my support," penned another.
Some fans camped outside the University of Cincinnati hospital to support the athlete. "Least we could do is come down and pray," a fan told Fox News Digital. "Reminds you of the humanity of it all." We're wishing Hamlin a speedy recovery!