The New Roseanne's Biggest Questions
Roseanne debuted in 1988 and emerged as the antithesis of the stereotypical wholesome family sitcoms of that era. Instead of warm and fuzzy plot lines and corny jokes, the program explores the perfectly imperfect lives of the Conners — the working-class family from the fictional town of Lanford, Ill. The series is led by the matriarch, Roseanne (played by Roseanne Barr), who hypnotizes fans with her infectious cackle and her offhand humor. And then there's her husband, Dan (John Goodman), sister, Jackie (Laurie Metcalf), daughters, Darlene (Sara Gilbert) and Becky (played by both Sarah Chalke and Lecy Goranson), and son, D.J. (Michael Fishman).
By the show's ninth season, the program had delved into an abyss full of strange and nonsensical storylines, including the family's $108 million lottery win and odd dream sequences which left many viewers confused about what was real and what was fake. The season nine finale revealed that most of the plot line was a figment of Roseanne's imagination — a coping mechanism to handle the grief she felt after Dan's apparently fatal heart attack. That ending puts the show's 2018 revival in a really sticky situation.
In order to reboot the series without it being a continuum of that disastrous Season 9 from more than 20 years prior, the show's creators had their work cut out for them. We've got some big questions about the new season of Roseanne. Let's dive right in.
What's going on with the two Beckys?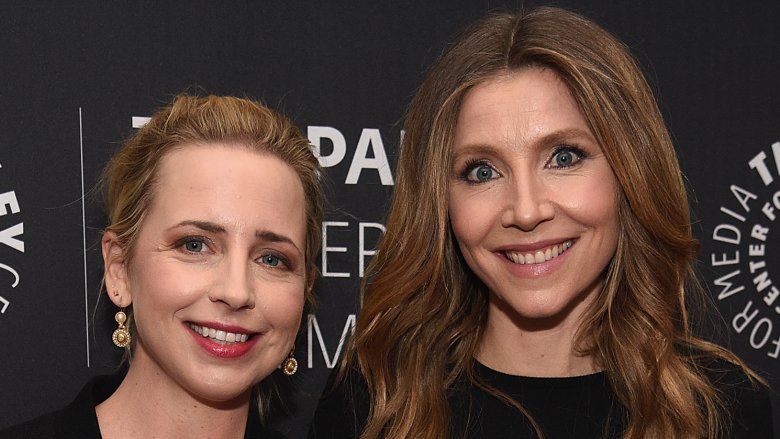 Getty Images
From Seasons 1 through 5, the role of Becky was played by actress Lecy Goranson. She left the show after Season 5, returned for Season 8 before, then left again in Season 9. In her absence, she was replaced by actress Sarah Chalke. When Goranson was called up to reprise her role as Becky, she knew that Chalke needed to be included in the revival, too.
"I actually requested that Sarah come back and that we'd have scenes together when I first heard about the show coming back. I've said this before, but I really don't like how people pit us against each other," Goranson told Us Weekly.
It was up to the creators to find a role for Chalke. Since it wouldn't make sense to swap her in and out of the Becky role with Goranson, they created a new character named Andrea — a woman who hires Becky to be her surrogate.
"It could have been very broad, it could have been really over the top, but I feel like it was written in a way that was very dynamic and interesting," Goranson said in regard to Chalke's portrayal of Andrea.
It's a bit odd to see the actresses interacting with each other, and seeing the two Beckys — including the Becky who's no longer Becky — at the same time is the proverbial elephant in the room that will probably never be addressed.
Why did David and Darlene separate?
Season 8 culminated with David (Johnny Galecki) and Darlene's outdoor wedding, but the following season (via Vanity Fair), viewers were thrown for a loop when Roseanne revealed through her memoir that the wedding between David and Darlene never happened. Darlene was actually married to Mark — her sister Becky's husband — while Becky was married to David. Apparently, Roseanne thought Mark was a better fit for Darlene, but as we now know, Season 9 was a bunch of hogwash, and the reboot proved that Darlene and David really did tie the knot — although things haven't gone swimmingly for them.
In the revival, the couple has two children, Harris and Mark (the latter is named after his late uncle, but we'll get into that in a bit.) Darlene is clearly stressed out and living back at home with her parents. In an interview with The Hollywood Reporter, Roseanne showrunner Bruce Helford said, "Darlene is going through a lot because she's got kids and has a lot of guilt about the fact that her relationship didn't work out."
Helford went on to explain that the once-enamored couple has been separated for six years, and David has "only seen the kids a few times when they were living in Chicago." But all isn't lost. David will eventually "come back into that mix" to stir up some emotional drama, but will we ever get to the root of why their relationship crashed and burned in the first place? We'll have to wait and see.
Where the heck is Jerry Garcia?
Roseanne's fourth child, Jerry Garcia, who was named after the deceased Grateful Dead singer, was a bit of a blur for most viewers. He was written into the show about three months after Barr became pregnant in real life via IVF, according to Mental Floss. We didn't see much of the baby, who was played by twins Cole and Morgan Roberts, but it would only make sense for him to make at least a brief appearance in the reboot, right?
Well, don't hold your breath. During the 2018 Winter TCA panel (via Popsugar), the show's creators confirmed Jerry, who would be 22 at the time of this writing, wouldn't be making an appearance in the reboot because he is currently working on a fishing boat in Alaska. The reboot's premiere episode includes a where Roseanne says grace at the kitchen table: "Please watch over our son Jerry who's on that stupid fishing boat, where apparently they don't get phone calls."
What really happened to Mark?
One person who's noticeably absent from the revival is Glenn Quinn — the actor who played Becky's husband, Mark. Quinn died from a possible drug overdose at a friend's house in 2002, according to the Los Angeles Times. Many wondered how the revival would handle this very touchy subject while still finding a way to honor Quinn's memory. 
In the reboot, it's clear that Becky is a widow. Jackie briefly mentions (via Cinema Now) that she's having a hard time since Mark's passing. What the show fails to mention is exactly how Mark passed away, and this is a topic that can't be brushed under the rug. If Becky's emotional well-being will be a prominent storyline, it only makes sense that the show digs deeper into Mark's death in order to bring things full circle.
So will we get more information on Mark's mysterious passing? We sure hope so, but your guess is as good as ours.
Will D.J.'s wife make an appearance?
During Season 7, an episode entitled "White Men Can't Kiss" explored D.J.'s reluctance kissing his black classmate, Geena Williams. While Dan encouraged D.J. to go with his gut and avoid the lip lock if he wasn't comfortable with it, Roseanne angrily berated that idea. "They're every bit as good as us, and any people who don't think so is just a bunch of banjo-picking, cousin-dating, barefoot embarrassments to respectable white-trash like us!" she said (via Vanity Fair.) The kiss never happened — or so we thought. 
During the revival's debut, we learn that D.J. has just returned from a three-month tour in Syria with the U.S. Army, while his wife, Geena, remains oversees. D.J. is left to raise their daughter, Mary, on his own.
Showrunner Bruce Helford confirmed that D.J. and his classmate wound up doing more than just kissing. Alas, according to Helford, the reboot "didn't get a chance to explore DJ's relationship as much as we wanted to," he told The Hollywood Reporter.
In a separate interview with The Hollywood Reporter, Barr said she wanted more diversity on the series during its heyday and noted that adding D.J.'s daughter into the show's reboot was the perfect opportunity. "I know so many people who have mixed families ... And if we get another season, I'd like to discuss that more," Barr said.
Has anyone seen Andy?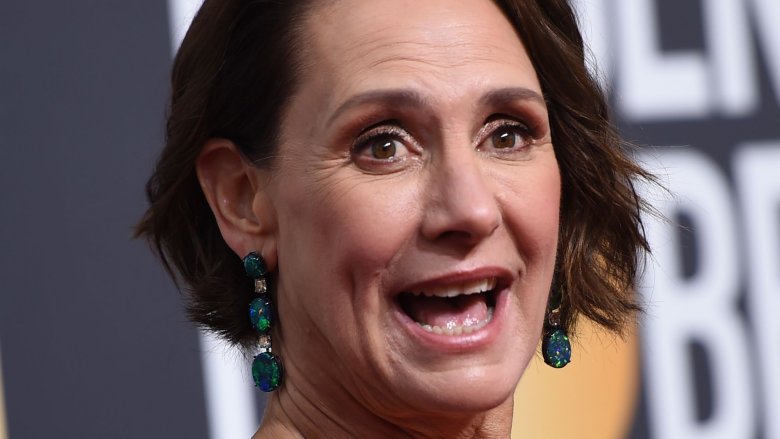 Getty Images
When Laurie Metcalf became pregnant in real life, her pregnancy was also written into her character'ss narrative. After a one-night stand, Jackie gets pregnant by Dan's co-worker, Fred. They later get married and have a baby together named Andy. According to People, the role of Andy was played by fraternal twins Kent and Garrett Hazen during the first three seasons, and later by Tyler and Trevor Battaglia.
Although we're sure Andy is alive and well (wherever he is,) viewers hoping to see him as an adult will be disappointed. At the 2018 Winter TCA press tour (via Popsugar), Roseanne Barr said, "We haven't dealt with Andy, [Jackie's] son, yet, either, but we had so many stories to tell over the arc of these nine episodes that we were hoping for another season to bring more clarity to those characters."
So, this is simply a case of too many questions and simply not enough time to hammer through them all. However, if the series gets the green light for Season 11, we're crossing our fingers that Andy's disappearance will finally be discussed.
Are Roseanne's political beliefs a glaring contradiction?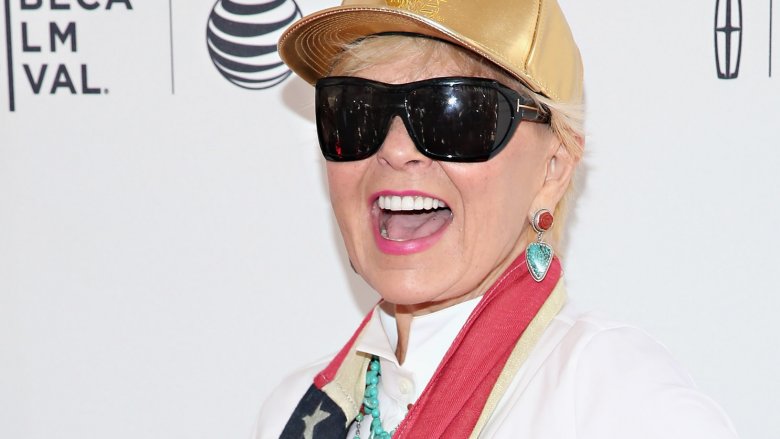 Getty Images
Fans were all sorts of confused to learn that Roseanne Conner has seemingly flip-flopped to become a Republican and Donald Trump supporter. During past seasons, the character shared ideas that were commonly associated with liberals, and the program was praised for discussing feminism and bringing LGBT storylines to primetime TV. Roseanne Barr backs Trump, but that doesn't mean the character's bizarre switch from right to left is any less mind boggling. 
During the revival's premiere, Roseanne gets into a tiff with her sister, Jackie, who's also just as dumbfounded as the rest of us by Roseanne's newfound views and voting preference. As we all sit and watch in confusion, showrunner Bruce Helford urges viewers to hold on tight and be patient because things aren't as they seem.
"You have to give the show about three episodes to see what it really is. The first episode is definitely not all pro-Trump. We had a lot of things to catch up with. Give it two or three episodes," he told The Hollywood Reporter.