Why Ivanka Trump Faced Major Backlash Over Her Book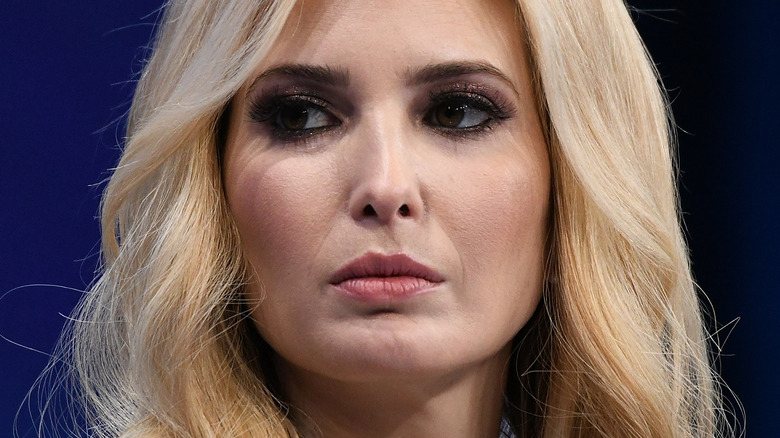 Michael Kovac/Getty Images
Working hard or hardly working?
In 2017 entrepreneur turned presidential advisor Ivanka Trump published her second book, a self-help book titled "Women Who Work: Rewriting the Rules for Success," much to the chagrin of many. While Trump was adamant in the introduction that the book was a personal project she had completed prior to her father's presidential election, per The Cut, she still vowed that the proceeds would be donated to charity. "I'm honored to support @NatUrbanLeague and @BGCA_Clubs with proceeds from my upcoming #WomenWhoWorkBook. These donations will establish a new women's initiative through the National Urban League's Entrepreneurship Center Program and encourage more girls' participation in STEM through the Boys and Girls Clubs of America," she announced in an Instagram post about the endeavor. So why all the controversy about a pet project that would help a good cause? Here's everything we know about the backlash surrounding Trump's second book. 
Ivanka Trump's book was chock-full of other people's inspirational quotes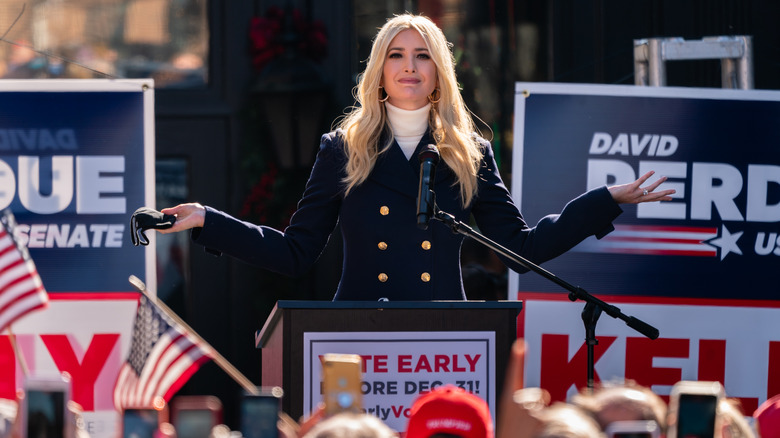 Elijah Nouvelage/Getty Images
As American playwright and entrepreneur Wilson Mizner once said, "If you steal from one author it's plagiarism; if you steal from many it's research."
Per Jezebel, out of the 70,000 words in Ivanka Trump's "Women Who Work," nearly 23,000 words are not hers but inspirational quotes from others. "It's a strawberry milkshake of inspirational quotes," New York Times op-ed columnist Jennifer Senior famously penned in her review of the book.
But who are some of the movers and shakers lucky enough to be quoted by Trump? Per Vox, quotes by Toni Morrison, Coco Chanel, Margaret Mead, and Junot Díaz, among others, are peppered throughout the book's blush pink and white pages. It should be noted, however, that not everyone was thrilled to be featured. "@ivankatrump don't use my story in #WomenWhoWork unless you are going to stop being #complicit #askivanka" founder of Girls Who Code Reshma Saujani fired out in a tweet after learning that she had been quoted in Trump's pet project. Meanwhile, English primatologist Jane Goodall, who was also quoted in the confines of "Women Who Work," said in a statement to The Post, "I understand that Ms. Trump has used one of my quotes in her forthcoming book. I was not aware of this, and have not spoken with her, but I sincerely hope she will take the full import of my words to heart." YIKES. 
Critics took issue with Ivanka Trump doling out advice about working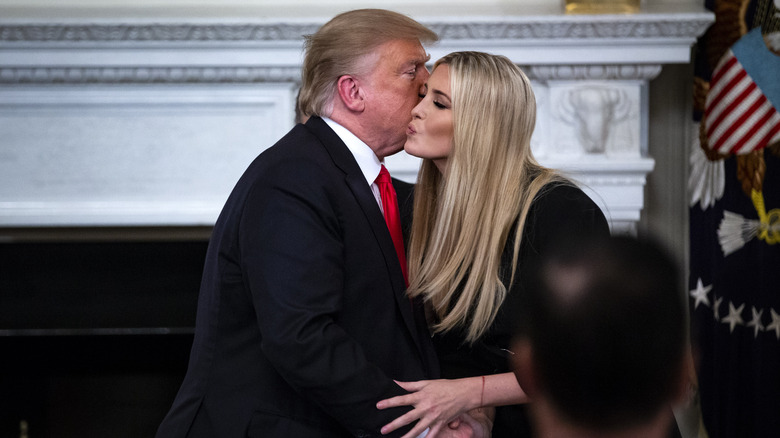 Bloomberg/Getty Images
Right message, wrong messenger?
Aside from what some might refer to as Ivanka Trump's fancy word salad of a book, others simply took issue with a woman who has benefited from generational wealth and connections (read: "nepo baby") her entire life doling out advice to others about working... and it showed. As reported by Forbes, Trump's publisher had lost an estimated $220,000 from the book deal by January 2018. "This is not a moneymaker for [Penguin Random House]," an executive divulged to the media company. "They're so under water."
Meanwhile, Trump faced a flurry of criticism from various book critics and the media, including Emily Peck, a reporter for the Huffington Post. "Trump's book, written before the election but published Tuesday, is a grab-bag of generic work-life advice for upper-middle-class white women who need to 'architect' (a verb that pops up a lot) their lives," Peck quipped in her own critique of the book. "But underneath that, and perhaps more remarkable, is Trump's inability to truly recognize how her own privileged upbringing was key to her success." Yikes. As former "Real Housewives of New York" star Dorinda Medley once waxed poetic, "Say it, forget it. Write it, regret it."