Here's Why Dolly Parton Always Wears Long Sleeves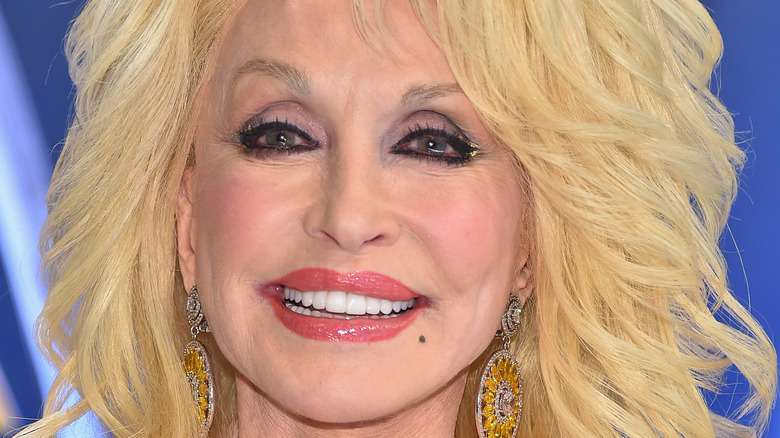 Michael Loccisano/Getty Images
When it comes to country superstar Dolly Parton's conversations about her body, you can bet your boots she'll give you a funny, clever, and charming story to go with it. The "Steel Magnolias" star — who is credited for helping create the COVID-19 vaccines — has always been an open book about her body modifications. While she loves to joke about how she achieved her famous breast augmentation (watch her fool Jimmy Fallon on "The Tonight Show" with this wild tale), she also wants fans to know that her body mods are entirely deliberate. During another appearance on "The Tonight Show," she told Fallon that she fashioned her body after one of the, shall we say, painted ladies that she saw in her town growing up. 
"I patterned my look after the town trollop," she joyfully admitted in 2016. "I thought she was the most beautiful thing, she had all this makeup and hair and all the tight clothes! It impressed me." She previously said in 2008, "I've kind of made more jokes about me than most people have." Parton added, "It's a very obvious way that I look. I choose to look that way, it's not like I'm trying to hide anything." However, if you've been paying close attention to her wardrobe choices, you may have noticed she always wears long sleeves, rain or shine, in heat or in the snow. 
So, it begs the question: Why has the literacy advocate kept one little thing about her body a secret for so many years?
Dolly Parton always wears sleeves to cover up her tattoos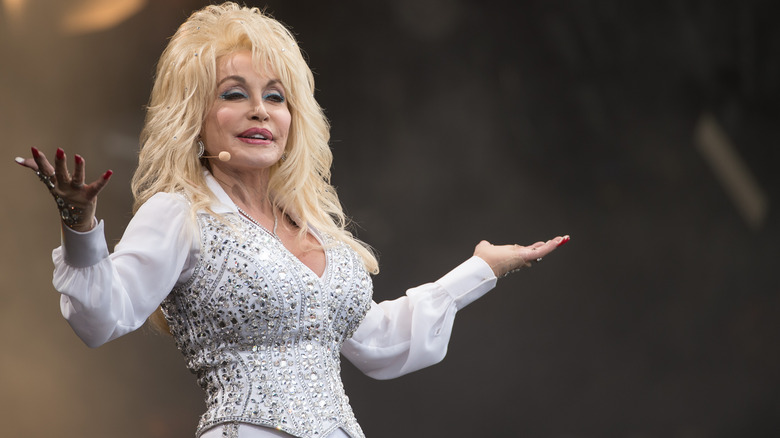 Ian Gavan/Getty Images
Even in the blazing heat, "9 to 5" crooner Dolly Parton will still wear her long sleeves, and some in the industry began to share stories that she was covering up a plethora of tattoos with her sleeves. During a 1996 appearance on "The Tonight Show with Jay Leno," the host caught a glimpse of one of the tattoos on her arm, forcing her to admit to at least one. By 2012, she was denying she had any tattoos on her chest, per People, but after years of scrutiny, she couldn't deny it any longer. In 2016, the "Jolene" icon admitted during an appearance on "Larry King Now" that yes, she has tattoos on her arms. 
"I don't really like to make a big to-do of [the tattoos] because people make such a big damn deal over every little thing," she told Vanity Fair, and when speaking with Larry King, she warned she wasn't trying to be "a biker chick or anything" by getting inked. In 2020, she insisted to People that her body art was "tasteful. I'm not a tattoo girl." So, why is Tennessee's most famous daughter getting inked in the first place? It turns out it all comes down to a skin condition.
Dolly Parton suffers from keloid scarring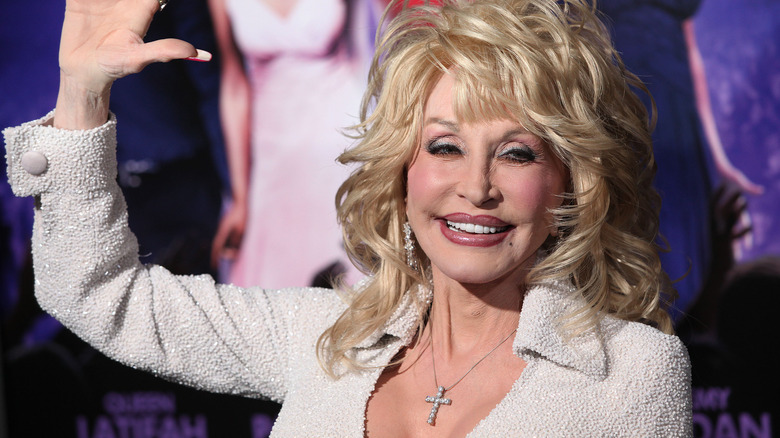 DFree/Shutterstock
In 2017, "I Will Always Love You" singer Dolly Parton revealed that she chose to get tattoos to cover up some scarring she has on her skin. Speaking with Vanity Fair, she said, "Most of the tattoos, when I first started, I was covering up some scars that I had, 'cause I have a tendency to have keloid scar tissue, and I have a tendency where if I have any kind of scars anywhere then they kind of have a purple tinge that I can never get rid of." According to Healthline, keloids are the result of an "overgrowth of scar tissue" and can leave non-harmful marks on the skin, however, they can cause cosmetic concerns.
That's why the "Islands In The Stream" singer decided to "make positives out of negatives," as she told People. "Ribbons and bows and butterflies are the things that I have." She went on to describe a little beehive tattoo she received in order to cover up a feeding tube scar on her side that wouldn't fade that has a cute bee at the top. While most of us will never see her tattoos, those who have in the past have extolled their beauty. Jennifer Saunders of "Absolutely Fabulous" fame revealed in 2013 that Parton's tattoos were gorgeous — she gushed that they were, "the most beautiful angels and beautiful butterflies and baskets of flowers in pastel-colored tattoos."