Federal Prison Expert Says Todd And Julie Chrisley Must Accept Reality To Maintain Their Family - Exclusive
Paul Archuleta/Getty Images
The Chrisleys are going to prison – but you already knew that, didn't you? Even if you've never tuned into one of their (now-canceled) shows, you've likely heard snippets about the legal turmoil that has engulfed the reality TV family since 2019. Todd Chrisley, the family patriarch, along with his wife Julie Chrisley, were convicted of tax evasion and bank fraud earlier this year, per CNN.
The legal strife comes from reported years worth of backed taxes and multiple loans, which the Chrisleys took out using falsified credit reports and bank statements. The couple (worth an estimated $1.5 million) also refused to pay rent on an expensive California property, per the Los Angeles Times. In November 2022, the Chrisleys were finally sentenced for their crimes after nearly three years of back and forth. Todd was hit with 12 years in prison plus 16 months probation, while Julie received a seven-year sentence and 16 months probation.
Life in prison is going to be wildly different from the luxurious life the Chrisleys are used to. It will likely be hardest on the family members left on the outside, though. To get an idea of what Todd, Julie, and the rest of the Chrisleys can expect, Nicki Swift checked in with Justin Paperny, author of "Lessons From Prison" and co-founder of White Collar Advice.
The Chrisleys must put family first
As federal prison expert Justin Paperny, who also helms a YouTube channel called White Collar Advice, exclusively told Nicki Swift, if Todd and Julie Chrisley are going to get through this with their family intact, they need to put the family first — no matter what. "They need to recognize this is harder on those that love and support them," he said in a new video for Nicki Swift. "This will be harder on their children, who, through no fault of their own, suffer."
Paperny emphasized that as difficult as prison will undoubtedly be for the Chrisleys, life on the outside — without their parents — will be just as hard, if not harder on their kids. If they want to keep the family close, he said, they need to put their discomfort second and their kids first. "They need to prove worthy of the love and support they continue to receive," he added.
The turmoil has certainly been hard on the family. Savannah Chrisley now has full custody of her niece, who once lived with her parents, per Page Six. For Savannah in particular, living her life as normal while her parents sit in prison comes with a lot of guilt and second-guessing herself. "The way that I've described it to everyone is, you're grieving the loss of people that are still alive," Savannah said during a December episode of her podcast "Unlocked." She continued, "There's part of me that feels so much guilt for, like, continuing on with my life."
The Chirsleys need to fake it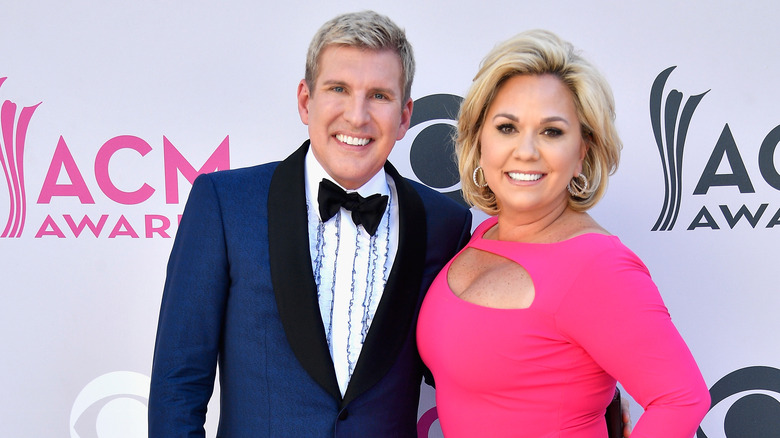 Frazer Harrison/Getty Images
If Justin Paperny is right, Todd and Julie Chrisley can only keep their family unit strong by putting their kids first. How exactly are they supposed to do that from behind bars, though? By "faking it till they make it" as Paperny said while discussing the case.
It is crucial that the Chrisleys put on a brave face for their family even when things feel difficult. Paperny listed everything he could think of that the Chrisleys might complain about, everything from the food to the sheets' thickness to the towels' size. "[If] that's what people do when they call home, you know what the family's thinking?" Paperny said. "This is miserable. He's complaining about the avocado. He's complaining about the shoes. He's complaining about the sheet, and the towel isn't big enough. This is going to be a really long prison term." Unfortunately, that dynamic is common within families in which someone is incarcerated.
What is the best way to remedy that? Focus on growth. "If they want to truly stay connected to their family, call home and say, I'm strong, and we're going to get through this," Paperny said. However, according to the Chrisleys' attorney, the couple might be too busy fighting the charges to focus on self-growth. "Todd and Julie are people of faith, and that faith gives them strength as they appeal their convictions," the couple's attorney told Us Weekly. "We are optimistic about the road ahead."