What Todd Chrisley's Life Will Really Be Like In Prison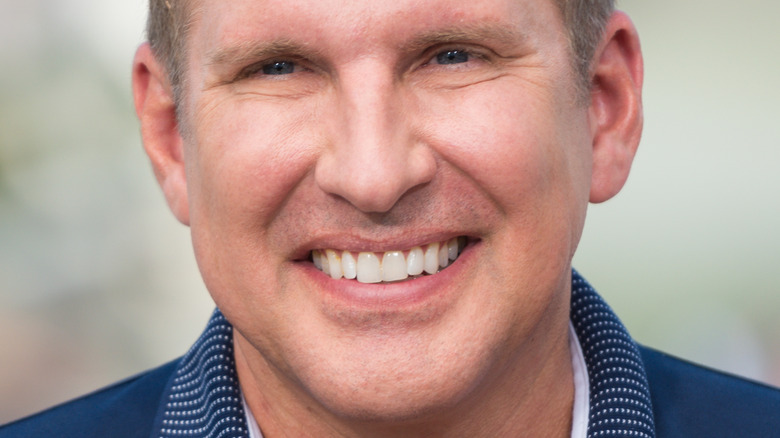 Noel Vasquez/Getty Images
Todd Chrisley has a long road ahead of him in prison. Since being charged with fraud and tax evasion in 2019, he and his wife Julie Chrisley were found guilty on all counts by a jury in June, per CNN. The following November, Judge Eleanor L. Ross sentenced Todd to 12 years in prison, while Julie received seven years. They are both to have three years of supervised release following the completion of their sentence.
During the sentencing, Todd pleaded to Judge Ross for a lighter sentence for Julie and stated that she "should not be punished," per Insider. Julie appealed to the judge's sympathy towards her children. "To hear your 10-year-old say she doesn't want to live if their mom goes away, no child should feel that way," she shared. While Judge Ross said it was "heartbreaking," she stated that the sentencing "has to be burdened by the defendants."
As reported by Entertainment Weekly, Todd is to report to prison on January 17, 2023. Julie is set to report to another prison over two hours away from her husband's on the same day. With such a long sentence looming for the Chrisleys, many are curious to know what their time in prison will be like, and here's a look at what Todd will be facing.
Todd Chrisley will have a strict schedule in prison
David Livingston/Getty Images
While many may think that Todd Chrisley's prison stay will include a lot of sitting around, it appears he will have to follow a daily schedule. The former reality television star is expected to look neat at all times in his green top and pants, white socks, and black boots, per Page Six. His bed has to be made military style and his room clean at all times. Chrisley will also have an early wake-up call of 4:45 a.m. and be expected in bed by 10:30 p.m.
During the day, he will have to do his job, which will be assigned to him based on his qualifications and what the prison needs. According to Page Six, examples of some of the jobs in prison are electricians, librarians, and cooks. Chrisley's work day will end at 5 p.m. and then it will be meal time for him. Weekends are laxer and will include brunch and visits from friends and family. During Chrisley's off time, he can indulge in recreational activities such as sports and crafts.
Amid their looming sentence, the Chrisleys are planning to appeal, per People. Their daughter Lindsie Chrisley remains hopeful for her parents but stated, "I have always had faith in our criminal justice system. But watching my parents and how all of this played out, this case completely destroyed any faith that I had in the criminal justice system."