Todd Chrisley Makes It Clear He's Still Angry Over Current Legal Situation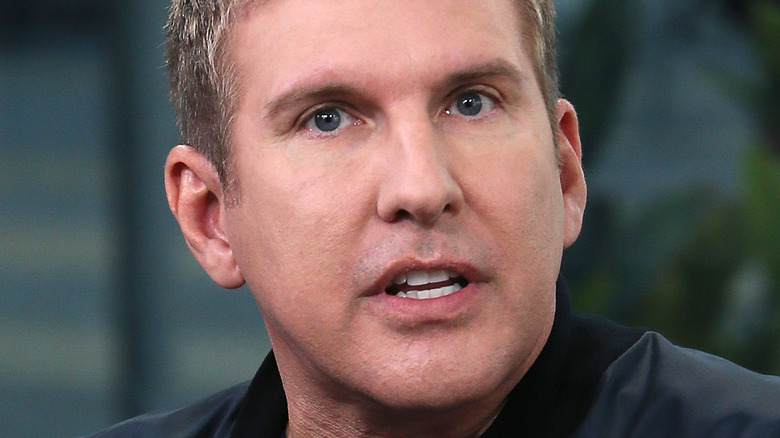 David Livingston/Getty Images
Todd Chrisley is a man who likes to be in control. He strives to ensure his life is portrayed exactly as he wants the world to see it. In Season 1 of "Chrisley Knows Best," Todd was an uber-successful realtor with a huge mansion and the perfect family. By Season 2, Todd and his wife, Julie Chrisley, announced they'd "downsized" to a much smaller abode. They claimed they wanted to encourage their kids, Savannah and Chase Chrisley, to fly from the nest.
However, the truth will eventually come out, even in reality TV. Julie and Todd's public court trial revealed the couple was actually in dire financial straits. Kyle Chrisley had blown the whistle on his dad during their estrangement, telling the Daily Mail Todd was "bankrupt, toxic, and a snake." Kyle claimed his father was obsessed with projecting a completely different image on the show than in real life and drove the narrative accordingly.
"The whole thing is fake. [Todd] micromanages everything, so if you say something and he doesn't like it, he'll say, 'Stop' and tell you what to say, and you'll do it again." Kyle said. After a guilty verdict was reached in Julie and Todd's fraud case, the alternative reality was revealed. And for once, despite his best efforts, the "patriarch of perfection" couldn't hide it from the public anymore. Not surprisingly, he wasn't happy the curtain was pulled back, and Todd has made it clear that he's still angry over the current legal situation.
Todd Chrisley believed God would intervene to help his legal tribulations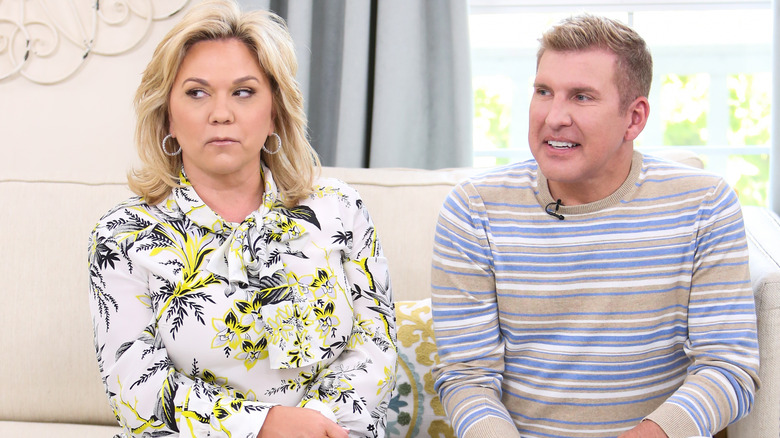 Paul Archuleta/Getty Images
Todd Chrisley has definitely been out of his comfort zone recently. USA Today reported the realtor and his wife, Julie Chrisley, were convicted of bank and wire fraud, conspiracy, and tax evasion, amongst other crimes, in June 2022. Per Us Weekly, the couple has vowed to appeal, but they're potentially looking at a long stretch behind bars.
Meanwhile, Todd's embroiled in an entirely new legal battle. The "Chrisley Knows Best" star is being sued for defamation. Page Six reports Amy Doherty-Heinze, a former Georgia Department of Revenue investigator, alleges Todd "falsely and maliciously" talked smack about her during his "Chrisley Confessions" podcast. Todd appeared on his daughter's podcast, "Unlocked with Savannah Chrisley," to discuss his feelings about the trial and allegations. Savannah noted her dad reacted with fury and indignation towards his legal tribulations, just as she did.
In contrast, her mom's been a lot more zen. "At the beginning, and really up until the past few months, you had that anger towards the situation that I'm experiencing. And so, what did that feel like?" Savannah asked in an episode called "The Todd Father." The reality star explained that his feelings were fueled by disbelief that he and Julie had landed in such circumstances. Despite their guilty verdict, Todd had believed "God would allow" the court to see "all of this evidence" that proved their innocence. "I think that my anger grew from that," he admitted.