Todd And Julie Chrisley Feel Hopeful After Devastating Prison Sentence
Kathy Hutchins/Shutterstock
Todd and Julie Chrisley are in a bit of trouble. The reality stars have been fighting a tax evasion case since August 2019 after they were indicted on a slew of fraud charges. When news broke that they were allegedly in some shady business, Todd maintained his innocence and explained that Mark Braddock — whom he claimed was a former disgruntled employee — was after them. "He took a bunch of his phony documents to the U.S. Attorney's office and told them we had committed all kinds of financial crimes like tax evasion and bank fraud," he wrote on Instagram. 
However, as the trial went on, the court was informed that not only were Todd and Braddock former business partners but they were also allegedly ex-lovers who were embroiled in a secret affair at one point, per Daily Mail. Braddock testified against the Chrisleys and claimed he helped them commit several of their crimes. According to Deadline, Todd was accused of submitting false financial records and bank statements in order to collect massive loans that totaled up to $30 million. In addition, the "Chrisley Knows Best" star also allegedly conspired with his accountant to cheat the IRS from paying taxes. Meanwhile, his wife Julie faced "wire fraud and obstruction of justice" charges.
After a grueling trial, the Chrisleys were handed down a lengthy sentence and although they are getting ready to serve several years behind bars, they remain in good spirits. 
Todd and Julie Chrisley are 'optimistic' about appealing their sentence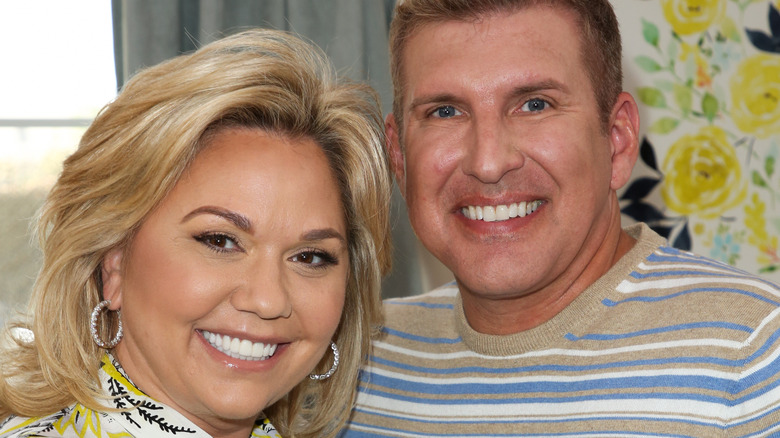 Paul Archuleta/Getty Images
Todd and Julie Chrisley have been found guilty of banking and wire fraud charges. The reality TV couple has been sentenced to a total of 19 years in prison, per CNN. Todd received 12 years, Julie got seven years and both will be on parole for three years. Although their lives are forever changed, the pair appear to be looking through a positive lens.
 "Yesterday was a difficult day for the Chrisley family," their attorney Alex Little said in a statement obtained by Us Weekly. "But Todd and Julie are people of faith, and that faith gives them strength as they appeal their convictions." Little insists there were a lot of discrepancies during the trial, and they have a better outlook on their future. "Based on these issues, we are optimistic about the road ahead." Per NBC News, the couple intends to appeal their sentences.
In addition to serving more than a decade behind bars, the couple's hit series "Chrisley Knows Best" appears to have been canceled, a source revealed to Page Six. "The network has some episodes of season 10 of 'Chrisley Knows Best' that were shot prior to the trial that will air next year," the insider told the outlet. The three-season spinoff "Growing Up Chrisley" and a project called "Love Limo" have also reportedly been pulled.