Federal Prison Expert's Tough Love Advice For Todd And Julie Chrisley As Incarceration Looms - Exclusive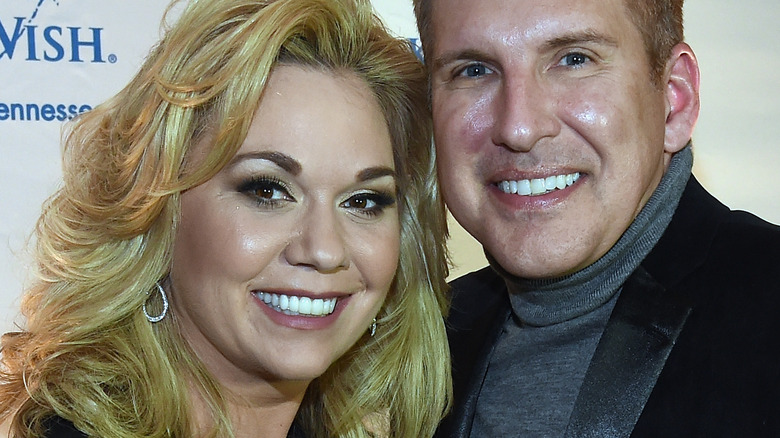 Rick Diamond/Getty Images
Todd and Julie Chrisley's January 17 incarceration date is fast approaching. Indicted on tax evasion and fraud charges in 2019, the Chrisleys were convicted in June 2022 of conspiracy to defraud banks out of $30-plus million in fake loans, per CNN. In November 2022, a U.S. District judge sentenced the couple to multiple years incarcerated in separate prisons. Todd was ordered to serve 12 years at the minimum security Federal Prison Camp Pensacola in Florida, per Insider, while Julie will serve seven years at the medium security Federal Correctional Institution Marianna.
While the "Chrisley Knows Best" couple is reportedly turning to their faith in this difficult time, daughter Savannah Chrisley admitted that the scandal has taken an emotional toll on their whole family. On a December 27 episode of her podcast, "Unlocked with Savannah Chrisley," Savannah confessed to grappling with "high-functioning depression." The one silver lining for the Chrisleys has been the ability for Todd and Julie to spend Thanksgiving and Christmas 2022 at home before incarceration. "With the sentencing, the fact that they were able to come home ... that was a huge win," Savannah said on her podcast.
Nicki Swift spoke to federal prison consultant and author Justin Paperny about how the Chrisleys might navigate life during and after serving time. Paperny offered some reality checks — based on his personal experiences — to the couple.
Todd and Julie Chrisley need to live in the moment to thrive in prison
If Todd and Julie Chrisley want their incarcerations to go as smoothly as possible, Justin Paperny, author of "Lessons From Prison" and co-founder of White Collar Advice, suggested in an exclusive statement to Nicki Swift via his Youtube channel that the couple relinquish all notions of their privilege and get honest with themselves about the situation. Paperny, who is a consultant for white-collar convicts adjusting to prison, explained the Chrisleys are likelier to have more difficulty accepting their stints due to the maintenance of their innocence. "The onus will be on them to somehow ensure that the 12 years doesn't somehow feel like 120 years or the seven years doesn't feel like 70 years," Paperny noted, adding that "that's often the case for people who feel as if they've been wronged."
Todd and Julie, as Paperny pointed out, are successful entrepreneurs who should "apply the same skill set" in their prison life. "People that don't adjust well in prison ... they literally serve time like watching paint dry," Paperny said. Instead, he recommends that the Chrisleys seize the time as an opportunity to "demonstrate to their children they can accept the struggle, not just talk about it," Paperny said, adding that this time could be an asset to their legacy and "a phenomenal productive experience."
It's possible for Todd and Julie Chrisley to keep building their empire from prison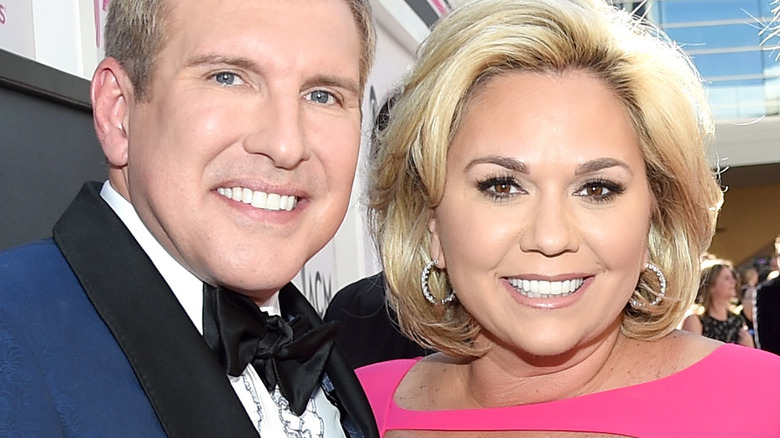 Rick Diamond/acma2017/Getty Images
According to Justin Paperny, Todd and Julie Chrisley need a solid, documented plan for re-entering post-prison life if they want an easier adjustment period. If the couple has that plan in place, the prison consultant opines that not only will their family "come to admire them in ways they never knew," their fans will remain loyal and invested. "If they can articulate why they're being productive ... yes, they can continue to grow this empire from prison," Paperny told Nicki Swift.
As far as what socialization might look like for Todd and Julie inside their minimum-medium security prisons, Paperny described it as "very much self-directed and self-paced." The former stockbroker, who describes his own federal incarceration in "Lessons From Prison," recalled his shock at seeing "laughing and smiling" inmates walking the track and "playing bocce ball" when entered the facility. According to the consultant, the Chrisleys can expect "some sycophants" to arise out of their fellow inmate pool, given that minimum security prisons tend to mainly breed boredom, and the Chrisleys both have an air of celebrity.