How Many Kids Does Eddie Murphy Have?
Michael Kovac/Getty Images
Eddie Murphy is one of Hollywood's most celebrated actors, having played many diverse roles spanning his decades-long career. Murphy got his start in "Saturday Night Live" at 19 years old, per Variety. Since then, he became known for his roles in hit movies such as "48 Hours" and the affable Donkey in "Shrek." While Murphy was known for his comedic skills, he took on a more serious role in 2006's "Dreamgirls" as James "Thunder" Early. In the movie, he not only showed his acting chops but his impressive vocal skills as well.
Throughout his career, Murphy's favorite role is that of a father. Speaking about his reprisal as King Akeem in "Coming 2 America," Murphy told Mirror, "I am going to be 60 in April, and I have all these babies, I love fatherhood. That is the [center] of everything." On whether or not the actor has a good relationship with all of his children, he said, "I am so blessed with my kids. I don't have one bad seed. I don't have any like, 'Oh you are the one.' I don't have any of that. My kids are so great, normal people – and nobody is like the Hollywood jerk kid." Murphy went on to say that he got "lucky" with his kids, but just how many does the esteemed actor have?
Eddie Murphy is a proud father to 10 children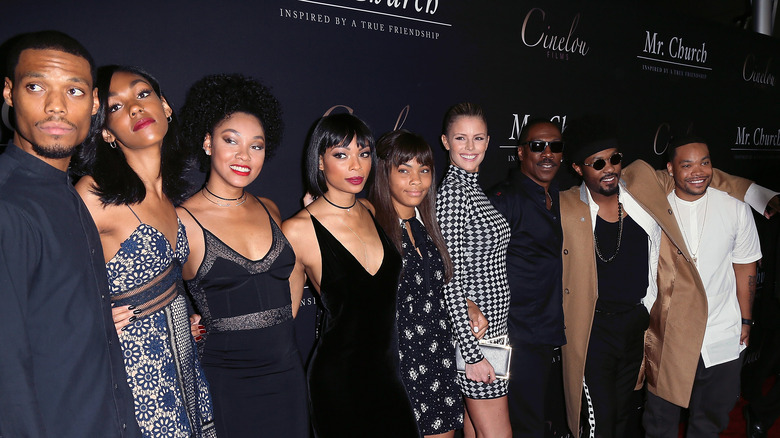 David Livingston/Getty Images
Many fans would be surprised to learn that Eddie Murphy has ten children with five different women. As reported by People, Murphy had his first son, Eric Murphy, with Paulette McNeely in 1989. He then went on to have Bria with his then-wife Nicole Mitchell. In 1990, Murphy had his son Christian with his ex-girlfriend, Tamara Hood. Murphy and Mitchell went on to have Myles, Shayne, Zola, and Bella.
Murphy and Mitchell divorced in 2006, and his subsequent relationship with former Spice Girl Mel B. was a bit controversial. Mel B. gave birth to Murphy's eighth child, Angel, in 2007. Following a custody and child support disagreement, the two exes are reportedly getting along. Murphy started dating Paige Butcher in 2012, and they share Izzy and Max together. The "Nutty Professor" star proposed to Butcher in 2018, and the two have been together ever since.
While Murphy is no stranger to the limelight, his children have mostly stayed under the radar. However, his daughter Bella seems to be following in her father's footsteps, with the actor breaking his own rule so she could star alongside him in "Coming 2 America," per Yahoo! According to the budding star, she and her siblings are  "not allowed to work in this industry until [they're] 18." Murphy's illustrious career earned him a prestigious award, during which he thanked Butcher and all of his kids. While his speech was touching, a previous joke about his ten children by a fellow actor had the audience rolling.
Tracy Morgan makes a crack about Eddie Murphy's large brood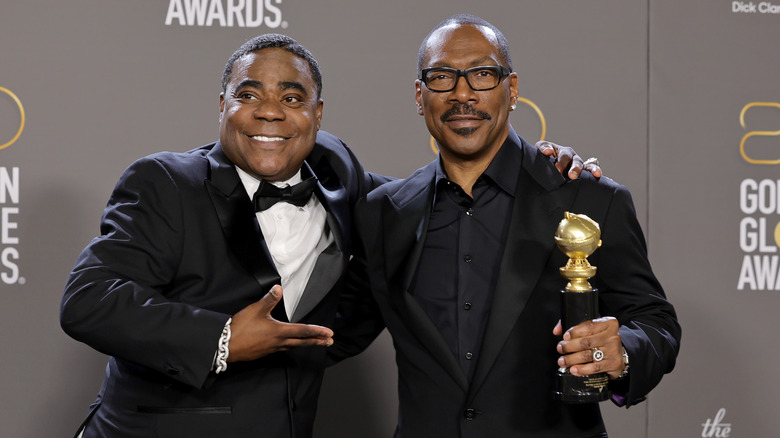 Amy Sussman/Getty Images
During the 2023 Golden Globe awards, Eddie Murphey was honored with the Cecil B. DeMille award. During the ceremony, while presenting Murphy with the prestigious trophy, fellow actor and comedian Tracy Morgan made quite the quip about the "Coming to America" star's large brood that had the audience in stitches. As reported by Page Six, while giving a speech about his fellow thespian's long career, Morgan said, "You've got 10 children. Your pull-out game is weak, Eddie." He hilariously added, "You look at Paige and you get her pregnant!"
Murphy and Paige Butcher have been engaged since 2018, and it's unclear when they'll tie the knot. Much like Murphy's children, the model likes to stay under the radar. "I'm in a relationship with a celebrity, so I felt like there's already enough of me out there. I felt like I was giving out too much information. I was giving people too much access. I like to keep as much private as possible now," she told Vanity Fair. It's also unclear if the two plan to have more kids, but if they do, Murphy could have as many kids as Nick Cannon.