Jeremy Renner Once Made An Extremely Awkward Joke About Jennifer Lopez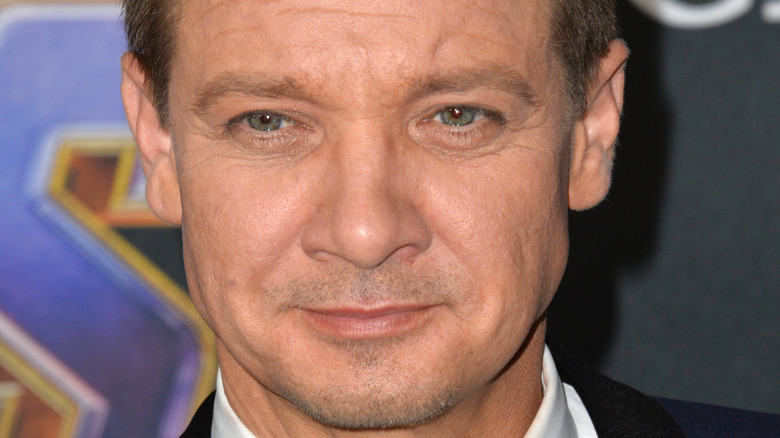 Featureflash Photo Agency/Shutterstock
Jeremy Renner is one of Hollywood's leading actors and has been known for his off-color sense of humor. According to his IMDb, Renner landed his first acting gig in 1995, but rose to fame when he starred in 2008's "The Hurt Locker." Since then, he has been in many blockbuster hits such as "The Bourne Legacy" and the "Mission: Impossible" franchise. These days, fans may recognize him most in his recurring role as Hawkeye in the Marvel world.
In 2015, a joke Renner made about his "Avengers: Age of Ultron" co-star, Scarlett Johansson's character, Black Widow, landed him in hot water. When asked about Black Widow, Renner simply stated, "She's a slut," per ET. His co-star Chris Evans, who plays Captain America in the franchise, laughed alongside him. Fans expressed outrage at the characterization of the character. Renner told fans, through Reuters, "It was not meant to be serious in any way. Just poking fun during an exhausting and tedious press tour."
Renner later defended his comment to Conan O'Brien on "Conan." He admitted that he's unapologetic about a lot of things and told the host, "I got in a lot of internet trouble ... Mind you, I was talking about a fictional character and fictional behavior, but Conan, if you slept with four of the six Avengers, no matter how much fun you had, you'd be a slut." This wasn't the first time the actor got blasted for his tawdry sense of humor, and he remained unapologetic about that time as well.
Jeremy Renner made a comment about Jennifer Lopez's cleavage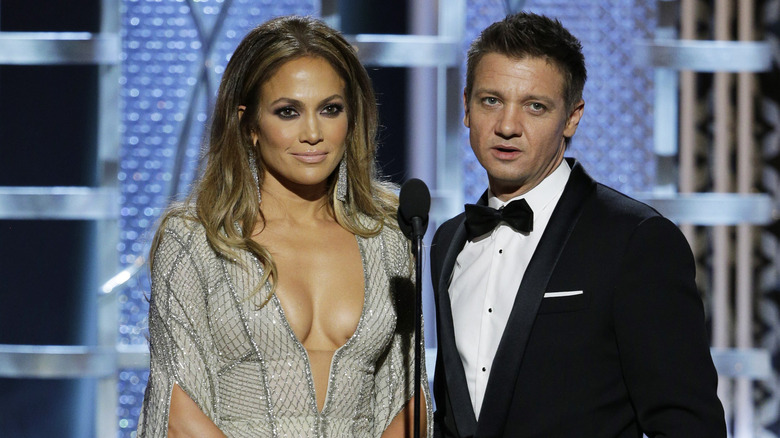 Handout/Getty Images
Jeremy Renner has a history of putting his foot in his mouth — and he's not ashamed of it. During the 72nd Golden Globe Awards, he stood alongside Jennifer Lopez to announce the winner for best actor in a TV miniseries or movie, per E! News. The "Let's Get Loud" singer asked Renner if he wanted her to open the envelope. "I've got the nails," she told him. "Yeah, you've got the globes too," he quipped back, seemingly referring to her chest. Although Lopez later stated, "That was really funny. He's a very funny man. It even made me a little hot," fans slammed Renner's joke.
The actor later took to Twitter to clap back. "A reminder not to take this s*** so serious. Thanks Jennifer -– You're a gem," he wrote. Others were quick to take his side. "Well said sir.... I thought it was hilarious. The haters need to get a sense of humour. Big hugs x," a fan replied. "Amen to that! Have a sense of humour people! J-Lo has one don't worry," another tweeted.
Apparently, Renner's sense of humor is not to everyone's taste, and he once used it to try to get out of his acting job.
Jeremy Renner faked heart attacks on the set of The Avengers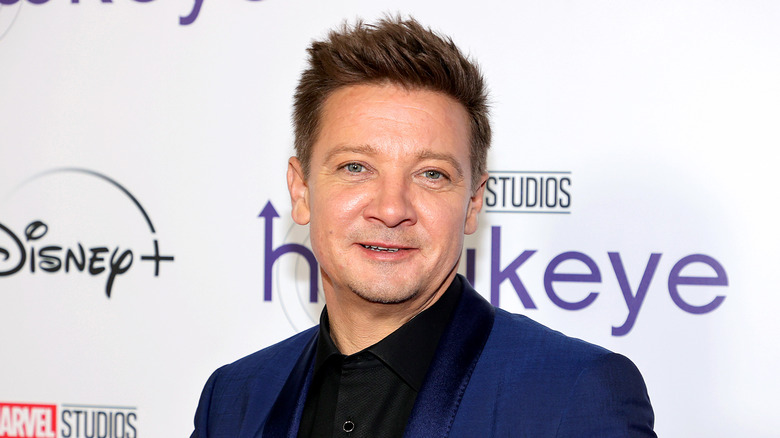 Theo Wargo/Getty Images
Not all of Jeremy Renner's snarky antics landed him in hot water. He didn't always love playing Clint Barton (aka Hawkeye) in "The Avengers" franchise and even told his Marvel bosses to fire him. During the first movie, he objected to his character being brainwashed by the villain Loki and wanted to quit his role, per Radio Times. During a Q&A in London, Renner revealed, "I was just getting to know who Hawkeye was, and then zap, I go round like a zombie, I'm like Loki's minion ... So I'm a little frustrated, because I was so excited to figure out who Hawkeye was." The actor thought the solution was to kill off his character. "I just had a heart attack in every scene — I'd just be walking with ... Scarlett Johansson, and just like be ugh," he told the audience. When asked what he was doing, Renner told the moviemakers, "I'm giving you an option, if you just want to kick me out of this movie. Just, you know, at any given moment, if you wanna kill me off, daddy's gonna be having a heart attack."
Renner's outlandish tactics didn't work, and he continued to play Hawkeye, landing a six-part series on Disney+ with Hailee Steinfeld, per Games Radar. As for his future as the superhero, Renner shared, "I don't have a crystal ball, or I'm not a soothsayer. But having Hailee come in, and these characters, I think it opens it up for six great episodes for this event type of television. After that, I have no idea. But these six episodes are pretty exciting."