The Real Reason Jeremy Renner Told His Marvel Bosses To Fire Him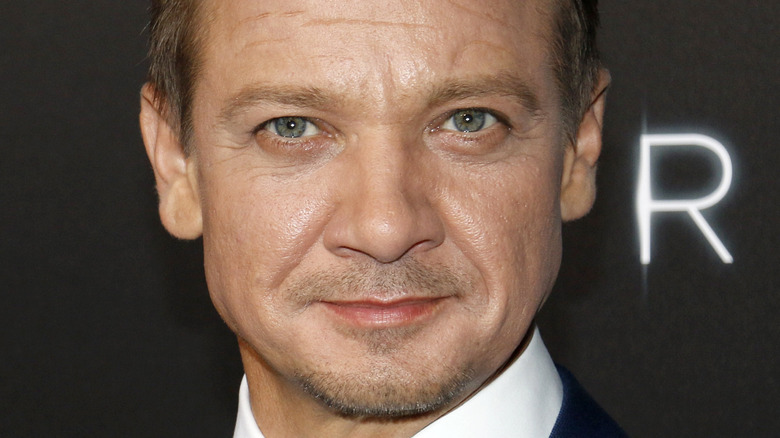 Tinseltown/Shutterstock
Jeremy Renner has led a successful career as an actor, starring in many well-known films and television series, including "The Bourne Legacy," "The Avengers," "Wind River," and "Dahmer." More recently, he was cast as Clint Barton in "Hawkeye", a Marvel Cinematic Universe mini-series set to premiere on Disney+ this week. The series follows on the tail of "Avengers: End Game," which came out in 2019, and leaves off with Renner's character in a dark place of grief and revenge, as per Collider. 
In "Hawkeye," viewers get to see Barton build a partnership with Kate Bishop, played by Hailee Steinfield. In a July interview with Entertainment Weekly, Renner revealed that he felt a pull to mentor the younger actor. "I just wanted to protect her, because there's a lot of physical stuff," he said. Renner was the best man for the role, and not just because of his caring heart — Marvel Studios president Kevin Feige told The New York Times that Renner "could stay grounded despite the insanity surrounding him, and also have a wry sense of humor while doing that." Renner is just happy that his character has grown over time to become a three-dimensional character whom he enjoys playing.
To fulfill the demands of his career, Renner has had to make sacrifices, which have led to him setting boundaries with his bosses. When it came to his MCU commitments Renner made one very important demand that he wasn't afraid to get fired over.
Jeremy Renner values this more than being a superhero
Jeremy Renner values being a dad to his daughter, Ava, more than anything — even more than being a superhero. In November, the two-time Oscar-nominated actor revealed to Men's Health that during negotiations a few years ago, he told his Marvel bosses to fire him if they couldn't provide the time off he required to spend time with his daughter. While some warned that he really did risk getting fired by demanding a flexible schedule, Renner's response was, "Fine, recast me. I'm going to be here with my daughter." 
The "Hawkeye" actor is unapologetic in his demands due to the minimal amount of time he got to spend with Ava in her early years. The disappointment at not getting to see her grow up made him more determined to state from the get-go that he required time off every weekend, no matter the project, to see her. He plans on continuing this schedule "until [Ava] says, 'I want to hang out with my friends, and I don't want to be around you so much, Daddy.'"
"The Avengers" actor's love for his daughter is no secret. He often takes to social media to post photos of them together, although he is always careful not to show her face directly. On Father's Day in 2018, Renner took to Instagram to pen a touching tribute to Ava alongside a photo of her painting while he crouched behind her, writing, "This is why being a Father, is the BEST ROLE I will ever get!!"