Ex-NFL Running Back Peyton Hillis' Condition Improves After Rescuing His Children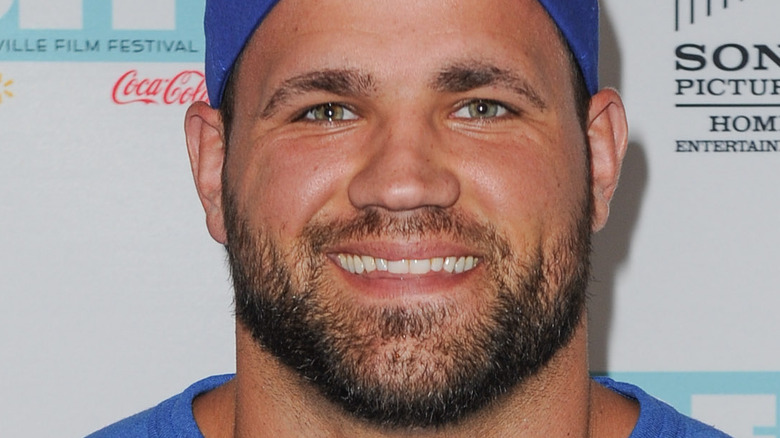 Ernesto Di Stefano Photography/Getty Images
On January 4, former NFL running back Peyton Hillis was hospitalized after swimming with his children in Pensacola, Florida. Per NWA, Hillis became unconscious following an attempt to save his kids from drowning. It was also reported that the former Arizona Razorback was airlifted by a helicopter to be taken to the ICU. Lifeguards and medical professionals reportedly had to provide assistance on the beach before the helicopter came, per TMZ. It was also said that the children did not need medical attention.
From the hospital, Hillis' uncle Greg provided an update on his Facebook page on January 5. "I just wanted to let everyone know on Razorback Nation that Peyton is doing better," he said in the post. "He's still in intensive care and having some problems with his kidneys and his lungs but the doctors say he is improving."
According to 40/29 News, a prayer vigil was held in Arkansas for Hillis. "We, just as a Shiloh family and community, want him healed," the vigil's organizer and family friend Kelsey Eursery told the news outlet. "We want him back at full capacity." And it looks like those prayers are working, as Hillis' girlfriend provided a great update.
Peyton Hillis is off the ventilator
On January 8, it was reported that former NFL running back Peyton Hillis was making minor improvements while in the ICU after a swimming accident. A source told WREG that at first, his lungs and kidneys were severely damaged in the incident, but as his lungs have been improving, his kidneys were the "great concern" as Hillis continues to recover in the hospital. The source also told people to keep the former running back in their thoughts and prayers.
On January 12, Hillis' girlfriend Angela Cole provided a positive update on the former Arizona Razorback's condition. "Peyton is off the ventilator and is on the road to recovery," she said in her Instagram caption. "Please continue to pray for he's still got a ways ahead of him, but thank you for all of your prayers and love and support thus far." The actor called her boyfriend a "hero" and said that "today was a good day" for the family.
Hillis' Razorback teammates have also pointed out the former running back's heroic qualities. "A lot of former players, we are all in a group message, and the first thing people were calling him was Superman," former Razorback tight end Chris Gragg told KARK, after hearing that Hillis reportedly saved his children's lives. "Like that's a real life Clark Kent."