Britney Spears' Odd Date Night Behavior Has Fans Concerned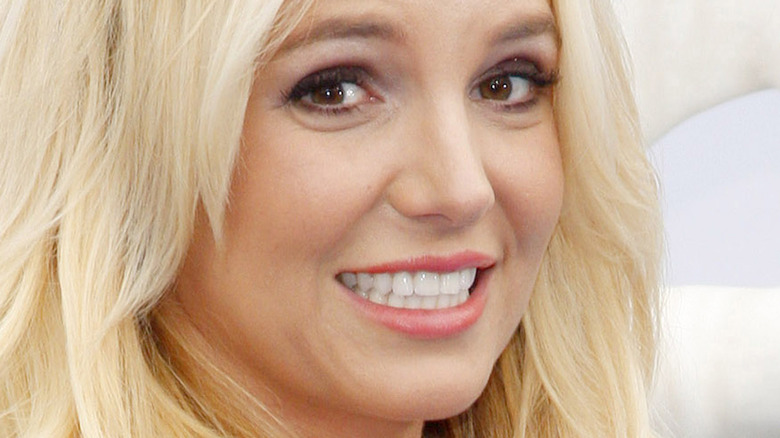 Tinseltown/Shutterstock
Britney Spears has been adapting to life without her father pulling the strings behind-the-scenes since a judge ruled to end Spears' conservatorship in November 2021. For the "Womanizer" singer, this means she's now allowed to go out to eat, spend her money however she sees fit, and post whatever she wants on social media. Over the past several months, some of Spears' activity has concerned fans and a recent outing is having the same effect. 
Spears went out to dinner with her husband Sam Asghari on January 13, and someone at the eatery took a video of her exhibiting some odd behavior. According to TMZ, Spears and Asghari stopped in at JOEY restaurant in Woodland Hills for a bite but things appeared to go awry at some point — and several people witnessed it. Early on in the evening, Spears appeared irritated because people recognized her and starting pulling out their cell phone cameras. From there, eyewitnesses told TMZ that Spears began acting "manic," and speaking in "gibberish." After seeing the video, several fans took to social media to react to it.
Some fans are worried for Britney Spears after seeing the video
Social media users seem to have mixed reactions to Britney Spears' behavior, with some understanding that she didn't want to be bothered while out to dinner and others actually suggesting that she needs to be back under a conservatorship. "She needs to go to places where they let her in a back door & a quiet VIP section. Britney is just too famous," one Twitter user weighed in. "I'm concerned for her TBH — I truly feel for all that she has been through but let's just be honest with ourselves she's not well," someone else tweeted. "Britney Spears was under a conservatorship for good reasons. They're becoming quite apparent," a third Twitter user said.
Spears hasn't reacted publicly to the video at the time of this writing, but she has been active on Instagram over the past 24 hours. She shared a video of herself wiggling about in a miniskirt on January 13 and captioned the post, "Feeling myself." Spears pretty much put a halt to any and all negativity that could have come out of that post, however, by turning off the comments.