Shannen Doherty Shares Health Update Following Cancer Battle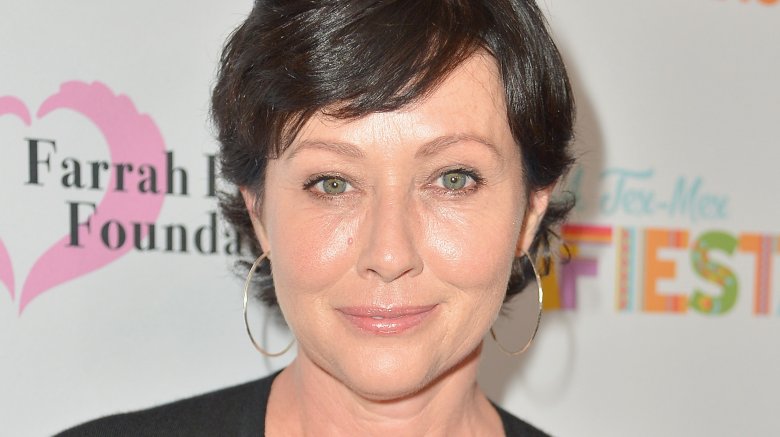 Getty Images
Shannen Doherty is still in remission following her battle with breast cancer.
On Wednesday, April 4, 2018, the former Charmed star took to Instagram to clarify her recent round of test results. Earlier this week, comments made about her slightly elevated tumor marker test results had been misconstrued by some, who falsely believed that her cancer had returned.
"I spoke to my doctor this morning...my PET scan is all clear, so I am still in remission," Doherty said in a video message to her fans. Explaining that the elevated tumor marker wasn't specific to her type of cancer, and tends to be erratic as it can be impacted by a number of factors, she added, "In the future, I will try to be more responsible and do more research. I didn't know a lot about tumor markers at the time that I posted yesterday."
In the clip's caption, the 46-year-old actress wrote, "I imagine that I'll always worry to a certain extent but I think we all worry about something. Cancer is a beast that changes one. For me, it changed me in a lot of beautiful ways. But it also gave me a new level of anxiety about things. All understandable." 
"I share my experience to help connect, bring awareness and hopefully encourage those going thru cancer to stay positive," she added, expressing how grateful she is to her supporters. "I can only hope I have helped you as well. Much love to you all. #remission #cancerslayer."
In Doherty's initial, since-deleted post, she had written, "One Tumor marker test came back good. Other... elevated. Just means I get monitored and another test. But even after that call, I'm staying positive and taking stock of my life" (via Page Six). Adding that it "certainly helps put things in perspective," the former 90210 star continued, "As I've said before, cancer changes your life in ways no one could ever imagine."
As Nicki Swift previously reported, Doherty, who went public with her breast cancer diagnosis in August 2015, revealed that she was in remission in April 2017. 
"Moments. They happen. Today was and is a moment. What does remission mean? I heard that word and have no idea how to react. Good news? YES. Overwhelming. YES. Now more waiting," she shared in a cautiously optimistic Instagram post at the time. "The next five years is crucial. Reoccurrences happen all the time....But for now.... remission. I'm going to just breathe."