The 2000s Documentary You Might Not Remember Ivanka Trump Was In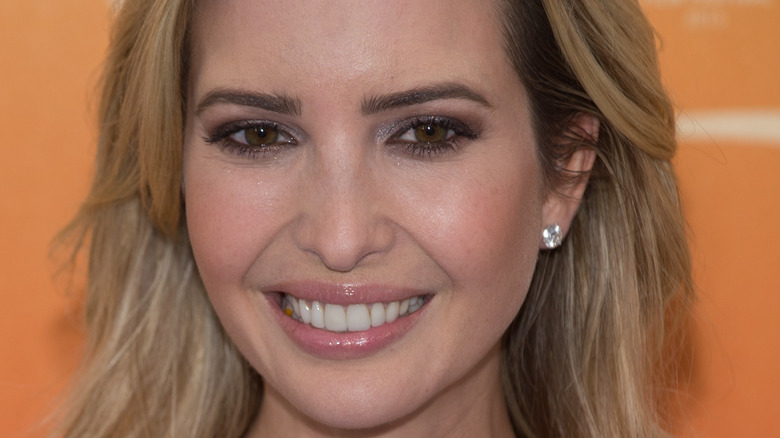 Mark Sagliocco/Getty Images
Ivanka Trump, socialite-turned-first-daughter, is a name synonymous with politics. Once a staple on the New York social circuit, few guessed she'd one day have a wing of her own in the White House. But that's exactly what happened when Donald Trump became the 45th president of the United States in 2017. Despite her lack of experience, Ivanka served as a full-time adviser to her father, per CNN, working behind the scenes to champion workforce development and women's economic empowerment. And with one presidential term under his belt, Donald has his sights set on another. However, as of 2022, Ivanka announced that politics will be taking a back seat to her family.
Still, it's hard to separate regular Ivanka from Ivanka the first daughter. Remember what she was doing before her time in the White House? There was her ill-fated clothing line, her books, her modeling career, and her role as executive vice president within the Trump organization. It's an impressive resume — one fitting for a woman who'd long planned on "a more serious" path than a measly modeling contract, as she told Marie Claire. Clearly, Ivanka has worked hard to build her empire, but she's been helped along the way by her family's wealth. The Trump fortune has landed Ivanka in the upper echelons of society, allowing her to schmooze with other elites, including former NYC mayor Michael Bloomberg's daughter, Georgina Bloomberg. In fact, her wealth is such that she once featured in a documentary about the lives of the rich and famous.
Born Rich reveals a humble side of Ivanka Trump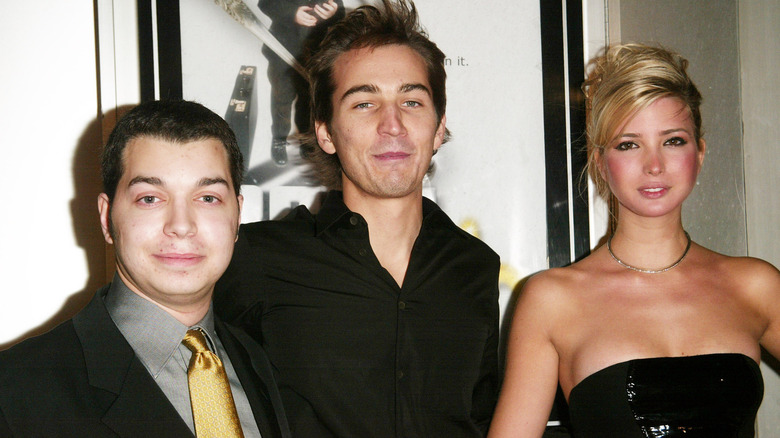 Evan Agostini/Getty Images
According to Slate, Ivanka Trump's coming-of-age years were chronicled in the 2003 documentary, "Born Rich," which IMDb calls a commentary "on children of the insanely rich." It's worth noting that the movie was directed by Johnson & Johnson heir, Jamie Johnson, so the whole production is narrated through the lens of the ultra-wealthy. In it, Ivanka came across as more grounded than her peers. "No matter what I hear about my parents, about my family, no matter what I read, the fact is that I'm absolutely proud to be a Trump," she said. Johnson himself said, "People tend to like her. She's not as abrasive as her father," per The Hollywood Reporter. One reviewer wrote that the teens in the documentary "handle most situations in a surprisingly humble manner. Especially the Trump and Johnson children." Others noted that Ivanka was "poised and articulate," and surprisingly relatable (via Decider). The proof? Peep the walls of her childhood bedroom, which were covered with posters of her favorite celebrities and crushes.
Additionally, Ivanka shared a story about her father, Donald Trump, which paints an interesting portrait of his wealth. Recalling a time in which they came across a homeless person outside Trump Tower, Donald reportedly told his young daughter, "That guy has $8 billion more than me." It was "because he was in such extreme debt at that point," Ivanka remembered, adding, "It makes me all the more proud of my parents that they got through that."
Ivanka Trump framed her upbringing a certain way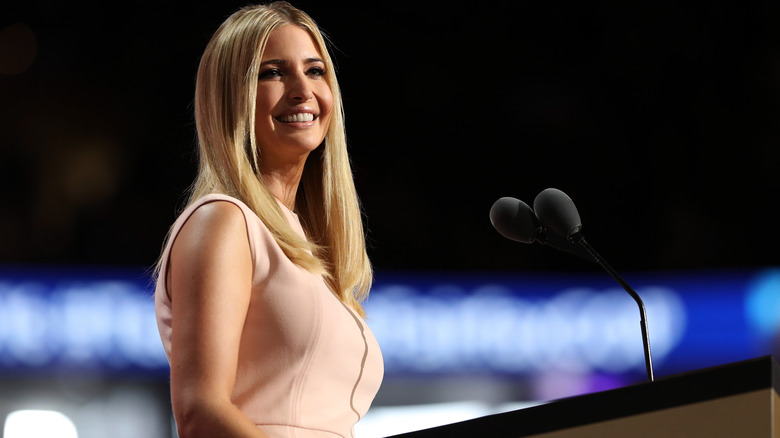 Joe Raedle/Getty Images
The concept of a reality show about rich people isn't groundbreaking now, but Jamie Johnson's film premiered before "The Kardashians" and Paris Hilton's "The Simple Life." Of his decision to make the movie, Johnson told Forbes that he wanted to break the taboo of speaking openly about money. "[My father] was raised with these old-money, waspy traditions that say you should be secretive about your wealth," he said. "I always thought, 'Why? Does that make any sense?' ... So that was one of my ambitions in this: Just to kind of get wealthy people to start living more honestly with their wealth."
But even at a time predating most reality shows, and when many of the young adults in "Born Rich" were not at all camera-trained, Ivanka Trump knew how she wanted to present herself. Case in point, in "Born Rich," she shared a story about how she always knew that she wanted to go into real estate development. It's an anecdote that she repeated at the Republican National Convention in 2016. Throughout various media interviews, she's echoed these themes of hard work, implying she's more than just a spoiled, little rich girl. "It was very important ... that we basically didn't grow up as brats," Ivanka told Oprah Winfrey in 2009. In other words, she might have grown up privileged, but Ivanka wants you to know there's no silver spoon in her mouth.