The Complicated Story Of Pat Tillman's Tragic Death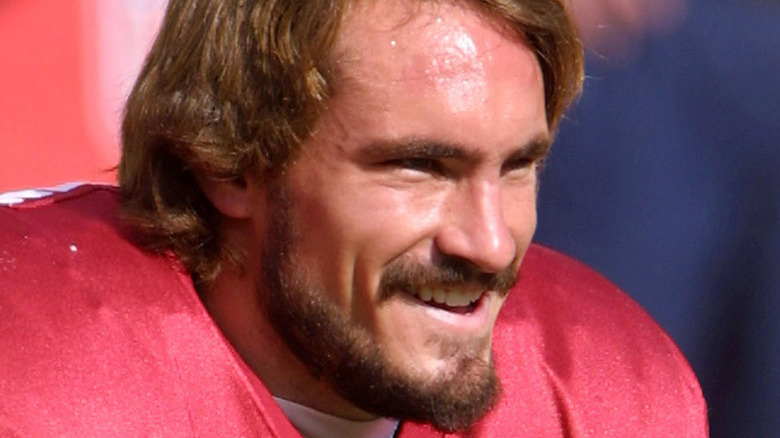 Gene Lower/Getty Images
The story of up-and-coming NFL star Pat Tillman is truly devastating. Tillman played for the Arizona Cardinals before he unwittingly became one of the celebrities who passed away before turning thirty. However, the 27-year-old's death wasn't linked to the NFL — it turned out to be much more complicated than that.
Tillman played linebacker at Arizona State College before being chosen to play for the Cardinals. He wasn't selected until the seventh round, making him the 226th pick of 1998. Although Tillman's professional sports career may have gotten off to a lackluster start, he soon excelled after he was switched to safety and his game took off from there. According to the Bleacher Report, the athlete became so good that he was offered a five-year contract with the St. Louis Rams after they won the Super Bowl in 1991. However, Tillman turned down the $9 million offer from St. Louis in order to stay with the Cardinals out of loyalty. 
In 2002, though, he walked away from a $3.6 million deal with his team. "Pat said, 'Hey, Frank, do me a favor. Worry about your other clients. Don't worry about me. I'm thinking about doing something else,'" Tillman's manager told Time. According to the magazine, the baller also walked away from numerous TV, movie, and book deals in favor of putting his country first — a decision that would ultimately lead to the complicated story of Pat Tillman's tragic death.
Pat Tillman quit the NFL to serve his country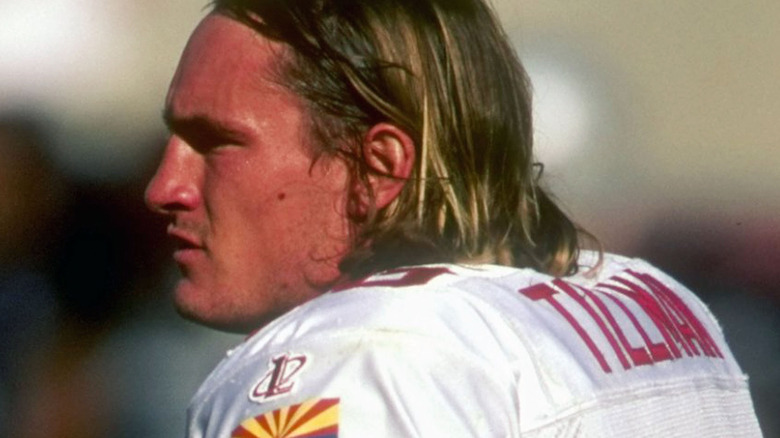 Todd Warshaw/Getty Images
According to Sports Illustrated, Pat Tillman's decision to turn down the Arizona Cardinals' deal was motivated by the terrorist attacks on September 11, 2001. Per Bleacher Report, as Tillman sat watching the towers crumble, he told a cameraman that his great-grandfather had been at Pearl Harbor. "A lot of my family has given up, gone and fought in wars," he said. "I haven't really done a damn thing as far as laying myself on the line like that. So I have a lot of respect for those that have and for what the flag stands for." 
When he returned from a honeymoon with his wife, Marie Tillman, Pat enlisted in the military along with his brother Kevin Tillman, a minor league baseball player. The San Francisco Chronicle notes that the two siblings strived to keep their enrollment on the down low. When they were awarded the Arthur Ashe Courage Award by ESPN in 2003, neither attended, as they didn't believe they deserved it more than others. This left their younger brother, Richard Tillman, to accept it on their behalf. "Pat and Kevin don't think they are better than anyone else," Richard told Army News Service (via the Chronicle).
"Specialist Tillman soon journeyed deep into the Afghan wilderness to hunt the Taliban and al-Qaeda," Time wrote when they named Pat their "Person of the Year" in 2004. Sadly, it was there, near the mountains of Pakistan, that the events surrounding Pat's death ultimately unfolded.
Pat Tillman died for his country despite being against the war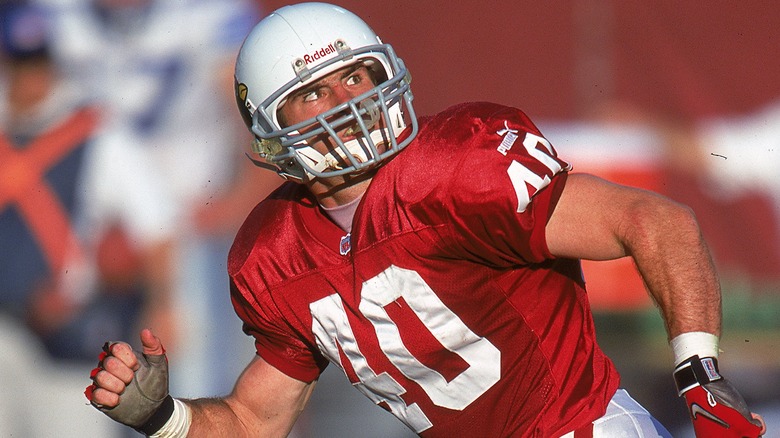 Tom Hauck/Getty Images
Pat Tillman's cause of death was something no one saw coming. According to Time, an eyewitness stated that Tillman had been leading a group of Rangers through the Afghan mountains when they were shot at. Tillman quickly realized it was coming from their own platoon, who were approaching "from around the bend." Despite Tillman attempting to alert the soldiers, they continued to shoot "from perhaps only 40 yards away." The athlete was killed in the hail of bullets. He was the only Ranger to die in the friendly fire. Tillman was 27 years old.
According to Bleacher Report, his tragic death immediately became controversial. At first, the official report claimed that Tillman was gunned down by enemy forces. However, it soon became apparent he was killed by friendly fire. Meanwhile, because Tillman had publicly spoken out against the war following an earlier tour of Iraq, some claim he was murdered, and others say the alleged murder was perpetrated to "promote the war."
Tillman shared that his main regret over his choice to enlist, though, had been leaving his new wife behind. "Sometimes I feel like I've left her all by her lonesome to fend against the world," he wrote (via Page Six). He went on to say, "I struggle with the guilt of what I've done. I'm sure [Marie] still hates me for everything, but at least she will know how her hate holds nothing to my own self-loathing."