Who Is Edward Norton's Wife, Shauna Robertson?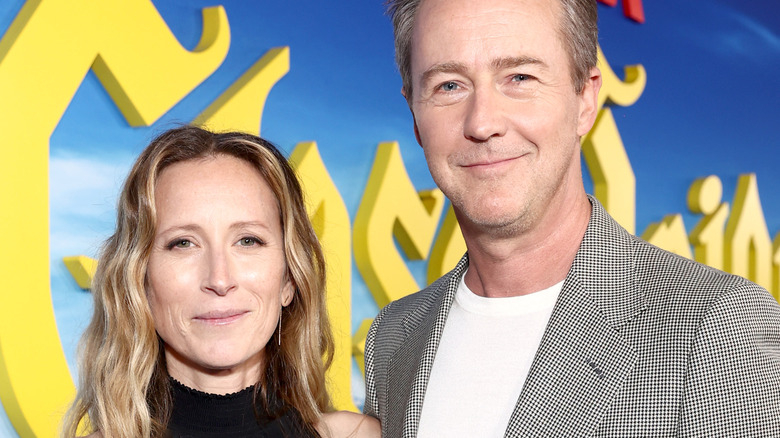 Emma Mcintyre/Getty Images
Edward Norton tends to be pretty closed off about his personal life, and his marriage to Shauna Robertson is no exception. He and Robertson wed in 2012 after quietly dating for six years and are parents to a son, Atlas, whom they welcomed in 2013. Yet, in a rare moment on the "SmartLess" podcast back in 2022, Norton opened up about their love story and how he and Robertson first met.
"We met in London," he said. "Woody Harrelson and his wife introduced us. Woody was doing 'Night of the Iguana' on the West End, and I was rehearsing a movie in New York, and I was getting a little aggravated with the process, and they were like, 'Can you do another day tomorrow?'" Not wanting to say yes, Norton said he would be flying out to London to see Harrelson's play as an excuse. "I said, 'I'm going to London tonight to see a friend in a play.' And then, I went on Expedia and got a ticket to London and called Woody and said, 'I'm coming to see you." There, he would meet Robertson — an encounter he agreed changed his life forever.
So, who is the lucky woman who captured Norton's heart? It might surprise you to know that Robertson is also a familiar name in Hollywood, having found success in her own right. Here's what you need to know about Norton's wife. 
Shauna Robertson was an accomplished film producer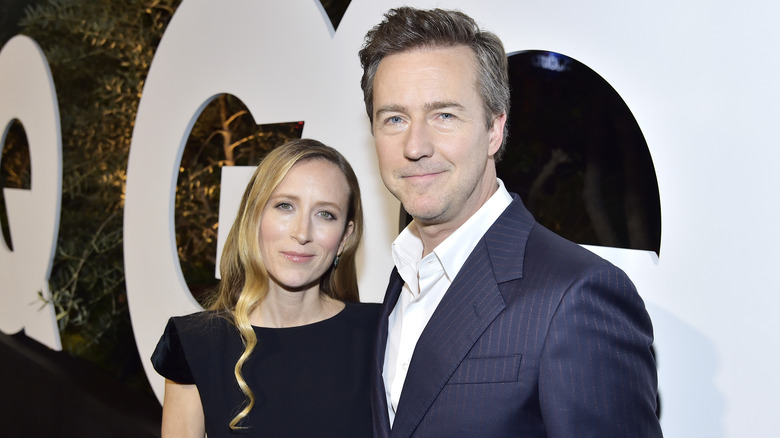 Stefanie Keenan/Getty Images
While her name may not be as familiar to many as her husband, Shauna Robertson has had a successful career in the entertainment biz as a film producer. She is best known for her collaborations with Judd Apatow on comedies like "The 40-Year-Old Virgin," "Knocked Up," "Superbad," and "Forgetting Sarah Marshall," to name a few. Per Esquire, Robertson first met Apatow on the set of 2004's "Anchorman: The Legend of Ron Burgundy" starring Will Ferrell. "Shauna is obsessed with getting every detail correct," Apatow said of working with the actor (via the Los Angeles Times). "She is the rare woman who always wants to take the joke farther than any man wants to go." In fact, he said, "All nudity in my films is a result of Shauna pushing me and calling me a wimp." (Jonah Hill, who worked with Robertson on "Superbad," also attested to this, describing the producer as "way more perverse than any of us.")
Robertson was born and raised in Toronto, Canada; at 16, she dropped out of high school to move to Hollywood to pursue her dreams of becoming a producer. Speaking to the LA Times, Robert said having "hippy" parents — her father worked as a hang gliding instructor, while her mother was a yoga teacher — prepared her for the job. "It's good early training to have an incredibly irresponsible family. It forces a young person to take responsibility, to be organized," she quipped.
She and Edward Norton launched their own charity site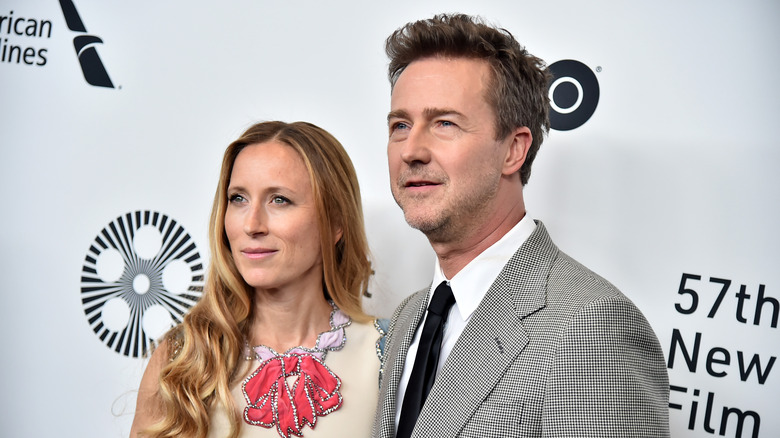 Theo Wargo/Getty Images
Shauna Robertson has since retired from making movies to start her own fundraising charity site, CrowdRise, with her husband Edward Norton. CrowdRise was formed in 2010 with the initial goal of raising money for the Maasai Wilderness Conservation Trust, which aims to protect the ecosystem and biodiversity of East Africa. Soon, the Nortons, together with their partners Robert and Jeffro Wolfe, realized that the website could be used for other causes, too. CrowdRise was later acquired by the fundraising online platform GoFundMe in 2017.  "I wanted to have other chapters in my life," Robertson told The Hollywood Reporter of her sudden career change. "I was planning on just moving to Italy and doing a lot of yoga or something." Speaking to Glamour about her passion project, Robertson said, "CrowdRise is very satisfying for me, and just slightly more enjoyable than telling fart jokes."
In addition to her philanthropic work, Robertson spends much of her time being a wife to Norton as she joins him in countless premieres and other industry events. In October 2022, she accompanied Norton to the European premiere of his latest film "Glass Onion: A Knives Out Mystery" in Madrid, Spain, as reported by the Daily Mail. She also attended the "Glass Onion" premiere in Los Angeles in November as Norton's gorgeous date, according to Page Six.