Did Chloe Grace Moretz Just Call Out Brooklyn Beckham For Cheating?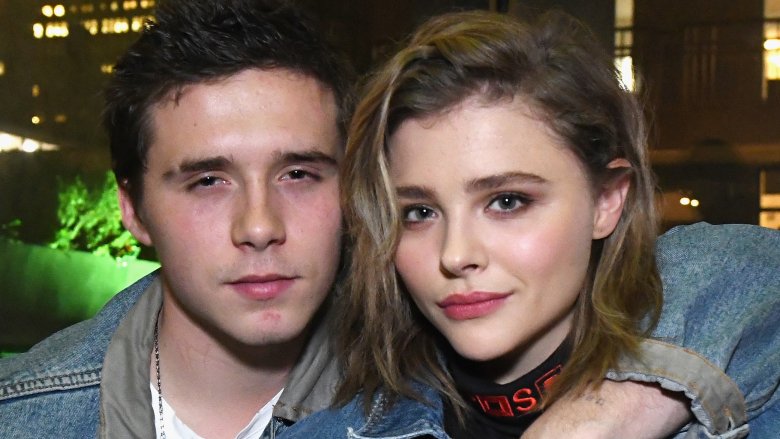 Getty Images
Chloë Grace Moretz may have just implied that Brooklyn Beckham cheated on her.
On Sunday, April 8, 2018, the actress shared a screenshot of a track off of Cardi B's new album, Invasion of Privacy, on her Instagram Stories — and it seems like she may be hinting that her one-time beau wasn't exactly loyal to her during the course of their relationship. So just what song was it? Moretz was listening to the rapper's "Be Careful," which is about a man cheating on a woman in a relationship (via Huffington Post).
The song features Cardi B warning the man to pay attention to how he's treating her. "Be careful with me, do you know what you doin'? / Whose feelings that you're hurtin' and bruisin'?" she spits. "You gon' gain the whole world / But is it worth the girl that you're losin'?"
In another part of the song, Cardi B raps, "Gave you TLC, you wanna creep and s*** / Poured out my whole heart to a piece of s***."
Yikes.
Considering that Beckham was photographed kissing Playboy model Lexi Wood at a Los Angeles tattoo parlor on Saturday, April 7, it certainly sounds like Moretz may have been taking a dig at her (presumably) former flame (via Cosmopolitan).
Since Moretz's post, Beckham has reportedly responded online by liking an Instagram post that showed a crying young Beckham next to his mother and read, "Chloe's fans are attacking Brooklyn Beckham" (via Evening Standard).  
Beckham and Moretz have been romantically linked since 2014, though neither star has been particularly vocal with the press about their relationship. They later became Instagram official in 2016. That same year Moretz was pushed to confirm her relationship with Beckham while on Watch What Happens Live, but instead she simply said, "He's a very good guy. He's a good person." She added, "I enjoy hanging out with him."
However, Moretz did gush about Beckham to Us Weekly in November 2017. "I think we chose each other. It's been years now off and on and it's just one of those things, you come back and it's like no time spent away from each other at all," she said of her relationship with Beckham, which had ended in August 2016 before the two reconciled. "I think that's the most important thing and you're lives are an open book. We like to have our own little private world and I think that's important for both of us."