Ellen's Most Uncomfortable On-Air Moments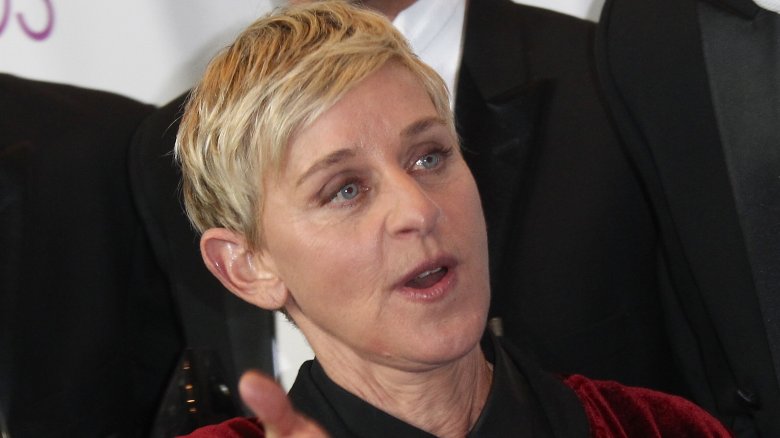 Getty Images
Ellen DeGeneres is incredibly charming, warm, and funny on her daytime talk show, The Ellen DeGeneres Show, which has been on the air for more than 15 years. Her sweet nature puts her guests at ease, even when she asks them uncomfortable questions about things like their dating lives or whether or not they're pregnant. It also makes it much easier to forgive her when she scares the daylights out of her guests onstage, backstage and everywhere else she can. DeGeneres is just so friendly and lovable that even when she's being a little shady, you can't help but get behind her.
Unfortunately, not even DeGeneres' quick wit, humor and laid-back demeanor could salvage these awkward moments. From Kanye West's seemingly endless raving to Jessica Simpson's incoherent babbling, and from Ryan Seacrest's bizarre misunderstanding over a bingo marker to a thieving guest and an ungrateful college student, some of these segments are more cringe-worthy than comical.
Jessica Simpson couldn't stop babbling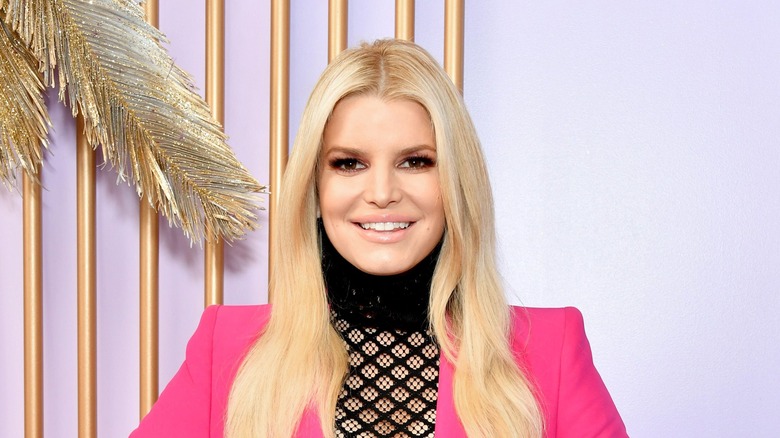 Amy Sussman/Getty Images
Singer Jessica Simpson gave an interview with DeGeneres in May 2017 that was such a trainwreck, the hostess couldn't keep a straight face. She began the interview slurring and sounding slightly out of breath, insisting to DeGeneres that she wasn't pregnant because she had an IUD: "Nothing's gonna get in that uterus."
It got worse from there. She discussed mermaids not being allowed to pee on her children (seriously), the definition of "manhandling," and the duration of her relationship with and marriage to Eric Johnson, which she estimated to be about seven years. Maybe. 
Then Simpson announced that her longest relationship ever has been with a woman, but "not like that." She discussed her billion dollar fashion empire, pointing out that if she can do it, "anybody can do it," and mentioned that her husband may or may not give her massages in his sleep. We think.
DeGeneres broke the fourth wall several times to give Jim Halpert-style stares at the audience, but ever merciful, she eventually cut to a commercial to put Simpson and the audience out of their respective miseries.
The uncomfortable Caitlyn Jenner confrontation
DeGeneres confronted Caitlyn Jenner about her conservative views on same-sex marriage in a September 2015 sit-down that forced the transgender activist to later clarify her opinions.
"I'm a traditionalist," Jenner told DeGeneres. "I kinda like tradition and it's always been a man and a woman ... As time has gone on, I think a lot of people on this issue have really changed their thinking here to, 'I don't ever want to stand in front of anybody's happiness.' That's not my job, okay? If that word — 'marriage' — is really, really that important to you, I can go with it."
DeGeneres, who's married to Portia De Rossi, gently pointed out, "Obviously 'marriage' is an important word because marriage is marriage and equality is equality, so we want the same word everyone else has. It Is. That's the word. We want the same thing."
After the episode aired, Jenner wrote on her website, "Like many people, there was a time when I didn't realize how important it is for gay couples to have the right to get married. But after hearing from my gay friends and learning more about the hardships they faced because of discrimination, it became clear to me that everyone should be able to marry the person they love."
David Arquette's 'Never Have I Ever'
In a September 2015 segment of "Never Have I Ever," DeGeneres played the game with Wanda Sykes and David Arquette, who fans worried had fallen off the wagon in his appearance.
Arquette admits in one part of the game that he has been drunk before noon and says making love on the beach results in chafing (ouch!) He giggles throughout the segment and asks DeGeneres to cut one of his remarks, a suggestion that she quickly shuts down. 
Following the interview, fans expressed concern for Arquette on Twitter, with one writing (via the Daily Mail): "Watching #Ellen: my sister and I are trying to determine whether David Arquette is high or just freaking weird and we never knew it." Another tweeted, "@TheEllenShow Wanda Sykes looked beautiful on your show today; but what was UP with David Arquette? Awkward!"
Arquette was a self-confessed alcoholic for years, making his first public trip to rehab in 2011, reported TMZ. Prior to getting help, he admitted on The Howard Stern Show (via People) that he'd "been drinking a lot" and that he becomes a "maniac" when he's drunk.
A rep for Arquette later insisted his Ellen appearance was no big deal, telling the Daily Mail, "That's just David. He always has a lot of fun on shows and if you look at other clips from other talk shows he has done, it's pretty much the same. That's just his personality!"
Every time Kai Langer tries to sing
At some point, the world is going to regret making Ellen DeGeneres the unofficial gatekeeper of viral child stars. In March 2013, she invited Kai Langer to her show for the first time. The cutie rocked a fedora and semi-sang Bruno Mars' hit "Grenade." It was cute ... the first time.
Five months later, Langer returned to perform Mars' ballad "When I Was Your Man." It was the same schtick. In April 2014, he covered Katy Perry's "Roar." In November 2014, he sang Mars' "Marry You." In January 2015, it was "Uptown Funk" with Mars himself. That could have been the grand finale, but no.
In November 2015, Langer returned to the show to perform The Weeknd's catchy ode to cocaine, "Can't Feel My Face," and for Valentine's Day in 2017, Ed Sheeran joined him to serenade DeGeneres with "Thinking Out Loud."
While Langer is precious and passionate, he's not exactly a gifted vocalist, and so watching him perform — and watching the audience indulge him — grew more and more uncomfortable the older he got. Here's hoping DeGeneres treats him to voice lessons or gives this all up before Langer gets to junior high.
That time she forgot Katy Perry had been married
Pop star Katy Perry appeared on The Ellen DeGeneres Show in 2017 to play "Will You Perry Me," a version of "Who'd You Rather." Before the game began, the singer whined, "Do I have to get married? Again?"
"You were not married," DeGeneres tells her, to which Perry replies, "I was, when I was 25. It's been a long time, honey ... no wrinkles, no lines." 
DeGeneres, still in disbelief, quips, "You were married? To who?"
"To Russell Brand," Perry whispers. 
"Oh, that's right, I forgot about Russell," DeGeneres says, giggling.
"You gave me some wedding gifts on this show," Perry tells her. Visibly wanting to change the subject, Perry then makes scissor motions with her hands to the producers behind the scenes in an effort to cut the segment — but to no avail.
Once the game actually starts, Perry is the awkward one, often yelling and gesticulating frantically about the guys she would have kissed in her past. Her actual sit-down interview with DeGeneres isn't much easier to watch. It's safe to assume this entire episode was exhausting for viewers (and likely didn't help Perry's poor record sales for Witness).
When she made Nicole Kidman clap
Remember Nicole Kidman's bizarre, quasi-seal-like clapping at the 2017 Academy Awards? DeGeneres sure did, and she wouldn't let the Oscar-winner get away with not discussing the viral moment on her show.
"I don't clap like that! I do not clap like that," Kidman insists with a chuckle as producers play the moment on a giant screen behind her. "That is a weird lens. OK, can you get that off?"
"The lens didn't do it to anybody else's fingers," DeGeneres points out. "How can you make any noise like that? You're not even really clapping."
Kidman explains, "Because I borrowed — it's the Cinderella thing — you borrow these expensive jewels and I'm like, 'I must not damage these diamonds because I have to give them back at midnight!' And so I'm, like, clapping [like that] ... And they went back beautifully intact, not a scratch on them. 'Cause Keith's [Urban] like, 'Do not damage the diamonds!'"
She then applauds perfectly normally and says, "I've worked on it."
That time Nicole Kidman shaded Giada De Laurentiis
In the same episode, Kidman perfectly shades fellow guest and Food Network star Giada De Laurentiis. The ladies begin by making artichoke arancini, which they roll into balls. DeLaurentiis asks DeGeneres, "Have you ever made any kind of balls?" to which DeGeneres breaks the fourth wall and just stares into the crowd for laughs. DeLaurentiis then asks Kidman if she's ever made any balls, to which Kidman rolls her eyes and quips, "This is a family-friendly show."
Moments later, DeLaurentiis appears incredibly impressed with Kidman's arancini ball rolling, yelping, "Look, the woman who can't cook made the perfect ball!" 
When it's time to actually cook the balls, Kidman asks DeLaurentiis where the timer is and rolls her eyes when DeLaurentiis informs her there is no timer.
Kidman shades her again when molding focaccia dough, announcing with a pointed look, "There's many great cooks in the audience, aren't there?" 
After some more moments involving DeGeneres' pronunciation of "anise," DeGeneres and Kidman sample DeLaurentiis' finished focaccia — and they are not impressed. DeGeneres' chews for a while, and Kidman curtly responds to a visibly flustered DeLaurentiis with, "It's a little tough."
She put an audience member in 'Ellen jail' for stealing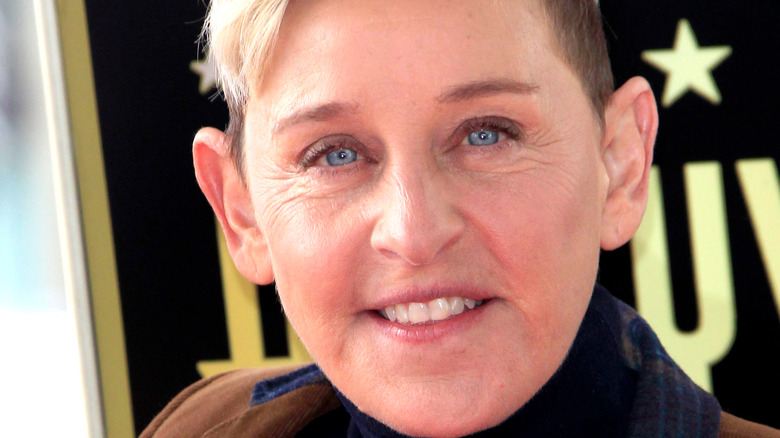 Kathy Hutchins/Shutterstock
In a June 2017 segment designed to see just how honest her studio audience is, DeGeneres caught several would-be thieves. Here's how it worked: DeGeneres set up a table with free swag and a sign that read, "Please pick 1 item to commemorate your visit. Only 1 per person please." Most audience members were honest and didn't take more than one item ... except a woman named Nancy.
Nancy takes a cup, a keychain, a shirt, and a shot glass, then tells her friend to "shut up" when the pal has the nerve to ask her if she's taking extra swag. A bit later, Nancy returns one of her stolen items and swaps it out for a hat. (Nancy has no idea she's being filmed.)
When the show begins, DeGeneres rewards one audience member with a free hat for her honesty ... then calls out Nancy. 
Nancy stammers, "My sister couldn't come, so that was her souvenir."
"A lot of people's sisters couldn't come," DeGeneres replies. "I like that you liked the products so much that you wanted to bring one back for your sister, but when you go like, to Costco — you're the person who when you go trick-or-treating and nobody's home, you take the bowl ... Let that be a lesson to you. You think nobody's watching you, and just need to be a good person just because you want to be a good person."
DeGeneres then makes Nancy sit in "Ellen jail" on the stage. Ouch.
When Mark Wahlberg asked a child about Boogie Nights
In a September 2017 segment, DeGeneres had Daddy's Home stars Will Ferrell and Mark Wahlberg test their brain power against 11-year-old middle school student Zachary Rifkin in a game called "Does Daddy Really Know Best?" The segment got weird quickly.
When Rifkin joins the actors on stage, DeGeneres asks if he knows any of Ferrell and Wahlberg's movies. Rifkin mentions that he knows Daddy's Home and Elf. Wahlberg then asks if the kid has seen his 1997 film Boogie Nights. Rifkin has not, which makes sense. Not only did that movie come before he was born, but it's also about a porn star. Not exactly appropriate content for an 11-year-old.
The segment gets worse after that. One of DeGeneres' questions is: "As Gwen Stefani says, 'This blank is bananas, b-a-n-a-n-a-s. Spell 'bananas' backwards." 
Wahlberg and Ferrell buzz in thinking they have to fill in the "blank" in the lyric, which is the word "s**t." DeGeneres and Wahlberg then proceed to repeat the word "s**t" in front of Rifkin about 10 times. We guess that answers the question about Daddy (or DeGeneres) knowing best.
The most disappointing giveaway ever
It's not unusual for Ellen to but the generous in DeGeneres on her show, and that's exactly what viewers expected when the host read this letter from a viewer to the audience. "It says, 'I want to tell you about my amazing daughter, Jamie Bells. All her life she's never had a grade below an A-minus, and she's paying for her entire college tuition all by herself. She even donated blood every week for six months to earn enough money to buy a computer. I'm not in a position to help her financially, but I'm hoping maybe you can.'" 
"I sure can," DeGeneres says. Bells is in the audience, visibly shaking at this point. "Jamie, come on down."
Once onstage, Bells tells DeGeneres that she knew her mother had interviewed with the show for a contest, but she didn't know it was on her behalf. Bells explains that she's going to Tufts and receives "a little bit" of financial aid to assist with the roughly $50,000 bill. 
DeGeneres tells Bells, "Your story is very sweet ... I talked to my friends at Shutterfly, and they want to help pay for ..." 
Before DeGeneres can finish her sentence, which Bells clearly thinks will end with "your tuition," a producer races up to DeGeneres and whispers something in her ear.
"So, this is awkward but um, we're going to give you a computer," DeGeneres says.
Bells replies, "I have a computer."
Then the segment ends abruptly, because, well, awkward. 
That time Ryan Seacrest thought Ellen gave him a sex toy
In January 2008, Ryan Seacrest appeared on The Ellen DeGeneres Show on DeGeneres' birthday and gave her a Bingo game as a gift for them to play at game nights at her home. Toward the end of the segment, Seacrest finds a small birthday gift bag near his seat and looks alarmed when he peers inside. 
"What's that?" DeGeneres asks. "More gifts?"
A horrified Seacrest opens the bag and removes a blue metallic bingo marker ... that he thinks is something much more inappropriate for daytime TV. He scrambles to put it back in the bag, grimacing and telling his host, "I don't know what that is." He giggles sheepishly and tries moving the bag behind him.
DeGeneres cackles when she realizes what has happened, at which point Seacrest finally figures out what his gift really is. She's still laughing as he attempts to change the subject, mixing the bingo balls in their cage and yelling "G 51!"
Kanye West's monologue goes on and on and on...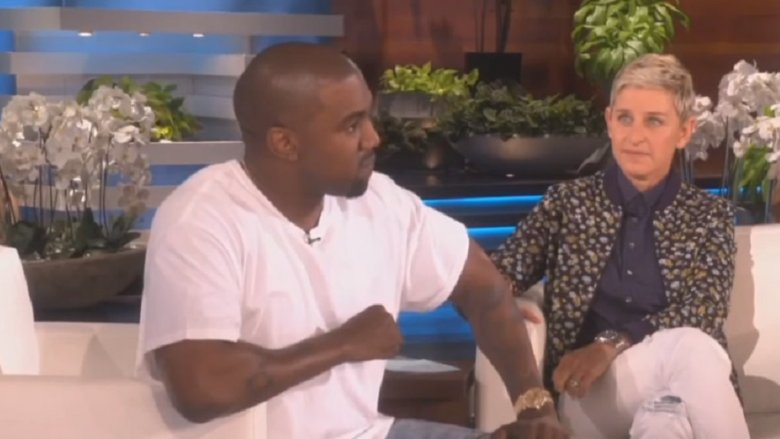 YouTube
In May 2016, Kanye West literally left Ellen DeGeneres speechless. She asked him if he regrets anything he's tweeted, and the rapper launched into a rant lasting more than six straight minutes. His tangents included everything from his artistry to fashion design to bullying to race to Facebook.
"Don't tell me about being likeable. We've got a hundred years here. We're one race, the human race, one civilization. We're a blip in the existence of the universe, and we're constantly trying to pull each other down," he says at one point. "Not doing things to help each other. That's my point. It's like I'm shaking talking about it. I know it's daytime TV, but I feel that I can make a difference while I'm here. I feel that I can make things better through my skill set. I'm an artist, and I feel that I can make things better through my skill set. I'm a artist. Five years old, art school. PhD, Art Institute of Chicago."
He also noted of his work in fashion, "Michael Jackson couldn't get his video on MTV because he was considered to be 'urban.' ... I literally have to be the Michael Jackson of apparel in order to break down the doors for everyone who will come after I'm gone, after I'm dead. After they call me Wacko Kanye."
In light of the psychotic breakdown the rapper suffered six months later, this rant has morphed from something originally interpreted as silly to somewhat dark and sad.