What Eminem's Relationship With His Daughter Hailie Is Like Today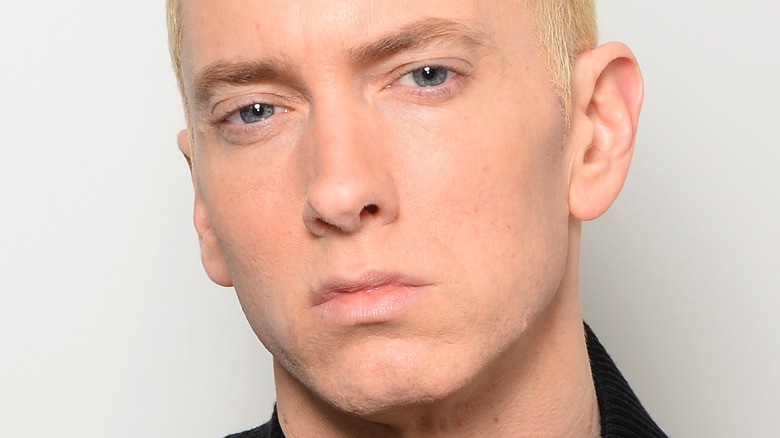 Dave J Hogan/Getty Images
Even the most fair-weather Eminem fans are aware of the drama between the rapper and his daughter, Hailie Jade, during her childhood. Back in the late 90s, Eminem and his now ex-wife Kim Mathers had a messy, drawn-out divorce. As a result, Eminem penned multiple songs about the split and ensuing custody battle.
Eminem (real name Marshall Mathers) and Kimberly settled in 2001 with an agreement that he would retain control of their primary residence in Michigan, and they would split custody of Hailie. "Marshall's obviously pleased with the agreement," Eminem's attorney told Rolling Stone. "He feels it's only appropriate because he's had this significant role in his daughter's upbringing to date, and that's going to be ongoing." Despite the sometimes aggressive nature of Eminem's music, the rapper appears to be the most doting of fathers regarding Hailie. He famously wrote "Mockingbird" about wanting to protect her from the chaos of his divorce from Kimberly.
That was years ago, though; these days, Hailie is all grown up. Below, we're diving into Hailie's life as an adult and what her relationship with her famous father is like today.
Hailie supports her dad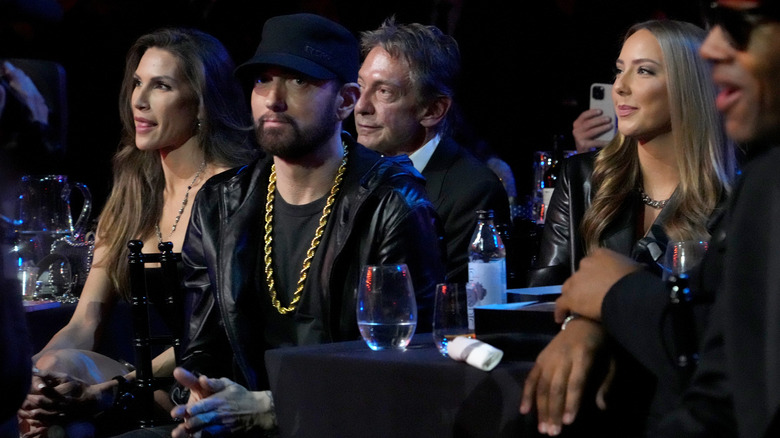 Kevin Mazur/Getty Images
There has been a lot of talk about "nepotism babies" lately, and technically, Hailie Mathers, the child Eminem shares with ex-wife Kimberly Mathers, falls into that category. Hailie doesn't seem concerned with following in her father's footsteps. She's rarely seen in public with her dad, which is why it came as a surprise to many to catch a glimpse of her at Eminem's 2022 induction into the Rock n' Roll Hall of Fame. Eagle-eyed visitors were quick to note that the father-daughter duo was even wearing matching leather jackets, per E! News.
This isn't the first time Hailie has been caught matching with her dad, either. A few weeks after her appearance at the Rock n' Roll Hall of Fame, Hailie posted a "get ready" video to her TikTok that included a Pistons letterman's jacket. "Random fun fact, my family used to go to Pistons games a lot when we were younger, but we haven't really gone in a while," she said as she was getting dressed. "I showed that varsity jacket, and I actually stole it from my dad a few years ago," Hailie explained. "I'm assuming it's from when we used to go to games when I was younger but I've never really had a chance to wear it, so I'm excited to wear that too!"
So having Eminem as a dad comes with perks – going to industry events, and vintage letterman jackets, but how does Hailie remember her childhood with the famous rapper?
Eminem spoiled Hailie
In the blink of an eye, Hailie Mathers went from the little muse behind "Mockingbird" to Michigan State grad with a 3.9 GPA, per People. As we discussed above, though, Hailie's childhood was sometimes challenging. She had to deal with a difficult divorce between her mother, Kimberly Mathers, and her father, Eminem.
Based on the stories she tells these days, though, it sounds like Eminem went above and beyond to make sure that Hailie was happy while growing up with him. In the premiere episode of her podcast, "Just a Little Shady" Hailie spoke candidly about her childhood with Eminem. Hailie reminisced about a time that she traveled to Florida with her dad so that he could record a new album. While his work kept him away from Hailie, Eminem went out of his way to make sure she had a good time, even if he couldn't be with her. "We went to Florida, my dad was working on something, and he was working the whole time. But he set up for us to do the limo and take it to Disney, and we did the princess tea party, and he had the dresses waiting for us," she said.
Looking back, Hailie is very appreciative of all the attention she got as a kid. "We didn't like get to appreciate that moment as much as now," she said. "When we talk about it and think back on it. We're like, 'Oh my god, that was just awesome.'"