Inside Joey King's Relationship With Her Famous Sister Hunter King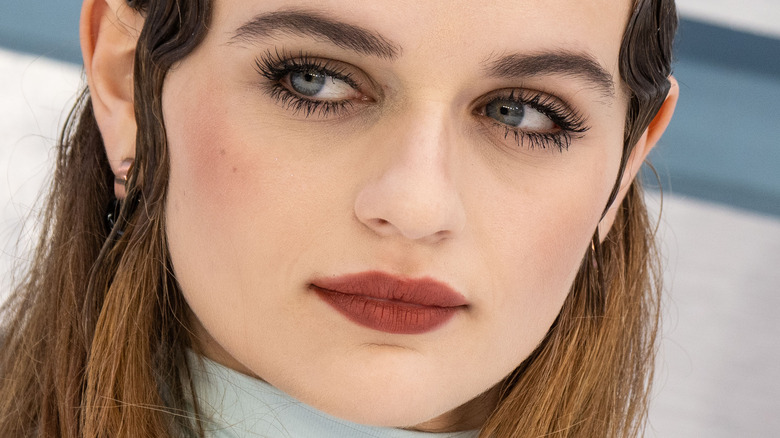 Jeff Spicer/Getty Images
Joey King has played several younger sibling roles on-screen, and it may have come easy to the actor because she has real-life experience. Joey is the youngest of three as she has two older sisters, Kelli King and Hunter King, per Capital FM. While they are all extremely close, Joey and Hunter have a bond like no other, even though Hunter is five years older than Joey.
Despite the stigmatism of the "annoying little sibling," Joey is anything but that to Hunter. Hunter has even dedicated several posts to the "Kissing Booth" actor. For the actor's birthday, Hunter shared on Instagram, "23 years ago my life got a lot better and a whole lot funnier. At 6 years old I remember being so excited to meet you and I knew the moment I laid eyes on you that we'd be best friends..." Best friends are truly the only way to describe the sibling relationship. Joey even shared the same sentiment on the "Howard Stern" show. She said, "My sister is the single-handed most supportive person I've ever met. Her and I, we've been best friends since we were little. Her and I just vibe. I love her so much."
There is nothing like having your sibling as your best friend, and it's clear this is how the King sisters feel. So, the long list of celebrity siblings can now add Joey and Hunter because they are attached at the hip.
Joey King and Hunter King are both actors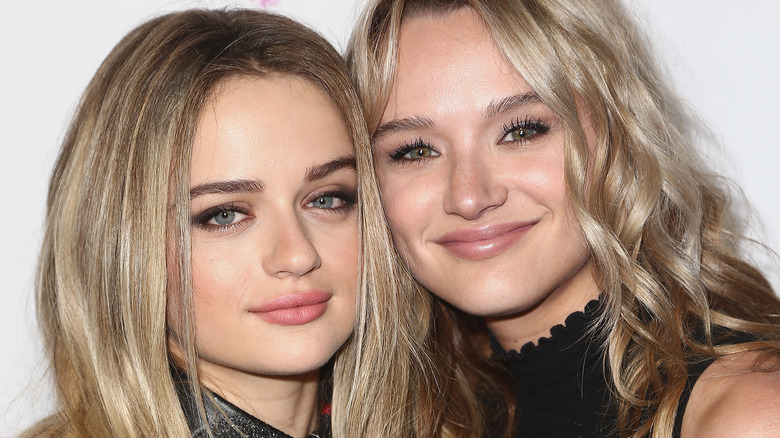 Tommaso Boddi/Getty Images
It turns out, acting runs in the King family. Joey King and her sister, Hunter King, both decided to get into the entertainment industry. Although they're in the same business, they have decided to go in different directions. Hunter has become more of a television actress, starring in series like "The Young and the Restless" and "Life in Pieces," per IMDb. Joey, on the other hand, has famously gone into the film side of acting with "The Kissing Booth" and "Bullet Train," per IMDb. Since the two are in the same field, many people wondered if they would ever work together.
Well, in 2019, the two actors had the exciting opportunity to star alongside one another on a project. Joey ended up guest starring on one of the episodes of "Life in Pieces." The two were ecstatic to work together and had long dreamed of a moment like this, per Entertainment Weekly. Hunter shared, "I've always wanted to work with Joey. We've always talked about how we want to work together and I told my boss that I really want her to come and play and be on the show." Joey reciprocated mutual feelings toward her sister. She said, "I was so excited because, it's true, Hunter and I have always, always wanted to work together — we've talked about it countless times..." Joey is hopeful this project is a "peek into the future" for the two to work together again.
Joey King and Hunter King live together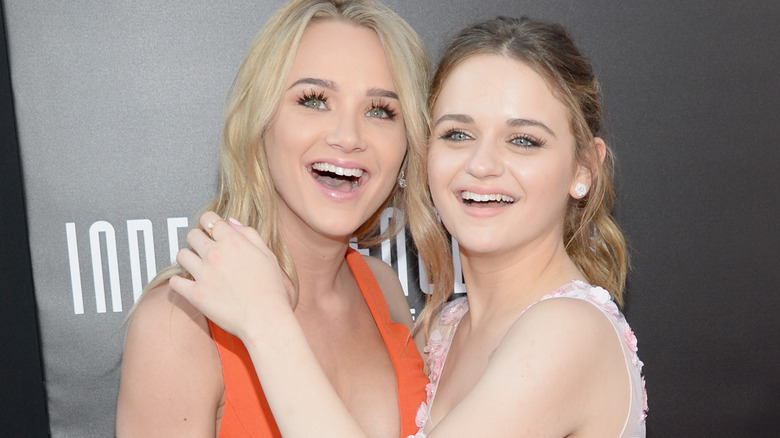 Michael Kovac/Getty Images
Joey King has risen to stardom in a big way, and with stardom, comes riches. With her earnings, Joey was able to buy a home at just sixteen years old, per Howard Stern. Moving out of your home can be a nerve-wracking experience, but luckily Joey didn't have to do it alone. She revealed that she, her sister, her sister's then-fiancé, and her mom all lived together.
There's no doubt siblings can annoy one another, especially if they live with one another, but Joey King and Hunter King love sharing space. In 2019, Joey even said on "Jimmy Kimmel Live" that living with her family, saying "it's the best." Kimmel asked Joey if her sister and her fiancé would move out once they tied the knot, and King said, "I'm literally begging them not to. I want them to stay. I love having them." While Hunter's ex-fiancé wasn't so sure about staying, he did reveal he would do anything for Joey.
When the pandemic hit, the two siblings continued to live with each other per Howard Stern. However, Joey and Hunter's lives have changed since her interview with Kimmel in 2019. Hunter broke off her engagement to her fiancé, and King ended up getting engaged in 2022, despite (via Glamour) the current rumors swirling about her "Kissing Booth" co-star. It's unclear if Hunter and Joey still share a home, but it's evident they will remain close.