Here's Why Aaron Judge Wears The Number 99 On His Jersey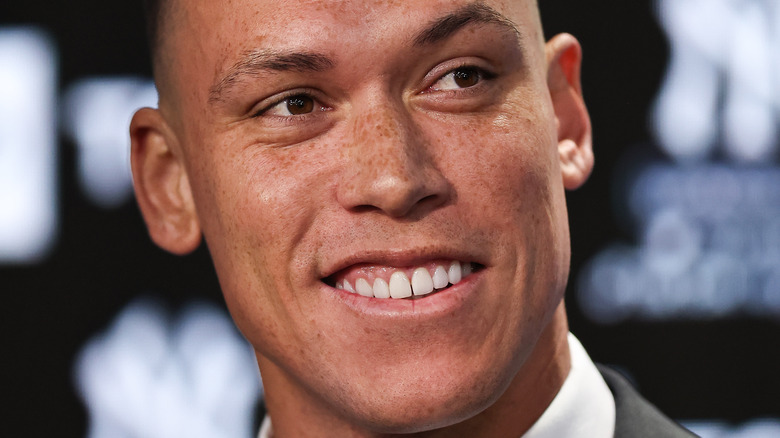 Dustin Satloff/Getty Images
It seems like many moons ago that Aaron Judge played baseball for Fresno State, earning All-Western Athletic Conference honors his freshman and sophomore years before heading out to play in the Cape Cod Baseball League, according to Yankees.com. From there, Judge became a high priority among scouts, but when it came time for the 2013 MLB draft, he wasn't totally sure how things would play out. Judge recalled thinking he would end up playing on the West Coast — either for Arizona or San Diego — and admitted that the New York Yankees "were the last ones on my mind."
However, Judge ended up being the Yankees' 32nd pick in the first round, receiving a $1.8 million signing bonus from the team, according to Spotrac. He'd go on to play in the minor leagues before making his MLB debut on August 13, 2016, Sports Illustrated previously reported. Wearing a jersey with the number 99 on the back, the 6-foot, 7-inch, and 282-pound athlete took the mound at Yankee Stadium in the Bronx. Much to the delight of the crowd, Judge walloped the ball straight out of the park, hitting his very first home run, as noted by MLB's Cut 4. His No. 99 game-worn jersey ended up selling for more than $160,000, according to the New York Post.
These days, the right fielder still wears "99" — and there's a bit of a story behind it.
Aaron Judge received his No. 99 jersey during spring training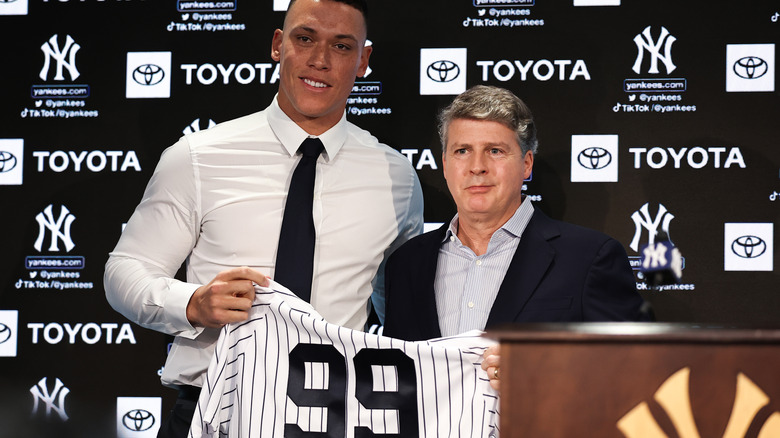 Dustin Satloff/Getty Images
Flash forward six years and Aaron Judge has become the cornerstone of the Yankees team, who haven't won a World Series Championship since 2009. Season after season, No. 99 continues to impress with big numbers, impressive home runs, and a team spirit that some fans haven't seen since the Derek Jeter era. Interestingly, Judge's connection to his jersey number was something that he built on his own. When he first joined the ball club, he requested to wear either No. 44 or No. 35, but neither was available, according to Sports Illustrated. The New York Yankees slugger took the jersey that was offered to him and went out to play ball.
"They gave it to me in spring training and it just kind of stuck with me a little bit," Judge told NJ Advance Media in August 2016. "It's grown on me a little bit," he admitted. And while other numbers have become available to him over the years, Judge has chosen to stick with No. 99. "Yeah, I don't see why not. It's a good number," he told the outlet.
99 has become a lucky number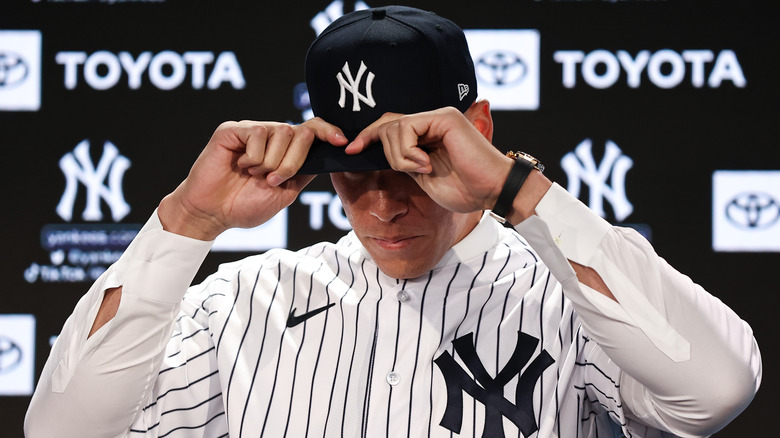 Dustin Satloff/Getty Images
After the 2022-2023 season, Aaron Judge became a free agent. Rumors about where Judge might end up circulated for weeks, with teams such as the San Francisco Giants supposedly making huge offers, according to chatter on Twitter. While fans were hopeful that Judge would stay in pinstripes, he definitely shopped around before reaching a deal with the team that made his a star. 
Just five days before Christmas, the New York Yankees revealed that they had put ink on paper and that No. 99 would be around for years to come. "The New York Yankees today announced that they have re-signed four-time All-Star and 2022 American League Most Valuable Player OF Aaron Judge to a nine-year Major League contract extending through the 2031 season," read a tweet from the team's official Twitter account. 
Judge's baseball talents are certainly paying off. His 9-year contract is worth a total of $360,000,000 — and that amount is guaranteed, according to Spotrac. He will average a whopping $40 million per year. So, will Judge ever swap jersey numbers? It's highly unlikely — especially if he is at all superstitious; the No. 99 seems to really be working out for him.