Aaron Judge Nearly Had A Career In A Totally Different Sport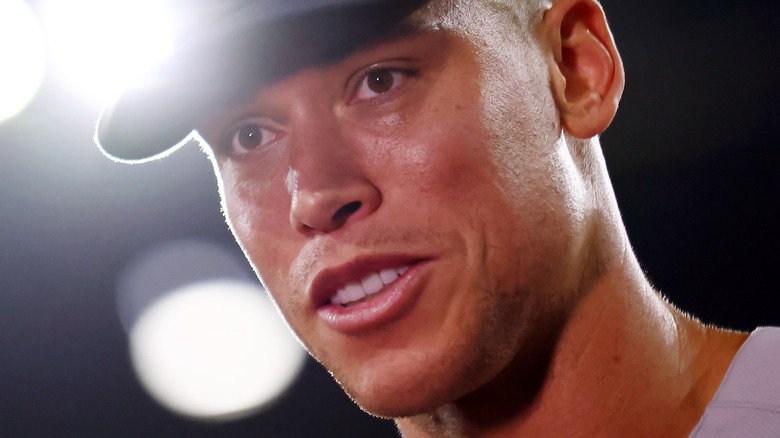 Vaughn Ridley/Getty Images
Before he ended up as an MLB outfielder, Aaron Judge had the opportunity to continue his career with a different sport. As reported by Sports Illustrated, back in 2013 Judge was the 32nd overall pick in the MLB draft. He was chosen by the New York Yankees, after initially rejecting an offer to play for the Oakland Athletics in 2010. At the time of the 2013 selection, the Yankees amateur scouting VP Damon Oppenheimer elaborated on Judge's athletic skills. "Aaron Judge is a big man, and obviously a great-bodied athlete who has a high upside," Oppenheimer said, per Pinstripe Alley. "He can run, he has a good work ethic, he can throw and has the potential to be a five-tool guy with some size and strength."
Following the draft, Judge opened up about what this experience had been like for him. "The biggest thing is, I wasn't expecting it ... I didn't hear anything," Judge said of being the 32nd pick in an MLB interview. He added, "But it was an awesome experience. I'm glad my family was there. And I just still can't believe it, to be honest." Although he's excelled in baseball, Judge had the chance to carry out an alternative path as an athlete.
Aaron Judge could have pursued a football career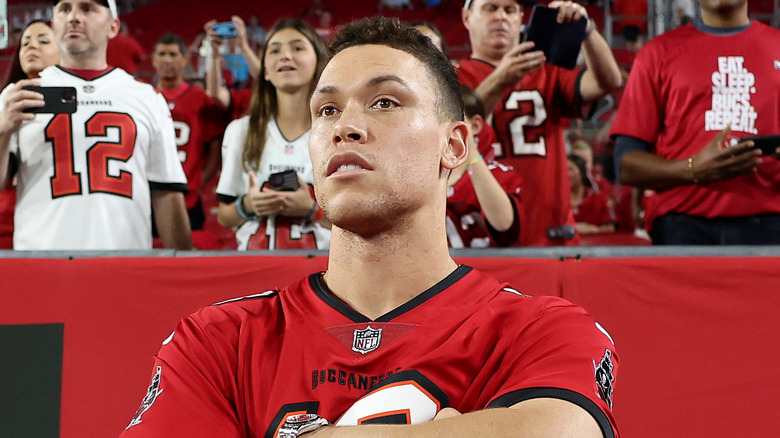 Mike Carlson/Getty Images
Aaron Judge had the option to play football in top programs prior to becoming known as a New York Yankee. In an interview with The Stockton Record from 2010, Judge stated that he initially thought he might stick with basketball due to his 6-foot-7-inch stature. Additionally, while he played football in high school he was looked at by college recruiters. "When it came to my junior year, I started getting a lot of letters for football," Judge said. The baseball pro shared, "But once ... I started going to a lot of baseball camps, I knew this is what I'm going to go with."
Judge's high school football coach, Mike Huber, praised Judge for going after a baseball career despite receiving offers from esteemed universities to play football on scholarship. "I actually commended him for that," Huber said to NJ.com in 2017. "I just think he loved baseball, and he stuck true to his heart and it worked out great for him." Judge's decision is one that has led to a prosperous and enduring run as an MLB player.
Aaron Judge is staying put in the MLB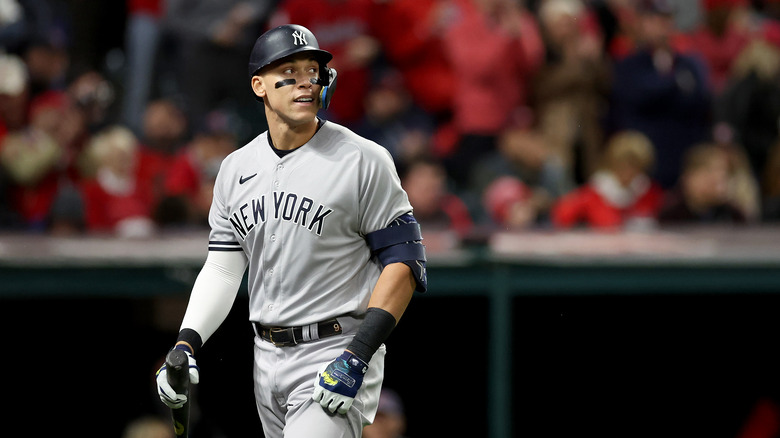 Christian Petersen/Getty Images
Despite almost playing a different sport, Aaron Judge's love for baseball has resulted in impressive accomplishments during his time as a Yankee. Judge has played for the East Coast team throughout all of his years thus far in the MLB league and has earned numerous achievements, including his recent career highlights. MLB reported that in October 2022, Judge broke the record for home runs scored in a single season of the American League by securing a total of 62. He was later selected as the 2022 AL Most Valuable Player, per ESPN. 
In a 2021 Fanatics interview, Judge revealed that it was "a dream of mine" to stay a Yankee for the remainder of his baseball days. It looks like this dream has come closer to being a reality for the sports star. In December 2022, it was reported by ESPN that Judge had agreed to keep playing for the New York Yankees, entering a $360 million nine-year deal with the team. It was previously rumored that both the San Diego Padres and the San Francisco Giants had been ready to present offers to Judge while he was a free agent, which resulted in him scoring a more lucrative deal with the Yankees. Moving ahead, Judge will no doubt keep giving his all while playing the sport he loves the most.