What Really Happened Between Aubrey Plaza And Michael Cera?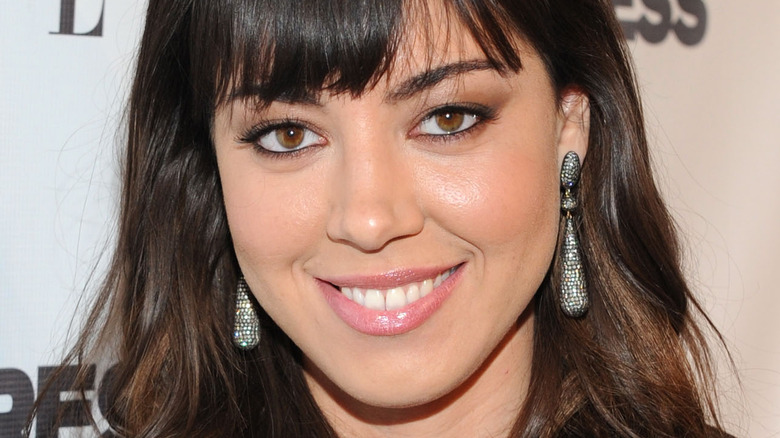 Michael Buckner/Getty Images
For years, fans speculated that Aubrey Plaza and Michael Cera had a secret romance. The pair met working on "Scott Pilgrim vs. the World" where Plaza's character Julie often berated Cera's Scott. "And one of my secret facts was that Julie had a massive crush on Scott Pilgrim in college, and he never liked her," Plaza told Vulture in 2010 around the film's release.
While doing press for the movie, the pair had an awkward red-carpet exchange that was on-brand for their type of humor. "If you thought the character was believable, that is because that hatred came from a very real place," Plaza told Sun TV while Cera stood nearby. The "Superbad" actor reached over and grabbed Plaza's microphone and she quickly admonished him. That prompted the interviewer to note the "sexual tension" between the two.
During the early 2010s, a photo of Plaza and Cera awkwardly posing at a Chuck E. Cheese with a gaggle of fans went viral. The awkward snap left many unanswered questions for fans, but Plaza addressed the photo in 2020. "I'm settling this once and for all. YES, THAT IS ME. THIS IS REAL LIFE. DEAL WITH IT. #ScottPilgrim," she tweeted along with the pic. Following the "Ingrid Goes West" star's tweet, a fan who was in the legendary Chuck E. Cheese photo told BuzzFeed that it was taken without getting consent from the pair, who appeared to be on a date. But several years before her tweet, Plaza addressed the dating rumors.
Aubrey Plaza confirmed that she dated Michael Cera
Although Aubrey Plaza and Michael Cera kept it a secret at the time, the two dated after meeting on the set of "Scott Pilgrim vs. the World." It was not merely a brief tryst, as Plaza said they dated for "a year and a half," as she confirmed on RuPaul's "What's the Tee" podcast in 2016 (via People). Long after their romance ended, the former co-stars remained on good terms. "He's a very special — I mean, we love each other," the "Parks and Recreation" actor said. "We're still really good friends. He's just a weird little freak and we speak the same language."
While working on "Scott Pilgrim" brought the duo together, they did not date until filming wrapped. "We just connected and after, it just happened," Plaza continued. Apparently, the relationship was fairly serious at one point. "We drove across the country after we shot that movie and almost got married in Vegas," Plaza admitted on the podcast (via Vulture).
Plaza and Cera may not have ever tied the knot, but as she mentioned, they stayed close even after their romance ran its course. In 2013, the "Juno" star even recruited Plaza to co-star with him in his short film "Failure." The four-minute short is centered around a man (Cera) who is alarmed to find a woman (Plaza) has broken into his home just to "meet." Even after splitting, Plaza and Cera preferred to keep their romantic lives under wraps. 
They both had secret weddings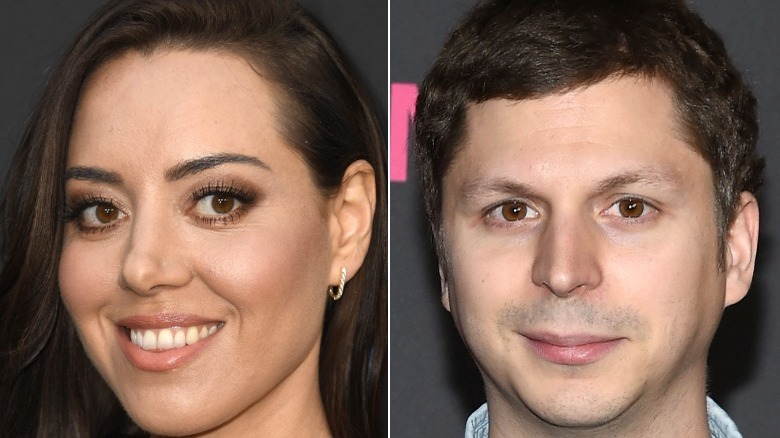 Frazer Harrison & Mike Coppola/Getty
Not only did Aubrey Plaza and Michael Cera keep their romance under wraps, but they continued to keep their personal lives out of the spotlight once they found their significant others. In May 2021, Plaza caused a stir when she posted a snap on Instagram alongside her longtime partner, writer-director Jeff Baena. "So proud of my darling husband @jeffbaena for dreaming up another film that takes us to Italia," she wrote, which surprised fans as there had been no announcement of a marriage. 
Later that year, the actor spoke about her low-key wedding ceremony. "Yes, we got married. Big deal," Plaza said while appearing on "The Ellen DeGeneres Show" in December 2021. The backyard wedding took place during the COVID-19 lockdown. "We got a little bored one night. We got married and I'll tell you how: Onehourmarriage.com. That's real, look it up," Plaza said. She had been dating Baena since 2011, which would have been not long after parting ways with Cera.
Meanwhile, Cera himself had a similarly secretive ceremony when he tied the knot to longtime partner, Nadine in 2018. Keen-eyed members of the press spotted a wedding band on Cera's hand as a clue to their union, per Us Weekly. In March 2022, during a joint interview with Cera, Amy Schumer let it slip that her "Life & Beth" co-star was also a father. "Michael has a baby, too. Is that public knowledge? ... I just outed him," Schumer told Entertainment Tonight.