The Real Reason Richard Simmons Disappeared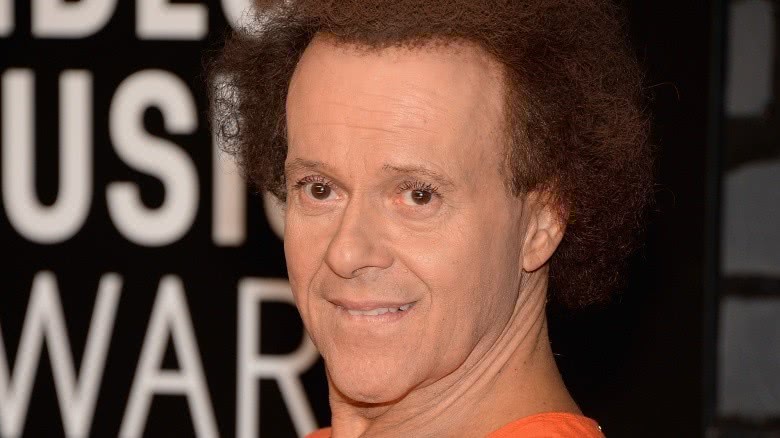 Flamboyant fitness guru Richard Simmons has kept such a low profile in recent years that his lack of publicity has stirred up the press. He basically went MIA until June 2016, when Simmons turned up in a hospital to be treated for reportedly "bizarre behavior." A media frenzy ensued, with conspiracy theories popping up about the Sweatin' to the Oldies star. A wide range of allegations and gossip emerged — stories ranging from elder abuse to hostage situations to gender reassignment surgery. 
Meanwhile, Simmons has continued to just go about his life, albeit with a slightly lower profile than he had in the past. However, that still doesn't change the fact that this once very in-your-face celebrity is now very rarely seen in public. There has to be a story behind that, right? 
Let's take a look for ourselves by exploring some of the real reasons why Richard Simmons disappeared.
He was hospitalized, but it's fine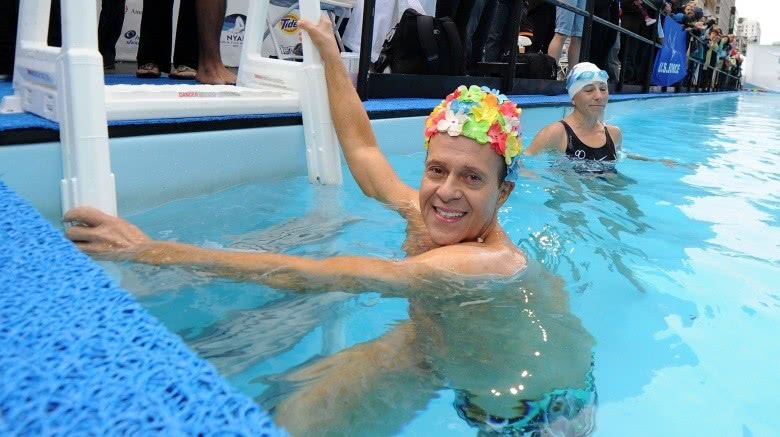 Simmons fans flew into a panic when news broke that he'd been hospitalized on June 3, 2016. TMZ reported that Simmons was taken to Cedars Sinai Hospital in Los Angeles after exhibiting "bizarre conduct." Sources said the 67-year-old star was "acting in an unusually strange manner just before midnight when someone at his Hollywood Hills home became sufficiently alarmed to call 911." Paramedics examined Simmons on the scene and instructed him to go to a hospital for evaluation, according to the report.
Simmons told the masses to keep calm and carry on. "Thank you to everyone who has reached out with love and concern after hearing I was in the hospital," he said in a statement to People magazine. "I was dehydrated and needed some fluids and now I am feeling great! Summer is here — drink plenty of liquids. Big hugs and kisses for caring."
Was he taken hostage in his own home?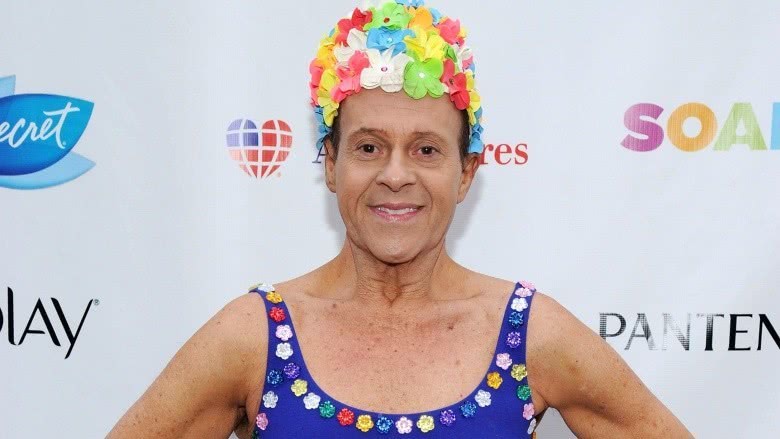 The New York Daily News published a shocking story in March 2016 claiming Simmons' friends feared he was being held against his will inside his Hollywood Hills mansion by his long-time housekeeper.
Simmons' rep, Tom Estey, quickly shot down that report. "Richard, after 40 years of being in the spotlight, is now simply taking a break from the public eye and working behind the scenes to continue to help those millions of people worldwide in need of his assistance and on several projects to be announced soon," Estey told People.
Simmons personally called the Today show a few days later to further refute the report. "No one is holding me in my house as a hostage," he said. "I do what I want to do as I've always done."
Who is this housekeeper?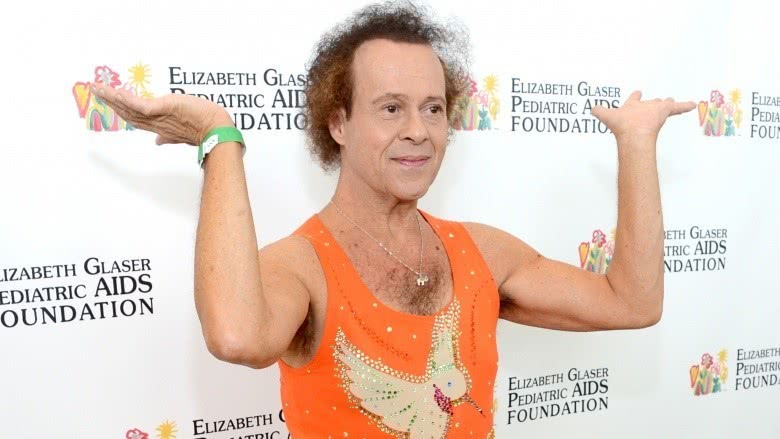 Simmons told the Today show that rumors about his housekeeper keeping him hostage in his own home are "very silly," He said Teresa Reveles "has been with me for 30 years. It's almost like we're a married couple."
Though the pair spend a lot of time together, Reveles reportedly has a place of her own. According to the Daily Mail, Simmons bought her a $175,000 home years ago that was worth about $700,000 in 2016.
Can the guy just have a minute, people?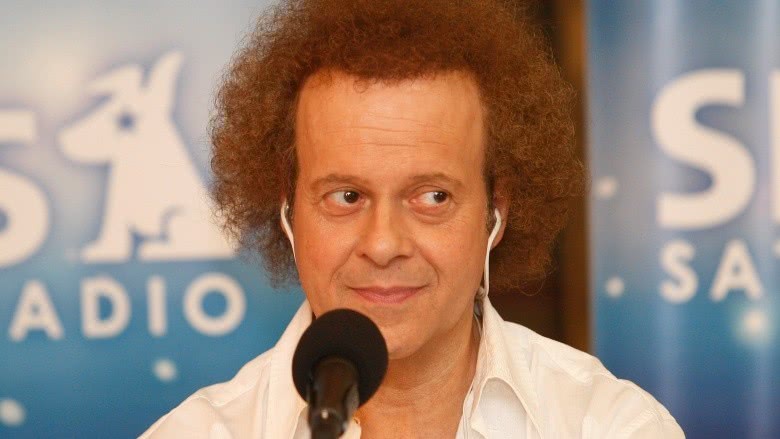 During his Today show chat in 2016, Simmons said he hurt his knee and simply wanted some privacy as he healed. During the recovery process, Simmons said his other knee began giving him trouble, and he realized it was time to take care of himself for once. "I don't want to do anything. I don't want to be traveling anymore. It has taken its toll on me," he said, adding that his decision to step out of the spotlight was not made lightly. "This was not over a day; it was over some time." It sounds like the Energizer bunny that is Simmons simply needs some well-deserved time to recharge.
No red flags here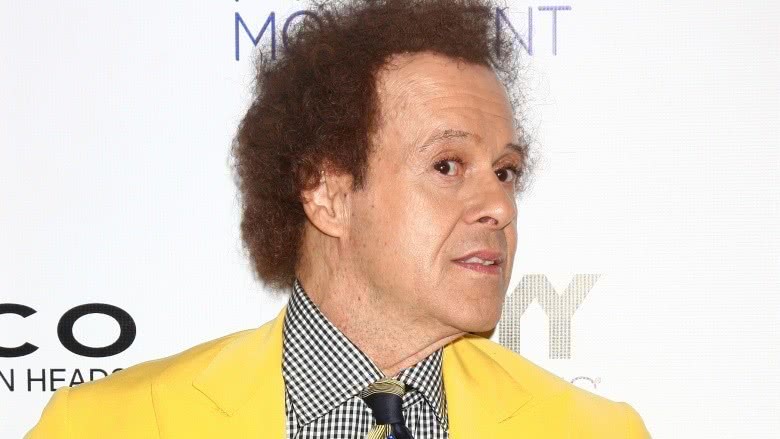 According to TMZ, officers from the Los Angeles Police Department visited Simmons in January 2015 to conduct a welfare check after a long-time friend emailed the L.A. County District Attorney's elder abuse unit. The friend was concerned that Simmons was being held against his will.
Cops told TMZ that Simmons "couldn't have been nicer and more gracious...he was articulate, lucid, relaxed and appreciative of their concern." Police asked Simmons if he'd cut people out of his life; he said he had, but not anyone he considered close. Perhaps that's the disconnect. Maybe all these rumors have been started by folks who mistakenly think they're BFFs with the aerobics legend. The LAPD also reported that Simmons produced an address book and noted that he speaks to plenty of his friends on a daily basis. He said the cops could even reach out to his close contacts. They passed.
Sweatin' to some 'me time'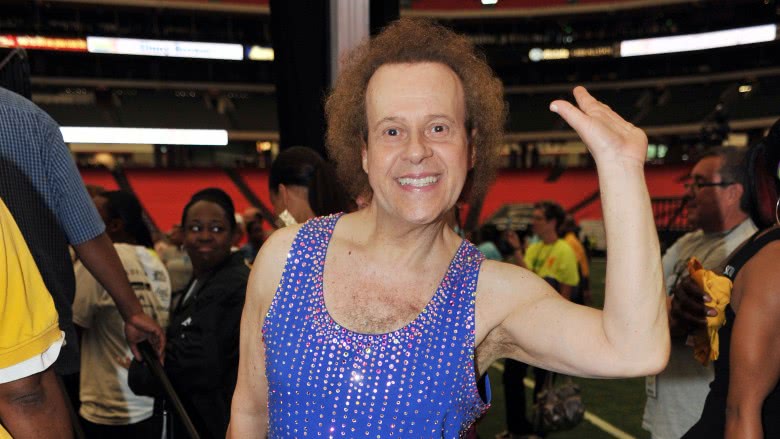 Though many fans and friends have been worried sick about Simmons, he says he's enjoying his "me time." He told the Today show that he walks, drives, gets fresh air, and, yes, works out in his gym at home. This sounds like perfectly reasonable behavior for a famous senior citizen who has lived an extremely active life and spent much of it in the spotlight.
Simmons reiterated his newfound desire for privacy in a phone interview with an Entertainment Tonight producer. "No one should be worried about me. The people that surround me are wonderful people who take great care of me," Simmons said. "I love all the people who worry about me. But it was time for me to take some time to be by myself. For the last 40 years I have been traveling, teaching classes, and I had a knee injury, so I had a knee replacement, which was very difficult for me... I have really just been taking it easy, staying at home, working out in my gym and doing the things I haven't done in a very long time." 
It should be totally acceptable for Simmons to retire and wind down, but it seems his adoring public isn't ready to part ways.
The 'Missing Richard Simmons' podcast fed the flames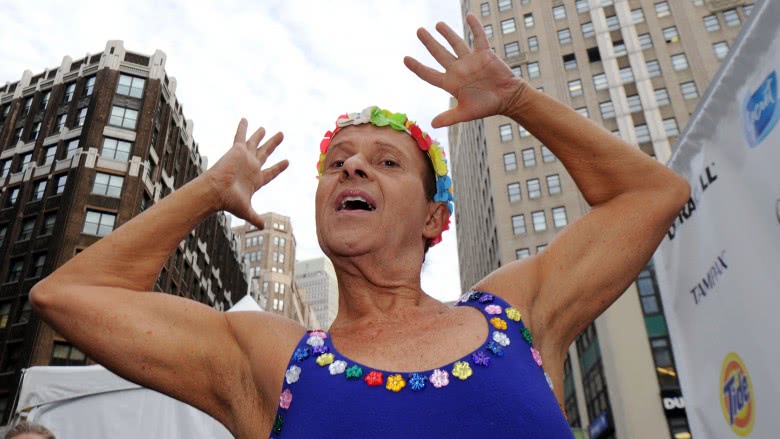 According to People magazine, a former Daily Show producer recently created a podcast, Missing Richard Simmons, which, you guessed it, is dedicated to Simmons' disappearance from Hollywood. "I thought it was just me and then I learned he wasn't returning anyone's calls and he taught his last class in February 2014," creator Dan Taberski told the magazine. "That's what this podcast is about and what became of him. I was interested in him before he disappeared and this just magnified it."
"I want to find the man behind the persona," said Taberski, who reportedly has never met Simmons. "I think people have forgotten how important he is and how he made it and changed fitness and how he made it for regular people instead of hard bodies who wanted to get harder."
Was it something he ate?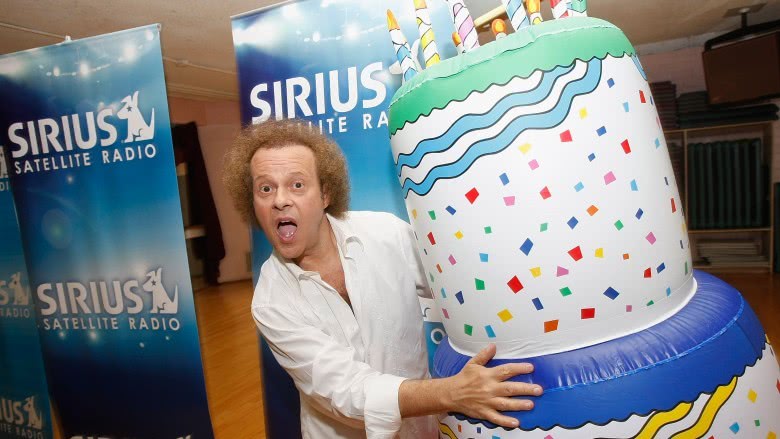 On April 18, 2017, Simmons' spokesman, Michael Catalano, issued a statement revealing that Simmons had once again been hospitalized, this time for stomach issues. "After a few days of battling severe indigestion and discomfort while eating, we agreed it was best for him to seek treatment," Catalano told ABC News. "He's already feeling better and is expected to make a full recovery."
This surprise statement came out of nowhere, considering there were no reports that Simmons had entered the hospital, but ABC also pointed out that just a few weeks earlier, Catalano had announced that Simmons had signed a new deal for "merchandising, endorsements and licensing opportunities." Clearly, this decision to get out ahead of the hospitalization story was the beginning of Richard Simmons taking back control of his own narrative, and echoing his "I'll come back strong" remarks.
For Simmons, street clothes are a disguise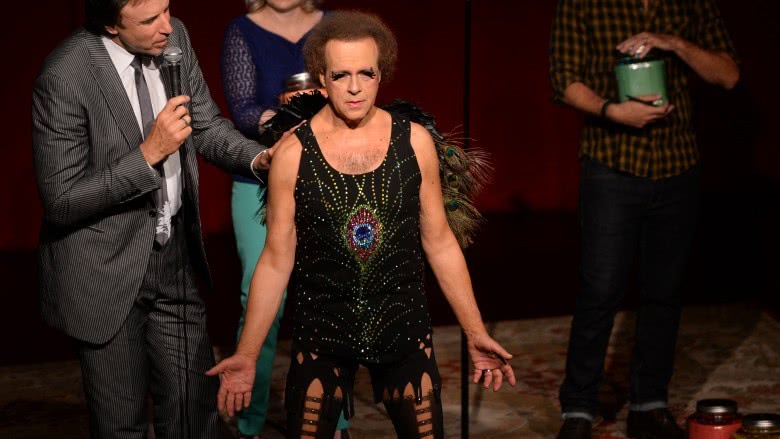 Since Richard Simmons hadn't been seen in public or spoken directly to the press in years, it wasn't hard to believe the he never left his house. Even those who never bought into the theory that he was being held hostage could imagine how easy it would be for a wealthy person to become a recluse and just have whatever they needed delivered right to their doorstep.
But it turns out, Simmons has reportedly been out and about this whole time. According to TMZ, sources have said the fitness guru has even gone to the mall near his home, The Beverly Center, in just street clothes and a hat without anyone noticing him. He's also said to be using a cane, presumably while he heals from the knee injuries he mentioned on Today. Could this whole mystery have been avoided if Simmons hadn't had a couple bad hair days? .
He finally addressed his fans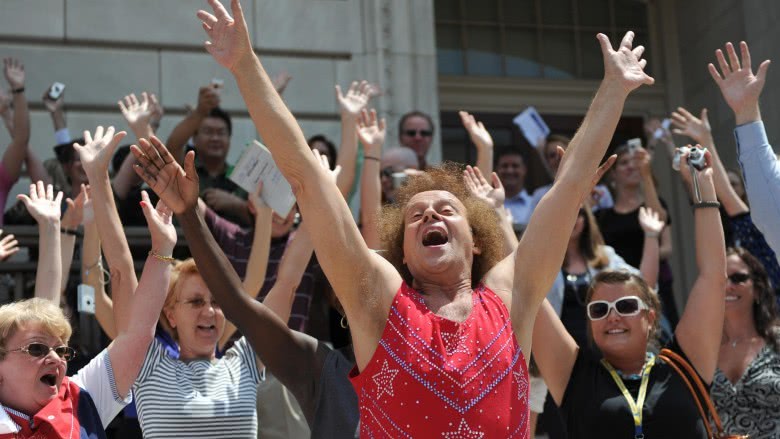 On April 19, 2017, Richard Simmons finally posted a message to his fans on his Facebook page: "Hello to everyone who has shown concern for me and sent their good wishes. You will never know how much it means to me. Aren't you sick of hearing and reading about me?! LOL Well by now you know that I'm not 'missing,' just a little under the weather. ... This has reminded me that when you need help you can't be afraid to reach out and ask for it. ... I'm sure there are people in your life who love and care for you and would do anything to help you with the challenges you face. Just knowing you care has already made me feel better. Hope to see you again soon! Love, Richard."
Does that answer every question fans have had over the past few years? Certainly not. But it does tell us two important things. 1.) Simmons was definitely dealing with personal issues that went beyond just needing some "me time." 2.) Simmons' return to the public eye might not be that easy, since the photo he used in his social media post is from 2014, according to People. Oh boy, we just reignited the whole "being held hostage" thing again, didn't we?
No, he's not 'Fiona' now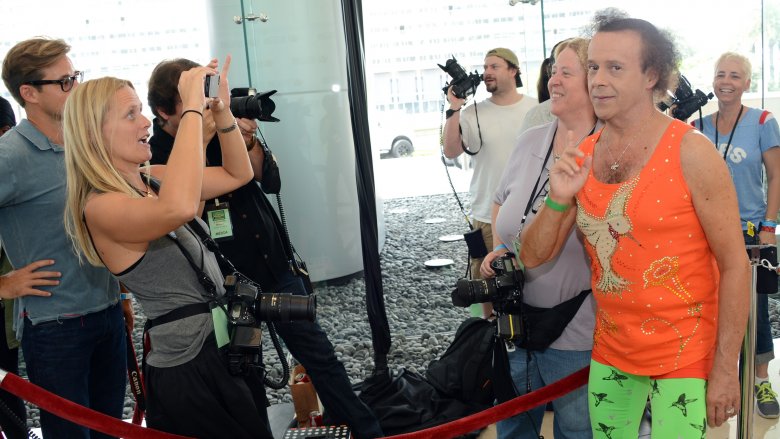 Getty Images
Simmons may have been in hiding for a few years, but he came out with his legal team swinging in May 2017 to file a lawsuit against the publisher Radar Online and the National Enquirer over errant reporting that he had transitioned into a woman. Running photos of Simmons dressed in drag, the tabs claimed he'd undergone gender reassignment surgery and was "living as a woman named Fiona," reported the Daily Beast.  
Simmons sued on the grounds that the claims were tantamount to defamation and were published with "calculated malice," according to NBC News, but the judge in the case rejected that argument, saying, "being misidentified as transgender does not inherently expose someone to 'hatred, contempt, ridicule or obloquy,' and therefore does not rise to the level of defamation." He also ordered Simmons to reimburse the tabs' $130,000 in legal fees. Ouch. 
As of this writing, Simmons has vowed to appeal the decision. In a 2016 Facebook post on the matter, Simmons stated, "Although I am not transitioning, I have and always will be supportive of those who are going through their journey."
Is this Richard Simmons or James Bond we're talking about?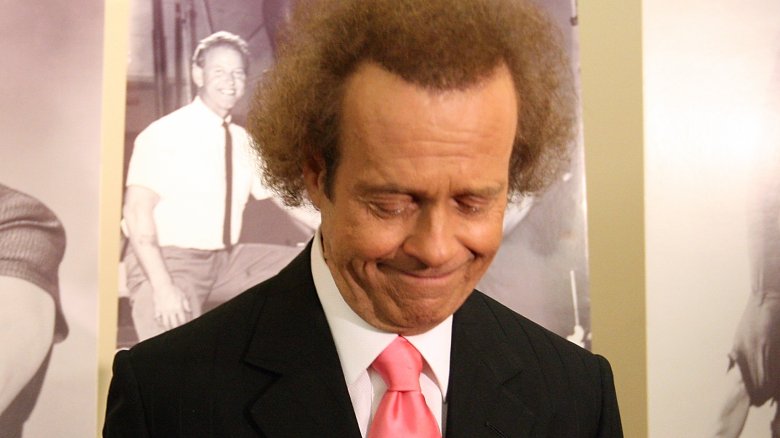 Getty Images
Simmons weathered yet another public controversy in June 2018 when he found himself in court again — this time against a private detective. According to The Hollywood Reporter, Simmons sued Scott Brian Matthews for allegedly placing a "tracking device" on the vehicle of Simmons' longtime live-in caretaker, Theresa Reveles.
This suit actually ties into Simmons' ongoing fight with the tabloid publishers, as it alleges that Matthews used the device in an attempt to track Simmons' movements to "hospitals in connection with [his] purported gender transition." Matthews' device was discovered on Reveles' car in December 2017, and the suit alleges that Simmons believes it was there for "over a year."
According to TMZ, Simmons also claims Matthews "used at least 17 tracking devices to shadow more than a dozen people," although it's unclear if that's all related to the transgender tabloid case.