Inside Laurie Hernandez's Relationship With Charlotte Drury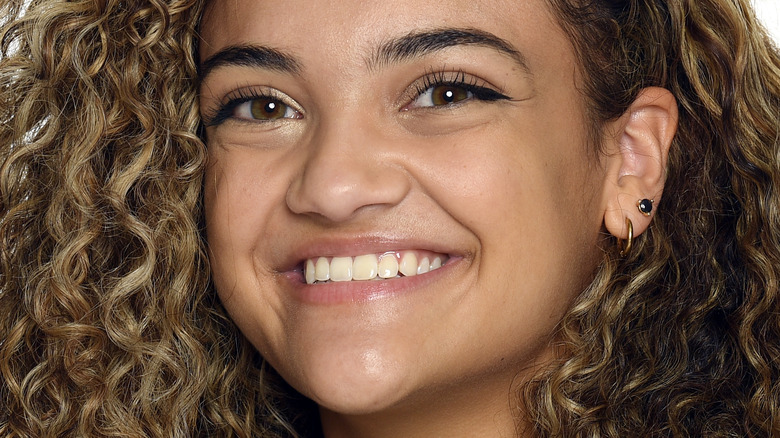 Harry How/Getty Images
Laurie Hernandez's heart must have been doing somersaults when she met Charlotte Drury because the two can't get enough of one another.
Many may know Hernandez when she sprung into the spotlight during the 2016 Olympics. Hernandez was part of the USA gymnastics team, and she even earned herself a number of silver and gold medals, per Team USA. While the young athlete has constantly updated her followers on what's going on with her life, there is one thing the Olympian keeps private. Her relationship with Drury hasn't been as publicized as the rest of her life. Many celebrities and athletes have kept their relationships out of the public eye in order to keep some parts of their life private. It seems like Hernandez may be doing the same.
According to US Weekly, the duo had been privately dating since 2020. Their relationship wasn't confirmed until a year later when Hernandez decided to share an Instagram post of Drury kissing her cheek in honor of their anniversary. She captioned the post, "cheesin! happy year!!!!!!!!!!" The couple continued to go strong, and in early December 2022, they celebrated their second anniversary. Fans are happy to see the gymnast in a loving relationship that only continues to grow. While they are private about their love, their connection to one another is undeniable. So, here's an inside look into Hernandez and Drury's relationship.
Laurie Hernandez and Charlotte Drury have common interests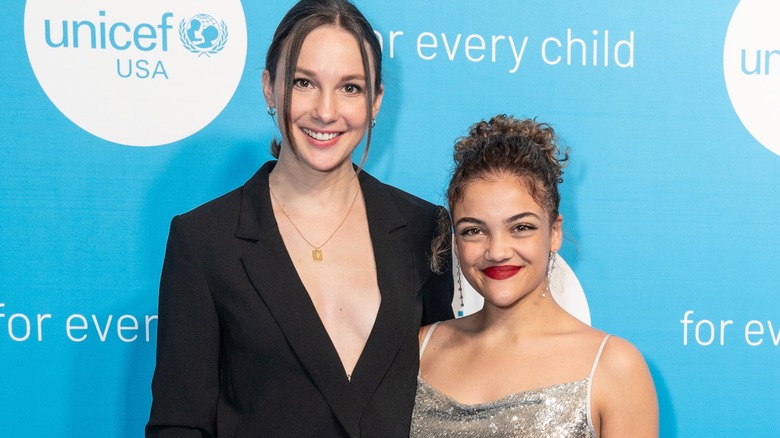 lev radin/Shutterstock
You don't always have to find a relationship where the person is exactly like you, but it is nice to have things in common. Laurie Hernandez and Charlotte Drury don't have to worry about having similar passions because Drury is a professional gymnast herself, per US Weekly. In fact, Drury almost competed against her girlfriend for a spot at the 2016 Olympics. Sadly, Drury had injured herself and was unable to attend.
Drury spoke to the Los Angeles Times about breaking her foot as she saw her Olympic dream come to an end. She said, "It was devastating, it still is devastating. There aren't really any words to describe what it is, but it's kind of like I lost all my purpose in life. I gave up everything to make this dream happen." Despite her devastation, Drury was later able to redeem herself when she was named an alternate at the 2021 Tokyo Olympics. Hernandez and Drury are both able to say they went to the Olympics. Something that is not common in many relationships.
It's unclear whether gymnastics is how the two connected in the first place, but it is definitely something they can talk about and relate to one another.
Laurie Hernandez playfully supports Charlotte Drury with her diabetes diagnosis
Laurie Hernandez was there for her partner, Charlotte Drury after she was diagnosed with type 1 diabetes. Drury announced her diagnosis in 2021 on her Instagram. She said, "A month before the first Olympic trial of 2021 I knew something was wrong. I spent the last year, busting my a**, and pushing through the hardest trainings of my life to show up at national team camp in March and watch the other girls out jump me by miles." Drury went to the doctor, and they revealed she had type 1 diabetes. The gymnast was terrified that this would prevent her from attending the 2021 Olympics. As we now know, Drury made the team as an alternate thanks to her hard work.
Throughout it all, Hernandez was at her girlfriend's side. She even made a playful video about her partner's diagnosis on TikTok. In the video, Drury has a text box above her saying breakfast was so good, she ate it all. Hernandez stepped in and had a caption saying that she "dosed" for the breakfast, so she had to eat it all. User's unfamiliar with the health condition got clarification from Hernandez when she wrote in the comments, "t1's have to dose their insulin for the exact amount of carbs they're about to eat. if she ate my breakfast... it's cause she had to." Hernandez even revealed that Drury thought the video was funny and told her to post it.