How Adam Sandler And Kevin James Really Became Friends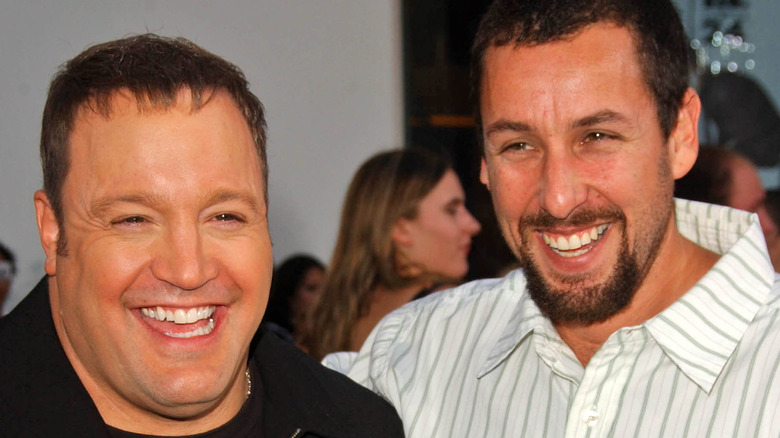 s_bukley/Shutterstock
Like many in Hollywood (and elsewhere), Adam Sandler likes to work with his friends. Throughout his many hits, audiences have seen the same beloved faces appear again and again. From his "Saturday Night Live" buddies like David Spade, Rob Schneider, and Maya Rudolph, to Sandler's frequent leading lady Drew Barrymore, Sandler enjoys reuniting with friends for new projects.
Sandler has been one of the highest-paid actors in Hollywood practically since his surprise 1995 hit "Billy Madison" came in $16 million over budget, per Celebrity Net Worth, largely thanks to the audience he built over his five seasons on "Saturday Night Live." When "The Wedding Singer" became a more mainstream surprise hit, according to Film Stories, Sandler caught the attention of Sony studio head Amy Pascal. She offered him the lead role in "Big Daddy" after Chris Farley's unexpected death, and following that immense success, Pascal and Sony provided a home for Sandler's company, Happy Madison Productions. Sandler has since created a string of massive commercial successes for Sony over the years — at least until his infamous bomb "Jack and Jill" in 2011. 
At least 11 of Sandler's films, including "Grown Ups," "You Don't Mess with the Zohan," "Pixels," and "Hotel Transylvania," have also starred his good friend Kevin James. Let's look at how these two comics became fast friends.
Adam Sandler and Kevin James met on the Sony Pictures lot
Adam Sandler and Kevin James both launched their careers through standup comedy — but didn't know each other. Sandler first tried standup in Boston at 17 (around 1983), per Dead Frog, while James hit Long Island comedy clubs in 1989, according to LancasterOnline. Though both native New Yorkers, the two didn't actually meet until they were both in Los Angeles. "That's where I met Sandler and all those guys because we were all working on the Sony lot together," James told Access Hollywood while discussing his hit sitcom "The King of Queens," which was filmed in Los Angeles.
The two became fast friends, and Sandler gave James his first big-screen role: an easily-missed cameo as a factory worker in 2004's "50 First Dates." After Sandler guest-starred on "King of Queens," per E! News, the friends worked together on 2007's "I Now Pronounce You Chuck and Larry," and then collaborated on many films following. Many of James' leading films, like "Paul Blart: Mall Cop," were produced by Sandler's company, Happy Madison Productions.
Working with a close friend like Sandler helps James work better. "We're great friends," James told LancasterOnline. "I think that brings a comfort level with it. It enables you to try things and not feel judged necessarily. I just have fun with him." It's also a reason so many other actors enjoy working with Sandler too.
Everyone loves to work with Adam Sandler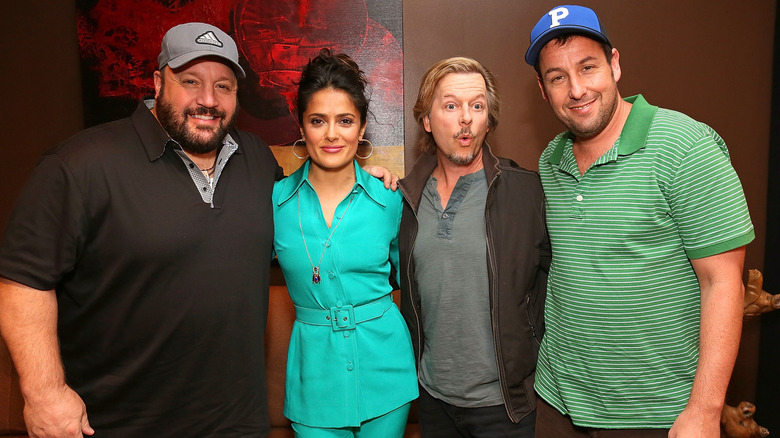 Ryan Miller/Getty Images
Though Adam Sandler jokes that Crafts Services is what really brings Kevin James to his set, James had a different answer to why everyone loves to work with Sandler. "It's Sandler himself because he's the nucleus of this all," James told CinemaBlend while discussing their 2020 Netflix film, "Hubie Halloween." James added, "It's like a big summer camp where you hang out with all these talented people ... It's just a big party." But James isn't the only person who loves to work with Sandler.
"It's a group of old friends and some new that appreciate and love each other and love making each other laugh," Maya Rudolph added in the interview. "I find it helps me feel funnier when I'm around funny people. Either that or I feel really unfunny and then I just leave." June Squibb jumped on the Adam Sandler love train too. "Hubie Halloween" was her first film with Sandler, and she admitted she would definitely work with him again. "I don't think I would even ask for the script," she revealed. 
Like other groups, Sandler's people grow closer while working on a project — even if they're new. "There is a feeling of family within the production," Lauren Lapkus, "The Wrong Missy" star and newest member of Sandler's posse, explained to Los Angeles Daily News. "He's really loyal to his crew ... It was nice to feel like I was immediately brought into the fold."