How Did David Burtka And Neil Patrick Harris Meet?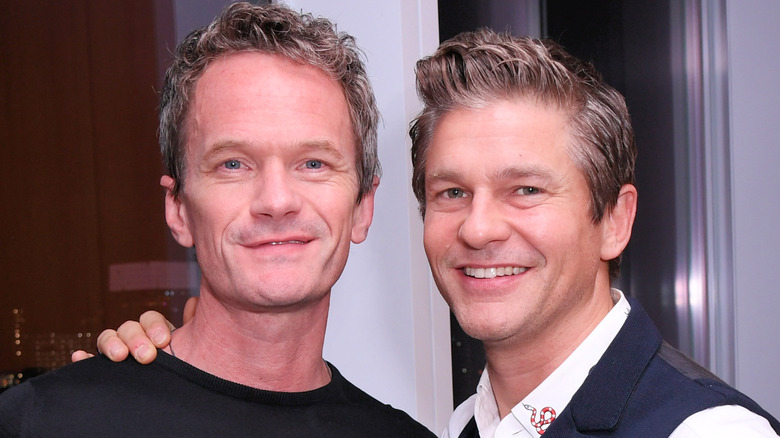 Chance Yeh/Getty Images
Neil Patrick Harris and his husband, David Burtka, are the very definition of relationship goals. They have been inseparable since they started dating, and now they have been married for more than a decade.
According to the "How I Met Your Mother" star, the moment he and Burtka got together, he never looked at other people again. "David and I started dating, and we never stopped, so, in an interesting way, it's all I've known," Harris shared with Entertainment Tonight, adding that he wasn't even out when they started their romance, nor did he have the urge to date around. "I fell head over heels for this dude, and he was into me, and we started living together really quickly, and now we have kids, and we're still going strong."
Speaking with Parade, Harris dished that he fell in love with Burtka's smile. "Yes, he can cook. And yes, he can throw a party. And yes, he's an amazing dad. And yes, he can dance. And yes, he can sing better than most. But look at those pearly whites," he gushed, while Burtka admitted that he'd never get tired of his husband's propensity for making people laugh. "I mean, also, his eyes are beautiful. We really have fun just laughing through life, and it's the best part about him, just to laugh. At him," he said. It's pretty clear that both Harris and Burtka are head over heels for each other, but how did these lovebirds meet?
Neil Patrick Harris and David Burtka met through a friend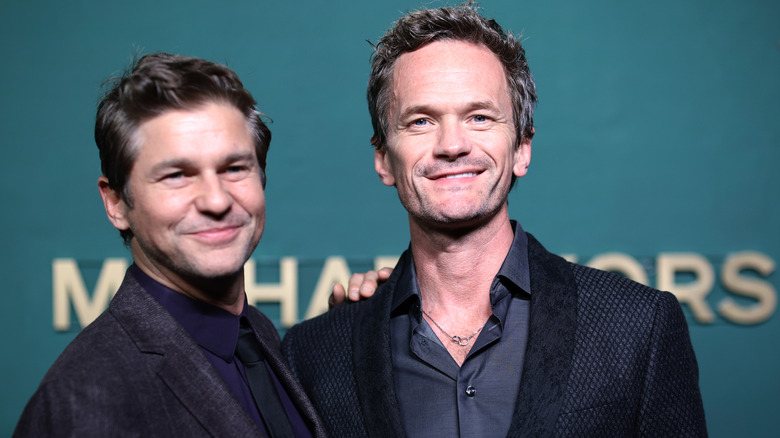 Dimitrios Kambouris/Getty Images
When Neil Patrick Harris first laid his eyes on David Burtka, he initially thought he was his friend's lover. "I ran into my friend Kate one day and she was with this brooding, James Dean–type guy in a leather jacket who gave me the head nod and then turned away. I assumed he was Kate's boyfriend and said, 'Nicely done,'" he wrote in a joint essay with Burtka in Out Magazine. But Kate clarified that one, Burtka wasn't "playing on [her] team." And two, he was in a relationship at the time. Harris says he kept his distance to respect Burtka's relationship, while continuously "stammering around" the man who would become his husband. And eventually, a week after Burtka's relationship ended — he got his chance.
Their first date was at the movies, where they saw "Taking Lives." And after that, they were pretty much glued to each other. "We started hanging out every single night, and after three months, it was just non-stop," Burtka recalled. "We talk on the phone at least eight times a day and text at least 25 times a day."
The couple eventually moved to Los Angeles when Harris landed "How I Met Your Mother," but they didn't know it would take them years to return to New York. "I assumed the show would be a short chapter," he told Architecture Digest. "But the plan was always to come back to New York when the show ended and raise our family."
The secret to Neil Patrick Harris and David Burtka's long lasting relationship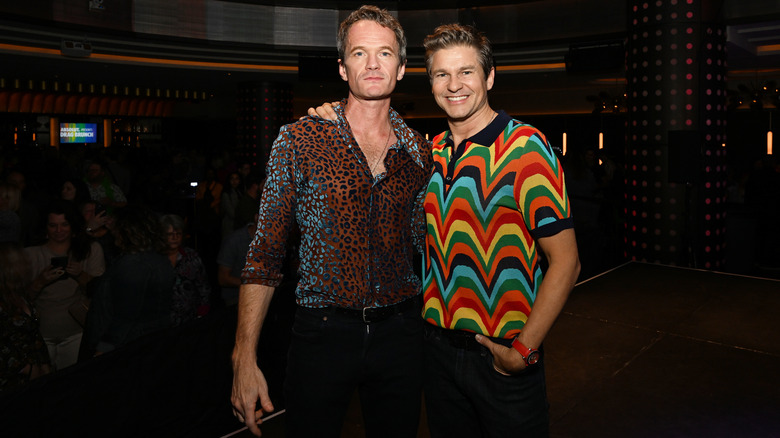 Slaven Vlasic/Getty Images
Neil Patrick Harris and David Burtka's relationship is pretty much an anomaly in Hollywood, where marriages last an average of 7.4 years.
But Burtka admitted that they're not perfect, and they put in the work to make their romance thrive. "Having open lines of communication is super important in your marriage," he shared with E! News. "Going to see someone to talk about your issues as a couple, there's nothing wrong with that." He added that the two make an effort to "take care of their marriage," so couples therapy isn't something they shy away from. "You have to go on dates, you have to see someone, if you can, to talk about it," he said. They even make sure to involve their kids to show them what a real marriage is. "Being able to fight and being able to make up is really important," he continued. "And having your kids see that you fight and seeing that you're able to make up is important."
Harris seems to agree, too. "I think the secret to a relationship is just perseverance, you know?" he told Entertainment Tonight. "It's not always pretty...but he's pretty, so it makes it easy."