Tristan Thompson's Ex Jordan Craig Comments On Rumors He Cheated On Khloe Kardashian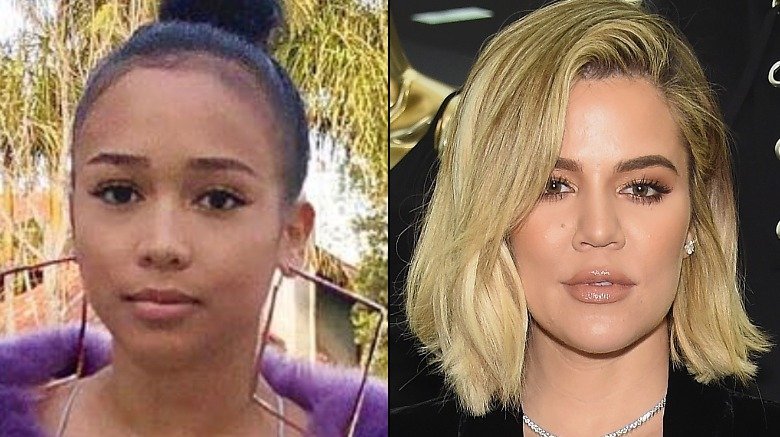 Tristan Thompson's ex-girlfriend Jordan Craig, with whom he shares 15-month-old son Prince Oliver, has spoken out amid gossip that the basketball player cheated on Khloé Kardashian.
Shortly after video footage emerged appearing to show Thompson kissing another woman, Craig took to social media to respond to the dirt — by being super respectful of Kardashian's presumably painful situation. In a message on her Instagram Stories, Craig wrote, "If you respect yourself and you respect others, you would never make light of the misfortune of anyone, nor would you feel indemnified when it comes at the expense of others" (via People). She added, "Wishing peace for everyone."
It's worth noting that Kardashian and Thompson reportedly started dating in September 2016 while Craig was pregnant with the athlete's child. It's unknown whether Thompson and Craig were still seeing each other at the time.
As Nicki Swift previously reported, Thompson was caught on video getting close to a woman in a New York City nightclub on Saturday, April 7, 2018. Soon after, footage surfaced of him visiting a Four Seasons hotel with the same woman — and his female companion had an overnight bag with her.
Additional footage of Thompson at a Washington D.C. hookah lounge from October 2017 also surfaced, showing the NBA star getting very friendly with two women.
Kardashian, who is currently nine months pregnant, has yet to comment on the video footage of her beau's alleged cheating. However, a source told Entertainment Tonight that the social media star is "completely devastated."
Fortunately, Kardashian has the love of her large family to help her through this difficult time. According to People, Kardashian's mother, Kris Jenner, and big sister Kim have flown to Cleveland, Ohio, where Kardashian has been living, to support her — and to help her travel back to Los Angeles. "The goal is to get Khloé out of there as fast as they can without jeopardizing the safety of the baby after she's arrived," a source told the magazine. "Khloé just wants to be home."