Tristan Thompson Hit With Cheating Allegations Ahead Of Khloe Kardashian's Due Date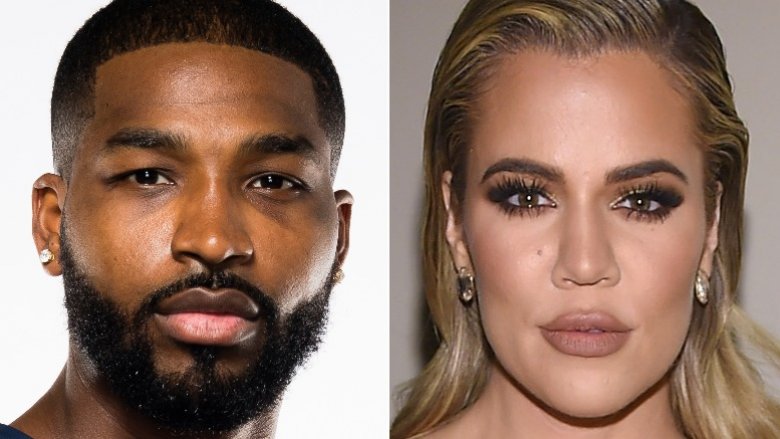 Getty Images
UPDATE:
Tristan Thompson is facing more cheating allegations after a video, in which the Cavaliers star appears to be kissing another woman at a New York City nightclub, went viral on Tuesday afternoon, April 10, 2018. 
Since then, TMZ has released an exclusive video of Thompson, accompanied by the same mystery woman he was spotted with Saturday night, returning to the Four Seasons hotel early Sunday morning. While the two arrived at the hotel at about 5 a.m., the woman later left with an overnight bag.
The website also published a surveillance video in which the pro basketball player can be seen getting cozy with two women at a Washington D.C. hookah lounge. As the clip was taken in October 2017, Thompson's very pregnant reality TV star girlfriend, Khloé Kardashian, would have been three months along at the time.
ORIGINAL REPORT:
Tristan Thompson was reportedly spotted with another woman.
According to the Daily Mail, the NBA star, whose girlfriend Khloé Kardashian is just days away from giving birth to their baby girl, was allegedly caught getting close with a mystery brunette at the PH-D Lounge, a nightclub in New York City, on Saturday, April 7, 2018.
In photos and video footage obtained by the gossip rag, Thompson and the unidentified woman can be seen talking with one another before he appears to lean in to kiss her.
"I was there and he was on the table right next to us with a group of friends and some girl who he was obviously making out with all night," the anonymous club-goer who filmed the two together said. "They were holding each other and it was so obvious. ... They were talking and being around each other all night. ... Everybody knew who he was. We talked about it and everybody watched them make out several times."
She added, "I love the Kardashians and I think it's devastating. I really did believe he was a good guy. I feel so bad for Khloé now because she is pregnant and I want her to know but at the same time I don't. I don't think their fans will like what they see."
As Nicki Swift previously reported, Kardashian, 33, and Thompson, 27, confirmed they were expecting their first child together after months of speculation in December 2017. 
At the time, the Keeping Up With the Kardashians star shared a photo showing off her baby bump on Instagram, writing, "My greatest dream realized! We are having a baby! ... I am so thankful, excited, nervous, eager, overjoyed and scared all in one! But it's the best bundle of feelings I've ever felt in my life!"
The couple have been together since October 2016. Kardashian, who at nine months pregnant is due any day now, is currently preparing for their child's birth in Cleveland, Ohio, where Thompson plays for the Cavaliers.
At the time of this writing, Thompson, Kardashian, and their reps have yet to comment on this report.